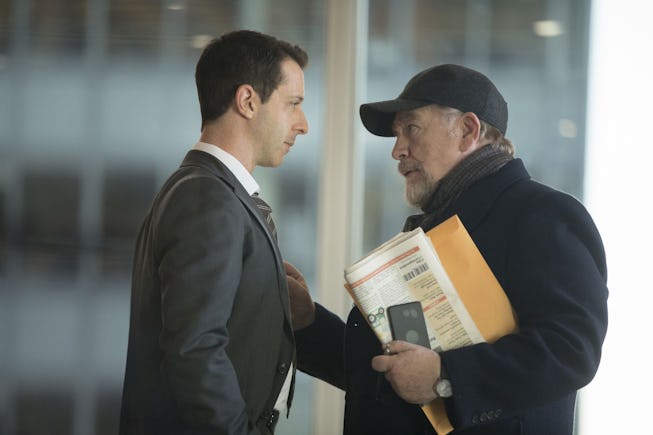 HBO
Succession Ends With Season 4
Our favorite out-of-touch billionaires and their embarrassing shenanigans are returning — and soon.
Our favorite family of out-of-touch billionaires will soon return, with all their sexual depravities, penchant for schemes, closed door meetings, and delusional PR campaigns. Succession is, as a surprise to nobody, coming back for a fourth season, after the seismic success of Season 3, which earned them a staggering 25 Emmy nominations, the most of any show.
The series follows the billionaire Roy family, who control media conglomerate Waystar Royco, and their various power struggles within the company and the family. It's dark comedy satire and high drama, like Shakespeare in the board room, only with helipads, yachts, backstabbing, Twitter followers, sexual abuse scandals, corporate whistleblowing, ego death, and public humiliation after humiliation — and it's perfect. The end of Season 3 left Waystar Royco in a particularly tough spot, with tech CEO Lukas Matsson (Alexander Skarsgård) vigorously trying to take the company, and the Roy kids fighting for a piece of it, culminating in a delicious twist of a season finale that we won't reveal here.
Luckily we won't have to wait long for fresh Succession: The Roys will return to our screen on March 26. In the meantime, watch the trailer and read on for more details about Season 4.
Season 4 will continue the power struggle between the Roys and Lukas Matsson
According to the official synopsis for the fourth season, which was released in June, the sale of Waystar Royco to tech visionary Lukas Matsson (Alexander Skarsgård) becomes more imminent.
"The sale of media conglomerate Waystar Royco to tech visionary Lukas Matsson (Alexander Skarsgård) moves ever closer," the logline reads. "The prospect of this seismic sale provokes existential angst and familial division among the Roys as they anticipate what their lives will look like once the deal is complete. A power struggle ensues as the family weighs up a future where their cultural and political weight is severely curtailed."
Yes, Cousin Greg is coming back
Season 4 will include all the leads of the ensemble cast, including the entire Roy clan and their current and ex-love interests, plus scheming Tom, depraved Gerri, all the Waystar cronies like Frank, Karl, Hugo, Kerry, and Cyd Peach.
There will be nine additional returning cast members
In what's becoming a cast larger than the entire capacity of the executive suite at Waystar Royco, nine castmembers, outside of the core leads, are set to return, including Skarsgård, Arian Moayed at Kendall's chaotic rich friend Stewy, Juliana Canfield as Kendall's patient and skeptical assistant Jess, Annabelle Dexter-Jones as Kendall's fellow media heiress sometimes girlfriend Naomi Pierce; Hope Davis as another media heiress, and Cherry Jones as the matriarch of that family. We're not sure yet if Dasha Nekrasova is coming back as Kendall's eye-rolling publicist.
Ut was announced Thursday that Annabeth Gish, Adam Godley, Eili Harboe, and Game of Thrones' Jóhannes Haukur Jóhannesson will also be joining the cast.
The script was being finalized in May
It's unclear when Succession Season 4 will air, but creator Jesse Armstrong told Digital Spy at the BAFTA TV Awards in May that the writers were almost finished with the script. "We're almost done with the writing for season four, here in London, with the American writers coming over," he said. "They're a really great group of people to talk about the nuances of character and the world and what we're doing on the show."
Jeremy Strong prepped by taking cues from Kanye West
Jeremy Strong, infamously known for his extreme dedication to method acting, talked about his preparations for playing Kendall Roy in Season 4, which included updating the playlist he created for the role. This season, he specifically added "New Level," by A$AP Ferg; "Moon," by Kanye West; and "I Don't Care Anymore," by Phil Collins. West, in particular, has been an inspiration for Roy in past seasons.
"I thought about Kanye," Strong told GQ, referring to the plot point when Kendall goes on a rampage after publicly denouncing his father for his role in a sex scandal.
Brian Cox thinks Strong's method acting is "f*cking annoying"
While Strong was walking through the sleepy English countryside for his GQ cover story, Cox posed for the cover of Town & Country, where he slammed Strong's infamous method acting style.
"Oh, it's f*cking annoying. Don't get me going on it," Cox said. "He's a very good actor. And the rest of the ensemble is all okay with this. But knowing a character and what the character does is only part of the skill set."
He went on to praise Strong's acting talents, but offer advice for how to be a tiny bit less self-serious.
"Strong is talented. He's f*cking gifted. When you've got the gift, celebrate the gift," he says. "Go back to your trailer and have a hit of marijuana, you know?" Hell yeah, brother.
Season 4 will be Succession's Last
All good things must come to an end, and Season 4 will be Succession's last. While Season 4 does feel relatively early for a show that's in its peak popularity, if we've learned anything from shows like And Just Like That, or the last season of GIRLS, it is better to end something too early than too late.
In a recent interview with the New Yorker, showunner Jesse Armstrong discussed his thinking behind end the series.
"I got together with a few of my fellow writers before we started the writing of season four, in about November, December, 2021, and I sort of said, 'Look, I think this maybe should be it. But what do you think?' And we played out various scenarios," he says. "We could do a couple of short seasons, or two more seasons. Or we could go on for ages and turn the show into something rather different, and be a more rangy, freewheeling kind of fun show, where there would be good weeks and bad weeks. Or we could do something a bit more muscular and complete, and go out sort of strong. And that was definitely always my preference."
He did hint that he would be open revisiting the world of Succession one day "if there was an appetite," which of course there is.
"I do think that this succession story that we were telling is complete...But the feeling that there could be something else in an allied world, or allied characters, or some of the same characters — that's also strong in me," he says. A Cousin Greg spinoff? We're in!
This article was originally published on