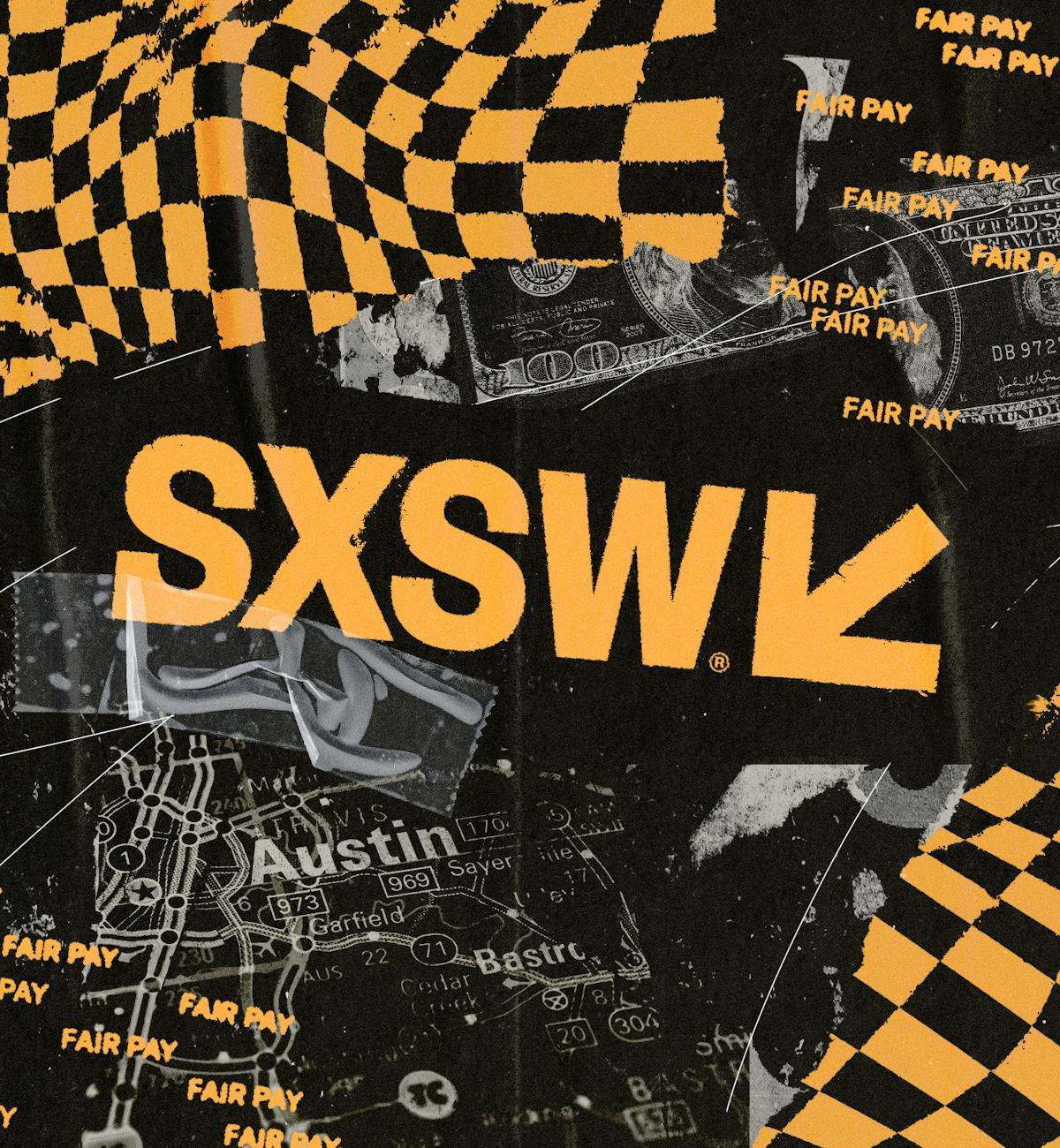 Lindsay Hattrick/Nylon; Shutterstock; Getty Images; SXSW
SXSW 2023 Music Recap: Creative Labor, Collective Action, & Changing Tides
Can the world's largest music industry festival adapt to a new reality?
A specter hangs over the bright, sunny, cool March air in Austin, Texas. It's been seven years and many trips to the dermatologist since I last attended SXSW — back then, there were no LED lights in the shape of longhorns illuminating the I-35 downtown overpasses; nor were there Teslas zooming past tent cities and tech bros gnawing at the corpse of independent businesses that give a place its culture. It's dark times, y'all, and I was there to descend. For a few months prior to SXSW, I got the sense that maybe something about this year and its approach to music would be different. Industry folks who've abstained from attending in the recent past were returning in droves, and with the formation of organizations like the Union of Musicians and Allied Workers providing necessary transparency and insight into exploitative business practices, it felt like there could be some interesting conversation. Or at the very least, conflict. Was the festival going to recognize a world where we speak more openly about creative labor? Would it become more spontaneous and less focused on pre-planned "surprise" performances by paid major acts while independent artists didn't get compensated?
SXSW, for the uninitiated, is the largest and most recognizable music industry event in the world. It's outgrown its DIY roots and rock 'n' roll ethos when it was first held in 1987 as a local music festival with the help from alt weekly The Austin Chronicle; now SXSW has evolved into an international spectacle of big-time branding, tech, film, TV, and some music thrown in for good measure. But after a global pandemic stopped the event from happening in 2020 and 2021, proactively slowing the growth of an untenable event in a city that was never designed to hold the tens of thousands who descend upon it each spring, something appears to have shifted. And it extends beyond issues with Elon Musk, Alex Jones, Joe Rogan, and the other lowlifes who have moved to Austin over the last few years.
Despite everything, I was excited to be at SXSW and spend my first day failing to get in to see New Order. (A familiar struggle from years past, which held some masochistic, nostalgic pleasures.) That, and the rush of running around downtown, catching bands from across the globe and making friends with anyone and everyone, including a traveling 22-year-old named Tellulah, who told me "people never want to wave first, but they always want to wave back" was her life philosophy for social interaction. (Use it in your own, it works fabulously: It's how we ended up crashing an event held by big tech at an Argentine cafe on the east side, housing malbec with someone who worked under Obama's Treasury department a few years back — and later, at the M for Montreal showcase downtown watching the sweet folk-y pop grunge of Toronto's Poolblood after a brief outdoor rave courtesy of Rich Aucoin and his audio deep fake of Arnold Schwarzenegger acting as recorded hype man. It doesn't make sense because it shouldn't!) Tellulah's spirit felt unruly and free and ultimately DIY — if the festival was still supporting creatives like her, surely it was worth adventuring into.
On Day Two, something changed. There was the early afternoon Orange Juice-worship set by arty post-poppers Youth Sector at dive called Side Bar, a drink at near the haunted bathroom at the Driskill hotel, and a dreamy less-pop-punk, more-R&B set by Bartees Strange at the Austin Motel's pool for the Working Families Party. At night, at the perfectly named Hole in the Wall club near Daniel Johnston's "Hi, How Are You" mural, UMAW held an unofficial showcase that doubled as a protest. Prior to SXSW, the union launched its "Fair Pay at SXSW" campaign, explaining that rates for performing at the festival hadn't risen in at least a decade, and that they were virtually non-existent: Soloists and duos are paid $100, bands get $250, and if that's not attractive enough, they can forfeit the meager cash and accept a wristband for the festival they are performing at.
In a letter signed by more than 2,300 musicians, UMAW demanded the compensation be raised to $750 (the amount it paid the bands that night, becoming a perfect model of what it is asking for, and to prove if an underfunded union could do it, surely a major corporation could), a wristband in addition to compensation, and an end to the $55 application fee. That night, between queer disco-punk performances by La Neve and the mellow alt-pop of Sabrina Song, UMAW organizer Joey DeFrancesco addressed the crowd alongside local politicians: "[SXSW] made something like $300,000 in application fees from bands all over the world applying to this thing. Last year, only 120 artists were paid. So, they paid, at most, $30,000. They are robbing artists of a quarter of a million dollars. We had a previous venue pull out [of this event]; we had our major funders pull out of funding this because of fear of retaliation from South by Southwest. But, of course, we aren't scared!"
District 9 Austin councilman Zohaib "Zo" Qadri followed: "$250 or a wristband is not going to pay the bills, and it's not going to pay your rent. It's a slap on the face of so many folks that make this city the unique and wonderful city that it is. We need to make sure that we're a city that treats its worker's rights." And later, recently elected Congressman Greg Casar took the stage, declaring that the showcase was part of "a broader struggle to reform our economy, to remake our economy, to make this city better, so that it doesn't just work for the Jeff Bezoses and Elon Musks of the world, but works for the everyday people," adding that musicians are the "lifeblood of this city, and we're with you all the way."
On Day Three, I ventured into the SXSW convention center to see iLe, the Puerto Rican musician formerly of the group Calle 13, whose Caribbean rhymes morph into folkloric sounds of resistance. Her music brings awareness to revolutionary themes, particularly in her native island, inspiring and courageous at once. But inside the center, I felt conflicted: just as I did hours later, watching my favorite Swedish post-punk band Beverly Kills shake a crowd awake at 1 a.m. Is there a way to enjoy this space, an official SXSW event, and draw attention to its failures?
Sometime in the afternoon, I met up with Maryam Said, aka Poolblood, whom I saw the first night, to discuss some of those ideas. As a musician from Canada, she's particularly worried about a proposed rule by the U.S. Citizenship and Immigration Services (USCIS) that would increase the cost of P visas from $460 to $1,615 per artist as early as November 2023, making it prohibitively expensive to perform here — especially damaging when considering the United States remains the world's largest music market.
"I'm on a P2 visa, which is for performance only — you can only get paid in America for performance," she explained. "It's only good for a year, and it costs $460. The exchange rate was crazy. Then there's a $170 processing fee. And then we [her three bandmates and herself] all had to pay union dues for our Canadian union, that was an additional $300. For myself, it came out to about $2K." None of it is subsidized by government or grant money. "You think, 'I'm paying all this money, maybe I can get paid at the end of this. But it's South by. There's no payment." She hopes to break even at the end of the tour. If the proposed hike goes through, it would "make it next to impossible to do this," she says.
On the flip side: a U.S. musician wanting to tour Canada? All they have to do is provide a letter from the venue they're playing at. It's free.
Even with all of that in mind, she shares the sort of cognitive dissonance I'm feeling. "I'm having the best time at SXSW. It's so fun," she gives an awkward laugh. "But the music side of SXSW wouldn't happen without musicians. You'd think they'd be a little bit more accommodating… I think we deserve more than just drink tickets."
….The next morning, I woke up early to head down to the convention center for the second part of UMAW SXSW plan: a rally, where we hit pans and chanted "Hey, hey ho, ho / Artists wages way too low." After about 40 minutes, DeFrancesco hand-delivered a printed-out version of the Fair Pay proposal, with all more than 2,300 signatures. We were met with little resistance. In fact, industry professionals made it a point to stop and speak to us in solidarity — their artists weren't getting paid, and it was unfair. The rest of the day was spent bopping around from one music blog party to another — diasporic calls to action from Algiers at Stereogum's event at Cheer Up Charlies, Detroit's Protomartyr at BrooklynVegan's rocker at Empire Garage & Control Room, soon-to-be queer icons Rodeo Boys at Don Giovanni Records' shindig at the 13th Floor, formerly known as Beerland. All the while, I was thinking about the UMAW showcase — how fortunate I was to see all these incredible bands in the span of a week, and how much I got out of that experience, and how little they did.
On my final day, I headed north to a DIY venue near the University of Texas at Austin, a literal house called House of Commons, to catch Nashville papier-mache punks Snooper, the dreamy Singapore pop band Sobs, and later, future-seeking shoegazers They Are Gutting A Body of Water and NYC post-punks Hotline TNT. I popped out to Hole in the Wall, where the UMAW showcase had taken place, to see nervy absurdists Fake Fruit solve a Rubik's cube on stage, and WWE rockers Jobber give new license to technical performances in independent spaces. It was an absolute blast, but not for everyone. I got speaking to the door person, J.D. He threw a showcase on Monday night, so his good friend Troy Pruitt filled in for him. That night, around 11:30 p.m., two cars crashed at the intersection just in front of the venue, one careening into the sidewalk, striking Pruitt. He was hospitalized, and a GoFundMe was launched to assist in his recovery bills. It reminded us of an incident a few years prior, in 2015, when a drunk driver drove through a crowded street during SXSW, killing four people and injuring more than 20 others. If there is a major difference between this SXSW and years past, it's that not much at all has changed. But with collective action, there's hope.