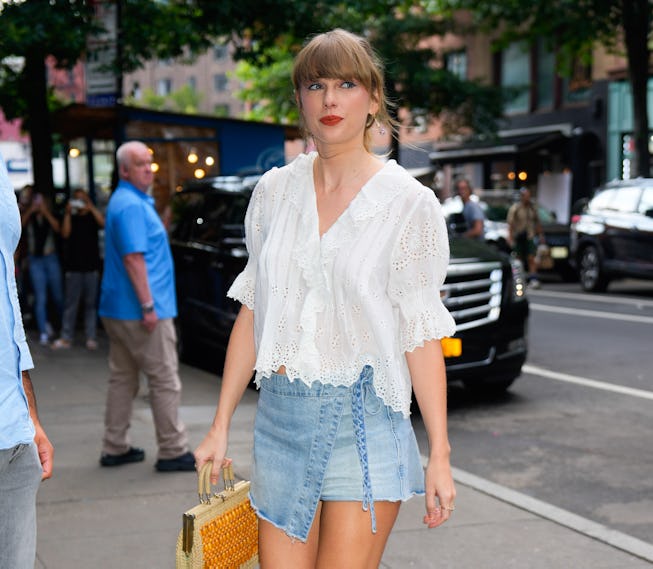 Gotham/GC Images/Getty Images
Taylor Swift Is Back In Her Fourth Of July Party Era
Who knew the Eras Tour would include one of Swift's most tried and true traditions?
There's not a lot you can count on in this world, but for a few glorious years, Taylor Swift's Fourth of July party was a reliable exception. Before it became widely unfashionable to earnestly don red, white, and blue on July 4, Swift's parties were basically a litmus test on culture. Depending on their proximity to cultural relevancy that year, everyone from Lena Dunham to St. Vincent (who dated Swift posse member Cara Delevingne) to one to three of the Haim sisters annually attended Swift's Fourth of July party; its guest list was like the Marc Jacobs Heaven casting couches of pop music.
In the glory days of Taylor Swift's America, there was an inflatable slide labeled "Taymerica," matching red, white, and blue bathing suits from Solid & Striped, and, infamously, "I Heart T.S." tanks. But Swift's parties went away in 2017, the year of her literal and figurative timeline-cleansing album Reputation, and there's no evidence Swift has so much as lit a sparkler since then.
Now, the Fourth of July party is the latest era the singer is bringing back. This year's attendees? Selena Gomez, the Haim sisters, stylist Ashley Avignone, and Sydney Ness, who is rumored to be dating Swift's brother.
The singer posted photos from the soiree — which appeared to be pretty low-key compared to other parties — to Instagram on Friday with the caption: "Happy belated Independence Day from your local neighborhood independent girlies." If there's anything you can certainly count on in this world, it's that Swift will call her friends for a mini photoshoot while she's going through breakups. (Pause for silence to remember an April 2023 photo of Swift with Blake Lively, Gigi Hadid, and Haim following the Joe Alwyn breakup.) We're just glad she took a night off!