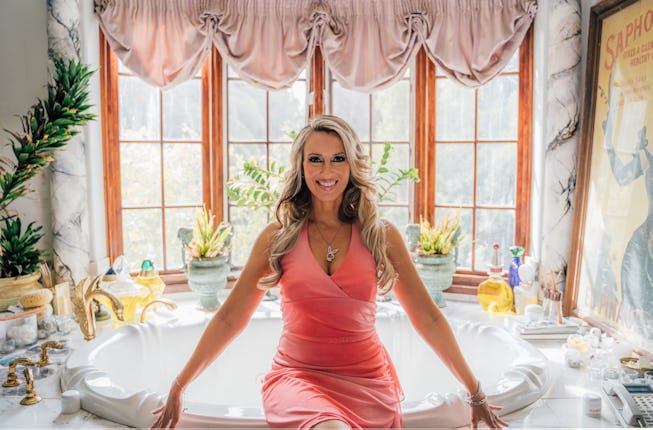 Molly Wurwand
Thnk1994's MILF Museum Exalts the MILF Aesthetic to Queer Icon Status
A conversation with artist, curator, and MILF expert Molly Wurwand.
The first recorded use of MILF was on an internet forum in 1994, the same year artist Molly Wurwand was born in Los Angeles, California. The term was in reference to a Playboy article "Fabulous After 40," which prompted a user on the forum to write: "Did anyone see this article? Because it's a bunch of MILFs."
This is the kind of encyclopedic knowledge Wurwand possesses on the subject of MILFs, fueled by a lifelong obsession. Wurwand sees the MILF as not only the patron saint of Los Angeles, but as an exalted figure of poignant glamor, a committed, intentional gender performance that has transcended culture to reach the status of queer icon.
Now, Wurwand's obsession will be crystallized and memorialized at the MILF Museum, Wurwand's first solo exhibition, mounted by THNK1994 Gallery, opening on May 5 in Los Angeles at Junior High. It's a fitting, if not overdue, time for a celebration and deep study of the MILF; it is after all, a big year for MILFs as we welcome TLC's wildly addictive MILF Manor. But America's long held a MILF obsession and Wurwand is committed to showcasing the aesthetic and history of the MILF with a "deranged reverence" that will be showcased through visual, performance, and interactive art.
"I think obsessiveness is sponsoring this whole thing," Wurwand tells NYLON. "This is kind of an excuse to prove to my parents that maybe there's a point to all of the research that I do."
M.I.L.F.S. My Imaginary Life for SomeoneMolly Wurwand
M.I.L.F.S. My Imaginary Life for SomeoneMolly Wurwand
M.I.L.F.S. My Imaginary Life for SomeoneMolly Wurwand
M.I.L.F.S. My Imaginary Life for SomeoneMolly Wurwand
Wurwand, who grew up in Brentwood, has nursed a long obsession with MILFS for the better part of their life. They grew up not far from where Nicole Brown Simpson and Ron Goldman were murdered in 1994. The grisly murder was a kind of omnipresent fog, not unlike the perfume pumped for eight hours a day into the air of Beverly Hills boutiques.
"That was always weirdly in the air and I feel [Simpson] is almost seen as like this murdered MILF," Wurwand says. "I was always hearing stories from my mom and her friends saying, 'That's where we saw Nicole one week before the murder.' All these local places took on this bigger context. I was intrigued in a macabre way."
Growing up in the mid-aughts, in a time when "Stacy's Mom" was on the Billboard 100 and Britney Spears was steering an SUV with her son on her lap, Wurwand was surrounded by the myth and mystique of the MILF. Wurwand noticed that all their drawings ended up looking like MILFs; MILFs, both as people and as an aesthetic, played a big role into their own perception of their own gender.
"I always was fascinated by my friend's moms, and the really sort of poignant glamor of the MILF, of a lot of upkeep, a lot of pressure, and just how that connected. As I started to get a bit older and realized that I was raised as a girl, but I definitely am not a girl and I don't know what to do about that," Wurwand says. "The archetype of the MILF is obviously so coded as female, but I feel like it also transcends into a queer icon. Because it's such a heightened sort of performance of gender in a way."
Molly Wurwand
Molly Wurwand
Molly Wurwand
Molly Wurwand
The reskinning of MILF as aesthetic and cultural icon is similar to that of how we are reassessing treatment of young female celebrities like Paris Hilton, Lindsay Lohan, and Spears in the mid-aughts. The MILF, after all, is the cousin of the bimbo, a similarly reduced stereotype from which now we can extract something poignant and powerful: a deep commitment to beauty.
Whether we're talking about Lolo Ferrari, Anna Nicole Smith, Marilyn Monroe or Amy Poehler in Mean Girls, MILFs are seen as caricatured punchlines, but there's deeper creative work at play.
"There's real art happening here," Wurwand says. "These people were really creative and this kind of self presentation is actually super nuanced and powerful and a lot of effort. It's a poignant glamor, but I also love the kind of confidence and exuberance that I felt from a lot of MILF icons. You see the fragility and to just sparkle….I don't think that MILF has a gender, honestly. I hope to channel MILF energy even though I'm not female."
The exhibition includes the debut of Wurwand's short film M.I.L.F.S. My Imaginary Life for Someone, a living tribute to real-live MILFs, following a day in the life of five fictional Los Angeles MILFs through the years 1992 to 2002, which Wurwand wrote and directed with Ryan McGlade.
Tendre Kiss by LaliqueElizabeth Renstrom/Basenote Bitch
First by Van Cleef & ArpelsElizabeth Renstrom/Basenote Bitch
Calyx by PrescriptivesElizabeth Renstrom/Basenote Bitch
Guess for Women by GuessElizabeth Renstrom/Basenote Bitch
Giorgio By Giorgio Beverly Hills Elizabeth Renstrom/Basenote Bitch
Wurwand also tracked down actual artifacts of MILFdom, which will be displayed under a pin spotlight with annotated museum placards, including a tin of Sour Altoids, a pink Motorola Razr, a Starbucks gift card, a pair of UGG boots, prescription bottles, and a deck of Sylvia Brown tarot cards in kitchsy Jokerman font. There's even an olfactory time machine component: Elizabeth Renstrom of Basenote B*tch joined Wurwand in curating staged gorgeous shrines to five MILF-coded perfumes of the noughties, like Guess for Women by Guess, which came out just before Guess Girl Anna Nicole Smith's untimely passing in 2007.
The performance art element features a MILF lounging on a pool chair with a soundscape of old radio ads; a sprinkler system comes on, and you get a sense of being in her backyard. The exhibition also includes an interactive vanity that reflects back your own MILF avatar, as well as a phone to eavesdrop on voicemails left for a mystery MILF, spanning plastic surgery appointment confirmations to reports left by a jacuzzi repair team.
MILFs don't always get names: We don't know Stacy's mom's name. (As an aside, Wurwand wrote a thesis on the meaning of the song, which live MILFs will do a dramatic reading of at the exhibition.) But Wurwand has always been concerned with the spectacular humanity of MILFs. They would find themselves drawing MILFs and deeply considering their fictional lives.
"I'm like, okay, 'Who gave this MILF these earrings that I'm drawing? Did she get them at Kay Jewelers? Did she get the radio ad for Kay Jewelers?' And then I'm like, 'When did that radio ad come out?'" Wurwand says. "I'm picturing she's driving and I'm like, 'Why is this nail chipped as I'm drawing it? What was she doing that chipped the nail?' I like thinking of them. They became very real people to me."
The MILF Museum will run for the month of May at Junior High Los Angeles. Print and MILFS: The Book and prints are available for purchase from THNK 1994.