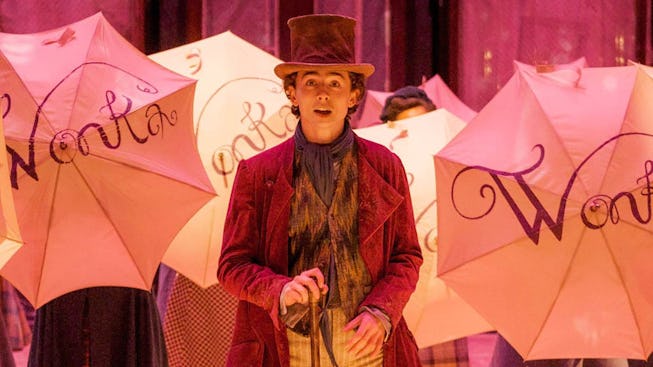 Wonka
Timothée Chalamet Is A Top Hat-Wearing Freak For Chocolate In Wonka Trailer
You'll never look at him the same.
For every generation, there is a Willy Wonka. First it was Gene Wilder in 1971, then it was Johnny Depp in 2003. Twenty years later, it's Timothée Chalamet's turn: America's unlikely sweetheart will soon star in Wonka.
The long-anticipated trailer for Chalamet's Willy Wonka has finally arrived — and it's largely what we'd expect from a Christmas season remake of a Roald Dahl novel: Family-friendly, a maxed-out CGI-budget, and dripping with earnest lines about your dreams coming true.
But what the film really is is a chance for Chalamet to finally live out his destiny as a tried-and-true, top hat-wearing theater kid. It's a role he hasn't gotten to flex since Greta Gerwig's Lady Bird. Though Chalamet has most recently been an action star, Dune never quite fit him as well as a cravat, a cape, some three-part harmonies, and over-enunciated lines — all of which are on display in the new trailer.
It's a chaste role, one where his only love interest isn't Zendaya, Saoirsie Ronan, or even Kylie Jenner, but the joie de vivre itself: chocolate.
The story of Willy Wonka has always been once that's class-conscious (let us not forget how the grandparents and grandchildren had to share a single bed in the Gene Wilder version), and this 2023 version is even more overtly so: "You can't get a shop without selling chocolate, and you can't sell chocolate without a shop," a member of the Chocolate Cartel warns. If that isn't a parable of the perils of modern-day capitalism? But you know what can take down The Man? Another man, albeit a very small green one, played by Hugh Grant, who brings back the earworm melody of "The Oompa Loompa Song." Told you there's something for the whole family!
Wonka is in theaters December 15. In the meantime, you can watch the trailer here, below.