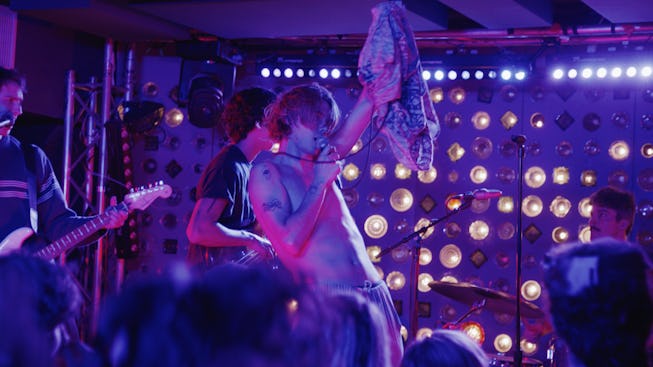 Courtesy of Tomorrow
Tomorrow! Is MTV Unplugged For What's Cool In New York Now
With her variety show, director Rebekah Sherman-Myntti is the cartographer of an emerging scene.
Rebekah Sherman-Myntti is a filmmaker memorializing and capturing New York City's downtown art scene with the devotion of a cartographer: mapping not only emerging talent, but the feeling of what it's like to be there — regardless of whether or not you even are.
In her new variety show Tomorrow!, Sherman-Myntti brings together New York City's emerging talent across music, food, comedy, and fashion under one roof. In the case of the first episode, this roof is at the Williamsburg venue Baby's All Right. In the same way that shows like MTV's Unplugged captured not only the music of a time, but a feeling, Sherman-Myntti wants to archive and celebrate New York City — in particular, the artists who make it so special.
"I've always loved time capsules and the idea of capturing characters at a particular moment in their lives," Sherman-Myntti tells NYLON. "With Tomorrow!, it's a show that is spotlighting emerging talent previously unknown to a wider audience but also documenting the unique one-of-a-kind personalities of people I know and love in New York. It is so special and thrilling to bring people together who wouldn't be together in the same room."
Shot with multiple cameras, the viewer is taken through a fun house of talent. It's a maximalist approach to storytelling, with multiple camera angles filming multiple live events, mimicking the frenzied energy of living in a place where so much is happening all the time. While Malice K, the Kurt Cobain by way of Elliott Smith rocker who performs with the ragged rawness of someone who is already famous, plays onstage, in another room we see actress Ruby McCollister doling out astrology readings, Eric Rahill, Catherine Shannon, Napoleon Emill doing stand-up comedy, and Chef Oliver Kinkel and Kimberly Baldo making chicken nanban in the kitchen and the Ion Pack scarfing it down. We see a fashion show of Madeline Malenfant's debut collection (scored by Curtis Everett Pawley of the Ion Pack), and we see hot people making out in corners.
Courtesy of Tomorrow
Courtesy of Tomorrow
Courtesy of Tomorrow
Courtesy of Tomorrow
Courtesy of Tomorrow
"If you look back in time at Unplugged, TRL, even films like Monterey Pop or Gimme Shelter, there's an incredible treasure chest of documentation. Nothing like that currently exists of this new group of emerging artists in New York and Tomorrow! is a show I wanted to make for this next wave of talent," Sherman-Myntti says. "It gives viewers this feeling of discovery."
At the core of Sherman-Myntti's work is a desire not only to capture the heartbeat of a scene, but to prop up emerging artists along the way. It's no secret the entertainment industry is hostile to talent; hell, artists are barely supported even when they're famous. Sherman-Myntti's Simone Films, which she runs with the Ion Pack's KJ Rothweiler, who also helped produce Tomorrow!, has also become a bit of a talent incubator, producing videos for emerging artists and hosting events like actors studios – pushing back against the idea that in an industry like this there has to be scarcity.
Christopher Petrus
Christopher Petrus
Christopher Petrus
Christopher Petrus
"It's really a moment for artists to actually support one another, to showcase each other's work. And as a filmmaker, that's something that really is exciting and interesting to me, is capturing all of these people in this current moment in time because it does feel special," Sherman-Myntti says. "It does feel like there is a desire to create things that have meaning. And I think that collectively many different industries, whether it's film, music, whatever, coming out of New York, I think that collectively that is a palpable energy that people are feeling and it sort of is infectious."
You can watch episode 1 of Tomorrow! below: