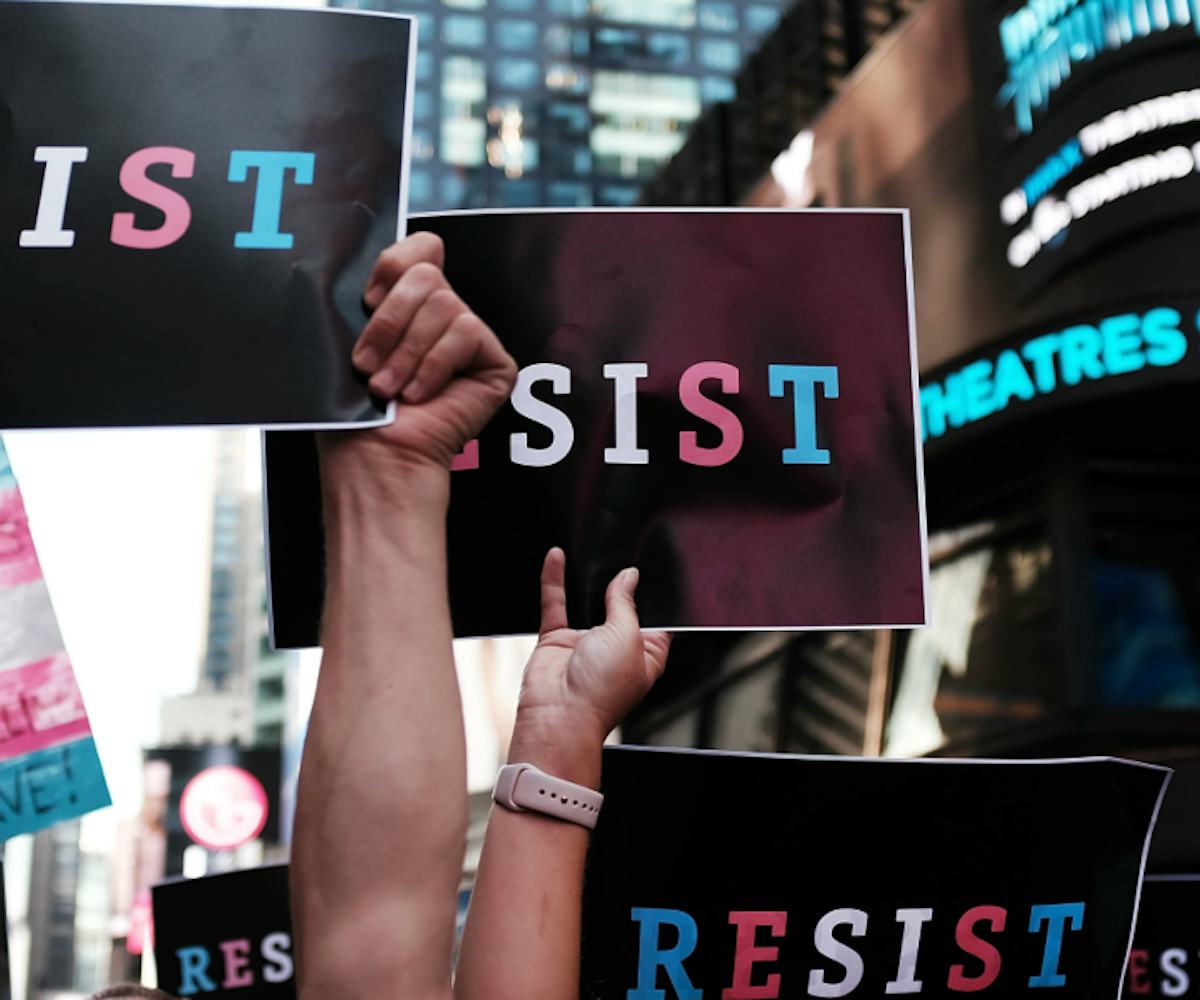 Photo by Spencer Platt/Getty Images
Trump Announces Another Policy To Ban Transgender People From Military Service
An unsurprising—but still appalling—move
Last night, President Trump announced a policy to ban most transgender people from serving in military—an unsurprising but still appalling move (which aptly describes most of the decisions he makes.) Signs of this decision have been bubbling up since last summer, when the President tweeted that, "our military must be focused on decisive and overwhelming victory and cannot be burdened with the tremendous medical costs and disruption that transgender in the military would entail."
A federal court blocked the original ban in October, but that didn't stop the President from issuing a memorandum on Friday in which he continues to pursue it:
"Among other things, the policies set forth by the Secretary of Defense state that transgender persons with a history or diagnosis of gender dysphoria—individuals who the policies state may require substantial medical treatment, including medications and surgery—are disqualified from military service except under certain limited circumstances."
Despite what Trump claims, it seems officials across the political spectrum fail to see the supposed "burden" of having transgender troops serve in the military. In a full-page USA Today ad from February, both Democratic and Republican senators spoke out against the ban. In the ad, former Republican presidential candidate and veteran John McCain stated that, "When less than one percent of Americans are volunteering to join the military, we should welcome all those who are willing and able to serve our country." Additionally, the military accepted its first openly transgender recruit in the same month.
A Pentagon memo further clarified the details of this new ban, which will exclude people who have been, "stable for 36 consecutive months in their biological sex prior to accession," servicemembers who "do not require a change of gender," and transgender troops who began serving under the Obama administration. Regardless of exceptions, this ban still shuts the door on a number of trans people who are literally willing to risk their lives to serve their country—servicemembers who, according to them., are still vowing to keep fighting and serving. 
Members of the ACLU have already addressed Trump's ban, and we can surely expect to see them fight it tooth and nail. Joshua Block, a senior staff attorney at the organization, issued the following statement last night:
"What the White House has released tonight is transphobia masquerading as policy. This policy is not based on an evaluation of new evidence. It is reverse-engineered for the sole purpose of carrying out President Trump's reckless and unconstitutional ban, undermining the ability of transgender service members to serve openly and military readiness as a whole."
While Trump and his cronies are determined to put this policy into motion, they still have a ways to go before its a reality. Since there's a current federal court ruling that allows transgender servicemembers, the administration will likely have to take their case to the Supreme Court. Thankfully, it doesn't seem like a battle that they'll be able to fight—or win—easily.