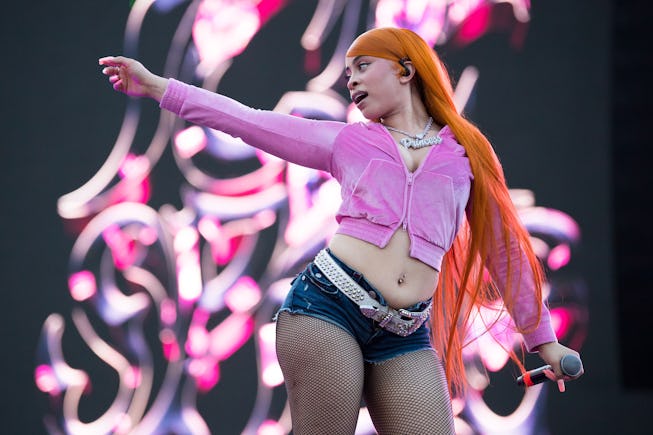 Jason Koerner/Getty Images Entertainment/Getty Images
Ice Spice, Kim Petras, & Reneé Rapp Are All First-Time MTV VMA Nominees
This year's has a record number of first-time nominees.
MTV's Video Music Awards has always been transgressive, a cultural beacon among the standard step and repeat of so many award shows. Just think about Britney Spears' 2001 performance of "I'm a Slave 4 U" with a python, or Beyoncé announcing her first pregnancy during her 2011 performance of "Love On Top." This year's MTV Video Music Awards is already on the forefront of culture, with a record of 35 first-time nominees — including some of our favorite artists of the year, such as GloRilla, Ice Spice, Kim Petras, Metro Boomin, Peso Pluma, PinkPantheress, Rema, and Reneé Rapp.
Taylor Swift leads the nominations with eight nods, almost all of which are for "Anti-Hero," while other top nominees include SZA and Doja Cat, each with six nominations, and Miley Cyrus, Nicki Minaj, Olivia Rodrigo, and Sam Smith, all with five.
There are also some new categories for fans to vote in this year — including the all-new "Best Afrobeats" category. Fans can also vote for "Video of the Year," presented by Burger King, and "Artist of the Year" by visiting vote.mtv.com through Friday, September 1; voting for "Best New Artist" will remain active until the live show on Tuesday, September 12.
The VMAs airs live from New Jersey's Prudential Center on Tuesday, September 12 at 8 p.m. ET/PT across 150+ countries globally.
Here is the complete list of the 2023 VMA nominees:
VIDEO OF THE YEAR, Presented by Burger King®
Doja Cat – "Attention" – Kemosabe Records / RCA Records
Miley Cyrus – "Flowers" – Columbia Records
Nicki Minaj – "Super Freaky Girl" – Republic Records
Olivia Rodrigo – "vampire" – Geffen Records
Sam Smith, Kim Petras – "Unholy" – Capitol Records
SZA – "Kill Bill" – Top Dawg Entertainment / RCA Records
Taylor Swift – "Anti-Hero" – Republic Records
ARTIST OF THE YEAR
Beyoncé – Parkwood Entertainment / Columbia Records
Doja Cat – Kemosabe Records / RCA Records
KAROL G – Interscope Records
Nicki Minaj – Republic Records
Shakira – Sony Music US Latin
Taylor Swift – Republic Records
SONG OF THE YEAR
Miley Cyrus – "Flowers" – Columbia Records
Olivia Rodrigo – "vampire" – Geffen Records
Rema & Selena Gomez – "Calm Down" – Mavin Global Holdings Ltd / Jonzing World Entertainment / SMG Music / Interscope Records
Sam Smith, Kim Petras – "Unholy" – Capitol Records
Steve Lacy – "Bad Habit" – L-M Records / RCA Records
SZA – "Kill Bill" – Top Dawg Entertainment / RCA Records Records
Taylor Swift – "Anti-Hero" – Republic Records
BEST NEW ARTIST
GloRilla - CMG / Interscope Records
Ice Spice - 10K Projects / Capitol Records
Kaliii - Atlantic Records
Peso Pluma - Double P Records
PinkPantheress - 300 Entertainment
Reneé Rapp - Interscope Records
PUSH PERFORMANCE OF THE YEAR
August 2022: Saucy Santana – "Booty" – Arena Records / RCA Records
September 2022: Stephen Sanchez – "Until I Found You" – Mercury Records / Republic Records
October 2022: JVKE – "golden hour" – AWAL
November 2022: Flo Milli – "Conceited" – '94 Sounds / RCA Records
December 2022: Reneé Rapp – "Colorado" – Interscope Records
January 2023: Sam Ryder – "All The Way Over" – Elektra Entertainment
February 2023: Armani White – "GOATED" – Def Jam
March 2023: FLETCHER – "Becky's So Hot" – Capitol Records
April 2023: TOMORROW X TOGETHER – "Sugar Rush Ride" – BIGHIT MUSIC / Republic Records
May 2023: Ice Spice – "Princess Diana" – Heavy On It / 10K Projects / Capitol Records
June 2023: FLO – "Losing You" – Uptown/Republic Records
July 2023: Lauren Spencer Smith – "That Part" – Island Records
BEST COLLABORATION
David Guetta & Bebe Rexha – "I'm Good (Blue)" – Warner Records
Post Malone, Doja Cat – "I Like You (A Happier Song)" – Mercury Records / Republic Records
Diddy ft. Bryson Tiller, Ashanti, Yung Miami – "Gotta Move On" – Motown Records
KAROL G, Shakira – "TQG" – Universal Music Latino
Metro Boomin with The Weeknd, 21 Savage, and Diddy – "Creepin' (Remix)" – Boominati / Republic Records
Rema & Selena Gomez – "Calm Down" – Mavin Global Holdings Ltd / Jonzing World Entertainment / SMG Music / Interscope Records
BEST POP
Demi Lovato – "Swine" – Island Records
Dua Lipa – "Dance The Night (From Barbie The Album)" – Atlantic Records
Ed Sheeran – "Eyes Closed" – Atlantic Records
Miley Cyrus – "Flowers" – Columbia Records
Olivia Rodrigo – "vampire" – Geffen Records
P!NK – "TRUSTFALL" – RCA Records
Taylor Swift – "Anti-Hero" – Republic Records
BEST HIP-HOP
Diddy ft. Bryson Tiller, Ashanti, Yung Miami – "Gotta Move On" – Motown Records
DJ Khaled ft. Drake & Lil Baby – "STAYING ALIVE" – We The Best / Epic Records
GloRilla & Cardi B – "Tomorrow 2" – CMG / Interscope Records
Lil Uzi Vert – "Just Wanna Rock" – Atlantic Records / Generation Now
Lil Wayne ft. Swizz Beatz & DMX – "Kant Nobody" – Young Money Records
Metro Boomin ft Future – "Superhero (Heroes and Villains)" – Boominati / Republic Records
Nicki Minaj – "Super Freaky Girl" – Republic Records
BEST R&B
Alicia Keys ft. Lucky Daye – "Stay" – RCA Records
Chlöe ft. Chris Brown – "How Does It Feel" – Parkwood Entertainment / Columbia
Metro Boomin with The Weeknd, 21 Savage, and Diddy – "Creepin' (Remix)" – Boominati / Republic Records
SZA – "Shirt" – Top Dawg Entertainment / RCA Records
Toosii – "Favorite Song" – South Coast Music Group / Capitol Records
Yung Bleu & Nicki Minaj – "Love In The Way" – Empire Distribution
BEST ALTERNATIVE
blink-182 – "EDGING" – Columbia Records
boygenius – "the film" – Interscope Records
Fall Out Boy – "Hold Me Like A Grudge" – Fueled By Ramen
Lana Del Rey ft. Jon Batiste – "Candy Necklace" – Interscope Records
Paramore – "This Is Why" – Atlantic Records
Thirty Seconds To Mars – "Stuck" – Concord Records / Concord
BEST ROCK
Foo Fighters – "The Teacher" – RCA Records
Linkin Park – "Lost (Original Version)" – Warner Records
Red Hot Chili Peppers – "Tippa My Tongue" – Warner Records
Måneskin – "THE LONELIEST" – Arista Records
Metallica – "Lux Æterna" – Blackened Recordings
Muse – "You Make Me Feel Like It's Halloween" – Warner Records
BEST LATIN
Anitta – "Funk Rave" – Republic Records Bad Bunny – "WHERE SHE GOES" – Rimas Entertainment Eslabon Armado, Peso Pluma – "Ella Baila Sola" – DEL Records, Inc. / Prajin Parlay, Inc. Grupo Frontera Bad Bunny – "un x100to" – Rimas Entertainment KAROL G, Shakira – "TQG" – Universal Music Latino ROSALÍA – "DESPECHÁ" – Columbia Records Shakira – "Acróstico" – Sony Music US Latin
BEST K-POP
aespa – "Girls" – SM ENTERTAINMENT Co., Ltd. BLACKPINK – "Pink Venom" – YG Entertainment / Interscope Records FIFTY FIFTY – "Cupid" – ATTRAKT / Warner Records SEVENTEEN – "Super" – HYBE / Geffen Records Stray Kids – "S-Class" – JYP / Republic TOMORROW X TOGETHER – "Sugar Rush Ride" – BIGHIT MUSIC / Republic Records
BEST AFROBEATS
Ayra Starr – "Rush" – Mavin Global Holdings Burna Boy – "It's Plenty" – Atlantic Records / Spaceship Entertainment Ltd Davido ft. Musa Keys – "UNAVAILABLE" – Sony Music U.K. / RCA Records Fireboy DML & Asake – "Bandana" – Empire Distribution Libianca – "People" – Sony Music U.K. / RCA Records Rema & Selena Gomez – "Calm Down" – Mavin Global Holdings Ltd / Jonzing World Entertainment / SMG Music / Interscope Records Wizkid ft Ayra Starr– "2 Sugar" – Starboy / RCA Records
VIDEO FOR GOOD
Alicia Keys – If I Ain't Got You (Orchestral) – NETFLIX
Bad Bunny – "El Apagón - Aquí Vive Gente" – Rimas Entertainment
Demi Lovato – "Swine" – Island Records
Dove Cameron – "Breakfast" – Columbia Records
Imagine Dragons – "Crushed" – KIDinaKORNER / Interscope Records
Maluma – "La Reina" – Sony Music US Latin
BEST DIRECTION
Doja Cat - "Attention" - Kemosabe Records / RCA Records - Directed by Tanu Muiño
Drake – "Falling Back" – OVO/Republic Records - Director X (Julien Christian Lutz)
Kendrick Lamar – "Count Me Out" – pgLang / Top Dawg Entertainment / Aftermath / Interscope Records - Directed by Dave Free & Kendrick Lamar
Megan Thee Stallion – "Her" – 300 Entertainment - Directed by Colin Tilley
Sam Smith, Kim Petras – "Unholy" – Capitol Records - Directed by Floria Sigismondi
SZA – "Kill Bill" – Top Dawg Entertainment / RCA Records - Directed by Christian Breslauer
Taylor Swift – "Anti-Hero" – Republic Records - Directed by Taylor Swift
BEST CINEMATOGRAPHY
Adele – "I Drink Wine" – Columbia Records - Cinematography by Adam Newport-Berra Ed Sheeran – "Eyes Closed" – Atlantic Records - Cinematography by Natasha Baier Janelle Monae – "Lipstick Lover" – Atlantic Records - Cinematography by Allison Anderson Kendrick Lamar – "Count Me Out" – pgLang / Top Dawg Entertainment / Aftermath / Interscope Records 0 Cinematography by Adam Newport-Berra Miley Cyrus – "Flowers" – Columbia Records - Cinematography by Marcell Rev Olivia Rodrigo – "vampire" – Geffen Records - Cinematography by Russ Fraser Taylor Swift – "Anti-Hero" – Republic Records - Cinematography by Rina Yang
BEST VISUAL EFFECTS
Fall Out Boy – "Love From The Other Side" – Fueled By Ramen - Visual Effects by Thomas Bailey and Josh Shaffner
Harry Styles – "Music For A Sushi Restaurant" – Columbia Records - Visual Effects by Chelsea Delfino and Black Kite Studios
Melanie Martinez – "VOID" – Atlantic Records - Visual Effects by Carbon
Nicki Minaj – "Super Freaky Girl" – Republic Records - Visual Effects by Max Colt and Sergio Mashevskyi
Sam Smith, Kim Petras – "Unholy" – Capitol Records - Visual Effects by Max Colt / FRENDER
Taylor Swift – "Anti-Hero" – Republic Records - Visual Effects by Parliament
BEST CHOREOGRAPHY
BLACKPINK – "Pink Venom" – YG Entertainment / Interscope Records - Choreography by Kiel Tutin, Sienna Lalau, Lee Jung (YGX), Taryn Cheng (YGX)
Dua Lipa – "Dance The Night (From Barbie The Album)" – Atlantic Records - Choreography by Charm LaDonna
Jonas Brothers – "Waffle House" – Republic Records - Choreography by Jerry Reece
Megan Thee Stallion – "Her" – 300 Entertainment - Choreography by Sean Bankhead
Panic! At The Disco – "Middle Of A Breakup" – Fueled By Ramen - Choreography by Monika Felice Smith
Sam Smith, Kim Petras – "Unholy" – Capitol Records - Choreography by (LA)HORDE - Marine Brutti, Jonathan Debrouwer, Arthur Harel
BEST ART DIRECTION
boygenius – "the film" – Interscope Records - Art Direction by Jen Dunlap
BLACKPINK – "Pink Venom" – YG Entertainment / Interscope Records - Art Direction by Seo Hyun Seung (GIGANT)
Doja Cat – "Attention" – Kemosabe Records / RCA Records - Art Direction by Spencer Graves
Lana Del Rey ft. Jon Batiste – "Candy Necklace" – Interscope Records - Art Direction by Brandon Mendez
Megan Thee Stallion – "Her" – 300 Entertainment - Art Direction by Niko Philipides
SZA – "Shirt" – Top Dawg Entertainment / RCA Records - Art Direction by Kate Bunch
BEST EDITING
BLACKPINK – "Pink Venom" – YG Entertainment / Interscope Records - Editing by Seo Hyun Seung (GIGANT)
Kendrick Lamar – "Rich Spirit" – pgLang / Top Dawg Entertainment / Aftermath / Interscope Records - Edited by Grason Caldwell
Miley Cyrus – "River" – Columbia Records - Edited by Brandan Walter
Olivia Rodrigo – "vampire" – Geffen Records - Edited by Sofia Kerpan and David Checel SZA – "Kill Bill" – Top Dawg Entertainment / RCA Records - Edited by Luis Caraza Peimbert
Taylor Swift – "Anti-Hero" – Republic Records - Edited by Chancler Haynes