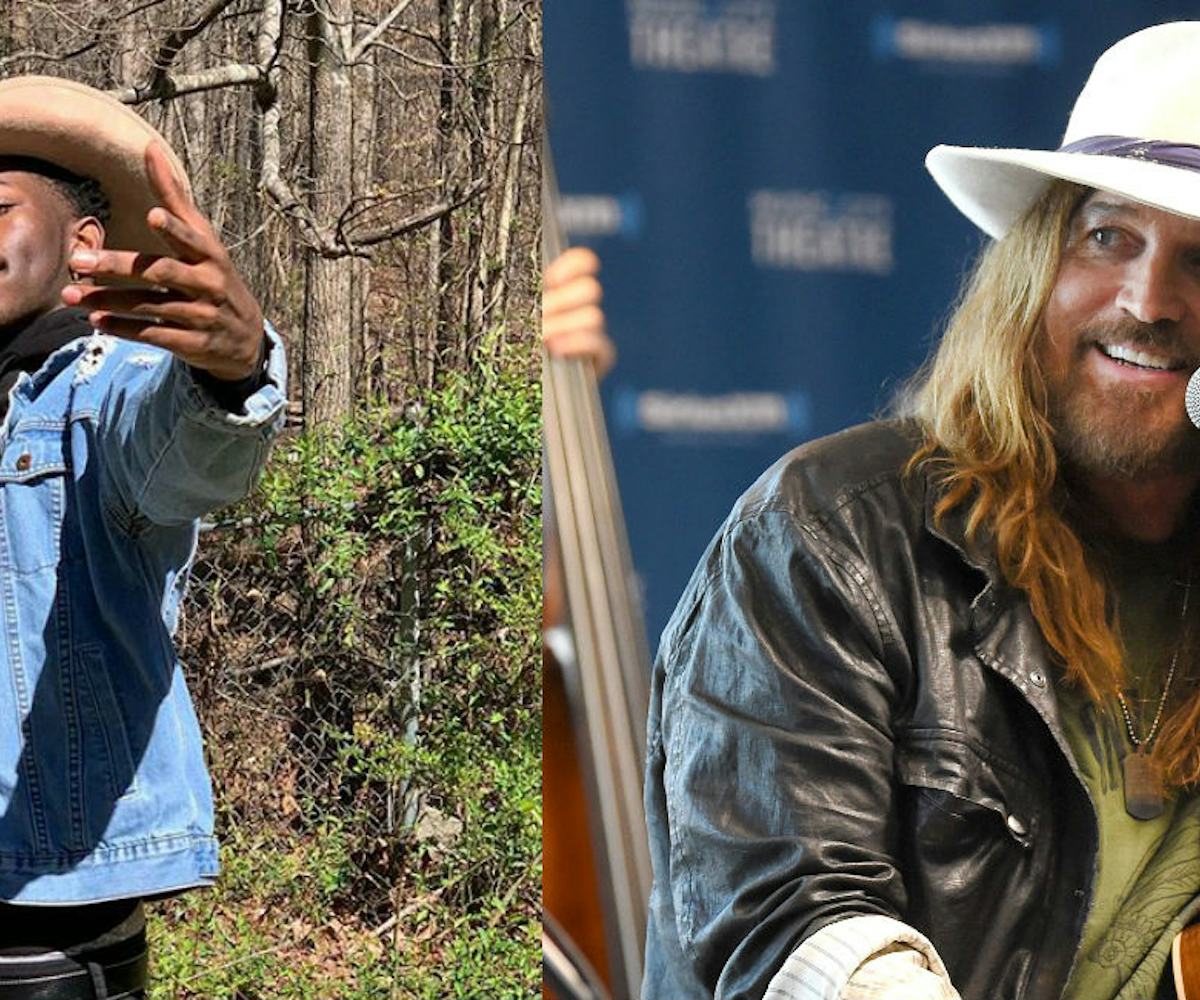 Photo Via Instagram; Photo by Jason Kempin/Getty Images for SiriusXM.
Following Backlash, Billy Ray Cyrus Will Appear On The Remix Of Lil Nas X's "Old Town Road"
This is one strong answer to the song being removed from the Billboard Hot Country chart
Last week, Lil Nas X's viral song "Old Town Road" was removed from Billboard's Hot Country chart for, basically, not being country enough. Now, in a pretty genius move (that we can't help but think is also a subtle fuck you), the artist has enlisted Billy Ray Cyrus for the track's remix.
The song doesn't appear to have been released yet, but, according to Rolling Stone, Cyrus sings the first hook and shows up again toward the end. "Old Town Road" first took off after becoming popular amongst youth on the TikTok app. The song, which has hints of rap, trap, and country, quickly debuted on Billboard's Hot 100 chart, the Hot Country Songs chart, and the Hot R&B/Hip-Hop Songs chart all at once.
After reaching the #19 position on the country chart, Billboard removed it for its "overall lack of country music instrumentation." A spokesperson told Rolling Stone: "When determining genres, a few factors are examined, but first and foremost is musical composition. While 'Old Town Road' incorporates references to country and cowboy imagery, it does not embrace enough elements of today's country music to chart in its current version."
The decision sparked online backlash that revolved around country music's history of excluding Black artists though Billboard told Genius the "decision to take the song off the country chart had absolutely nothing to do with the race of the artist."
Lil Nas X didn't exactly give an answer as to whether or not he believes the removal had racial undertones when asked by Time, but he did say that the song is "country trap" and so belongs on both charts.
Cyrus also weighed in on the controversy, writing on Instagram: "When I got thrown off the charts, Waylon Jennings said to me 'Take this as a compliment' means you're doing something great! Only Outlaws are outlawed. Welcome to the club!"
We'll have to wait and see if the popularity of the remix encourages Billboard to change its mind.