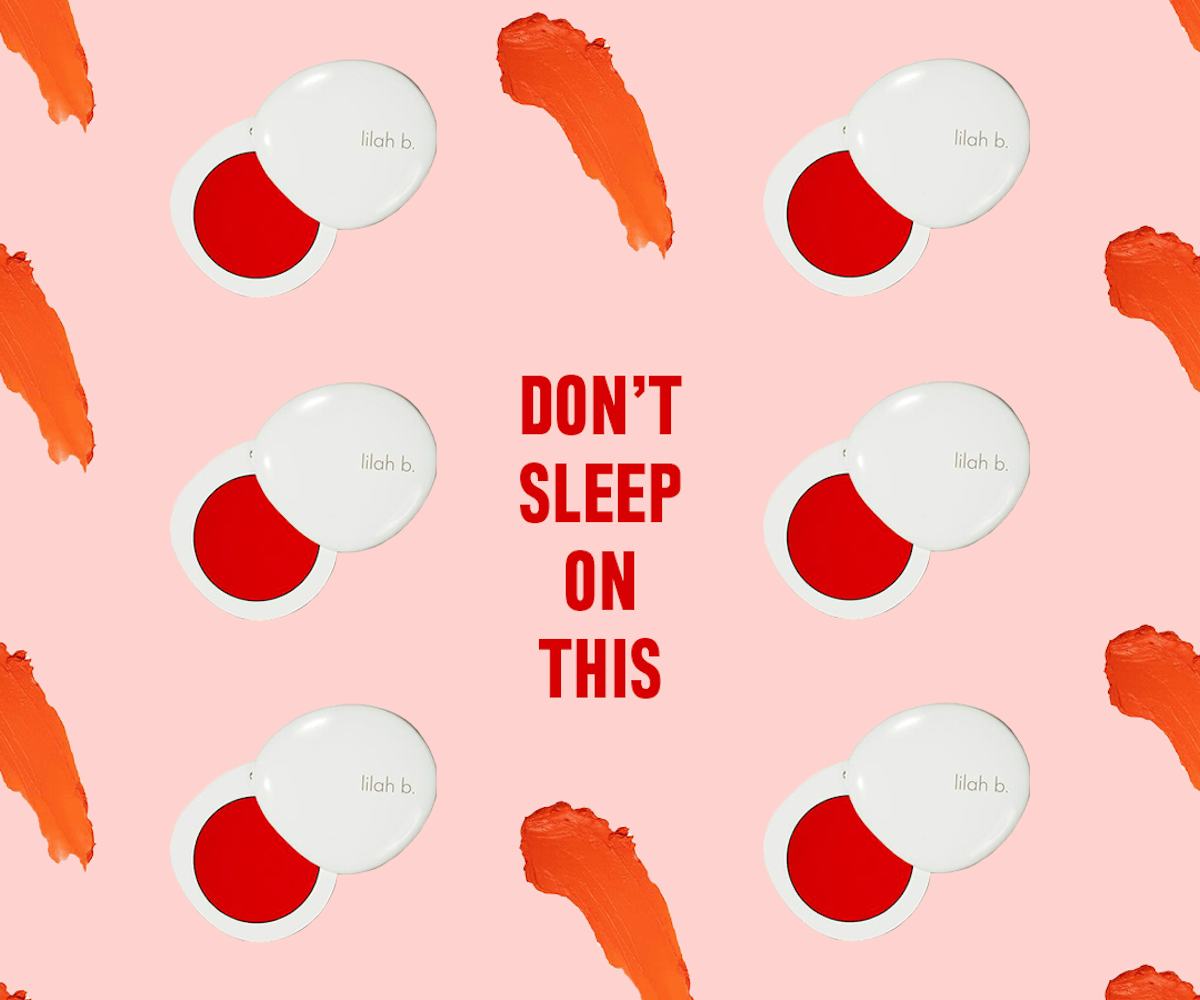 Photo courtesy of Lilah B.
This Is The Prettiest All-Over Color I've Ever Used
Friends don't let friends miss out on all the cool, under-the-radar things they know about, like which little-known beauty brand is low-key making the best highlighter around. And because we consider our readers to be like friends, we gather together all our best finds in our Don't Sleep On This series. Check in every week to see what things we can't wait to share with you.
Last September, I spent some time backstage at Mara Hoffman's gorgeous Spring 2019 presentation. Amongst the bushy-browed, seemingly flawless-skinned models, I immediately was enamored with the subtle washes of coral-orange that warmed a handful of their lips and cheeks. What was it? I had to know.
A couple of interviews later, and I learned about and met the founder of my soon-to-be new favorite cosmetics brand, lilah b., and new favorite product, the Divine Duo Lip & Cheek—responsible for said gorgeous wash of color.
As soon as Fashion Week came to a close, I went on to test out as many lilah b. products as I could. And while I find the brand's Glisten + Glow Skin Illuminator and Virtuous Veil Concealer & Eye Primer are both must-haves, my ultimate favorite product is the creamy and moisturizing yet perfectly matte Divine Duo multipurpose cream, particularly the orange/coral shade. It doesn't hurt that the brand's minimalist (and, in many cases, multipurpose) products are also clean—they're cruelty-, gluten-, paraben-, phthalate-, sulfate-, and synthetic fragrance-free, as well as vegan-friendly.
Look, I've tried a lot of clean cosmetics in my day, and it's really hard to find a good line that is not only actually clean but also, well, doesn't suck. Which is why I'll totally shell out $46 for one of these multipurpose pots of pigment. And while it may be considered a lip and cheek product, this particular shade looks incredible when swiped across the lids, whether a subtle hint of coral or built up for an intense red-orange glow.
What's more, the brand has a longstanding recycling program, one that aims to Marie Kondo your beauty drawer while doing good for the planet. Along with creating products that aim to simplify your beauty routine by being multipurpose (ahem, like my beloved Divine Duo), the brand will also help rid you of your old product clutter. Just email declutter@lilahbeauty.com, and the brand will send you a prepaid shipping label, so you can send in your empty packaging, and a partner company will properly process and recycle your old, unwanted products.
lilah b., Divine Duo Lip & Cheek, $46, available at Net-A-Porter.
NYLON uses affiliate links and may earn a commission if you purchase something through those links, but every product chosen is selected independently.