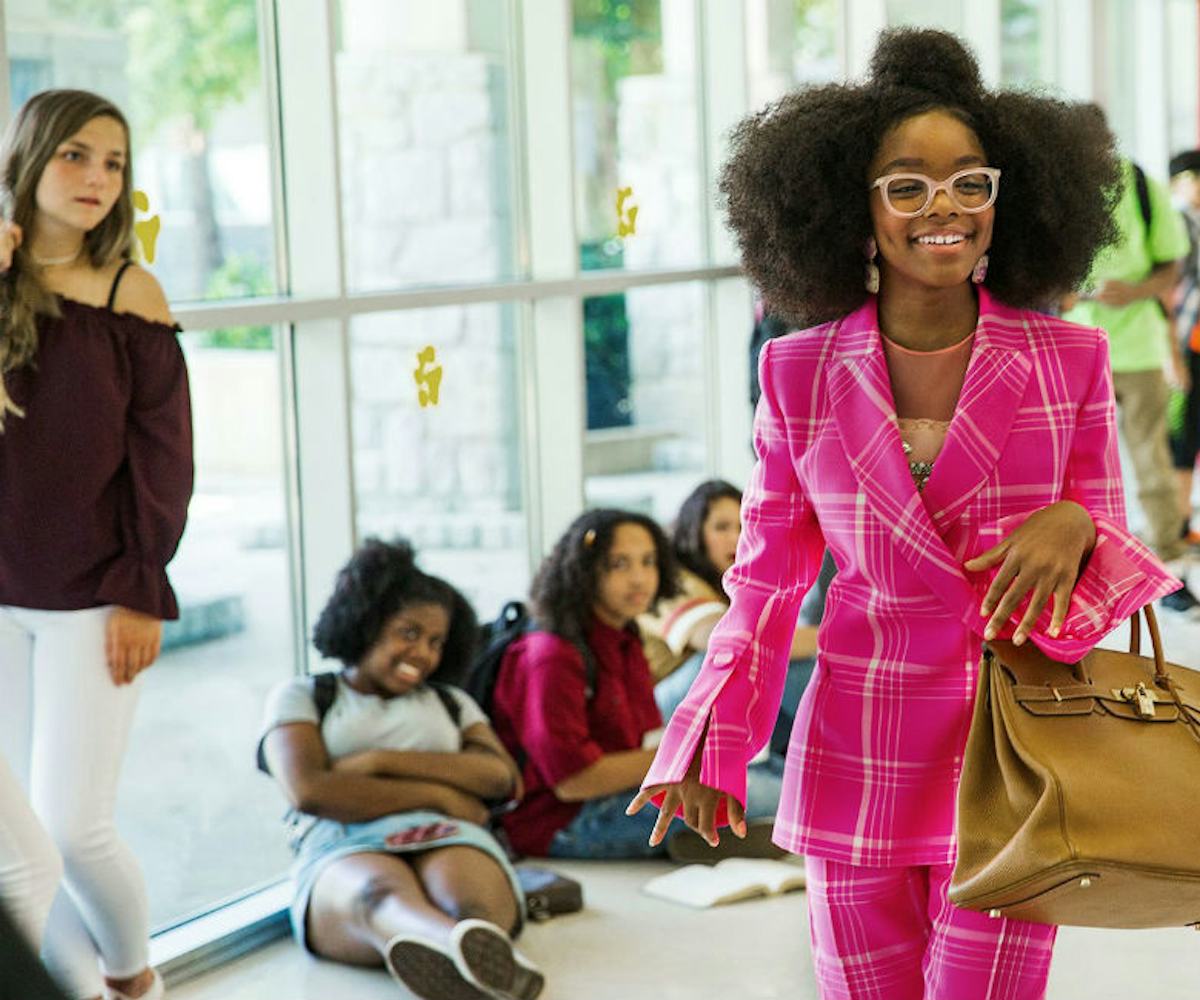 The Secret Story Behind Each Of The Gorgeous Costumes In 'Little'
We chat with Danielle Hollowell about how she uses clothes to make audience's "eyes dance across the screen"
There's a moment in a lot of women-led films when the main character undergoes a transformation of some kind. She appears strutting down a hallway, usually in slow-motion, with a new head-turning look. That moment comes about midway through Little. Marsai Martin's character—who plays a shrunken-down version of Regina Hall's character Jordan—has just endured a triggering moment of being made fun of by her fellow classmates. The next day, she returns in a bright pink Fendi suit and a glow-up that Issa Rae's character, April, might compare to that of Gucci Mane's.
This is the outfit that the film's costume designer Danielle Hollowell gets asked about the most, and it's also the one she holds closest to her heart. She first saw the pantsuit in the brand's Spring 2018 collection. The image stuck with her and, when working on Little, she reached out to Fendi who delivered on producing something similar. There were a few factors to keep in mind, though, before landing on the pink number. One being that the character who was wearing it was an older businesswoman stuck in a 13-year-old's body.
"I'm very cognizant of the difference between dressing children and dressing adults; I'm aware of how they should be presented, and I design that way," Hollowell tells us. "I don't try to mix the two things. And especially because little Jordan, her mind is still an adult, I had to be very aware of the fashion choices that I made there." She had to find something both a 13-year-old and an adult woman would be drawn to (same goes for the tan Birkin bag, a staple for Martin's character), but also something little Jordan's classmates would envy. "We knew it had to be impactful and that's why the pink was chosen, because it's a really amazing color in all the different hues that it comes in. Especially in a sea of these kids at school." She balances the look with a pair of Jacquemus shoes, which is also a nod to the younger Jordan. "If you look at them closely, one has a square heel, and the other has a round heel, so it fits in with a theme for a child."
Mini-Jordan isn't the only character who undergoes a style shift in the film; each character has a fashion arc of her own. When we first see April, she's wearing Hollowell's favorite piece from the film: a Hollowell-designed jacket that says "Black People Read" on the back. It's evident that April is a millennial with a creative side, and, like so many in her generation, she's underpaid. So, she makes due wearing lots of thrifted items, like the vintage Escada "swashbuckling-meets-Robin Hood" shirt that Hollowell found at a secondhand shop on L.A.'s Melrose Avenue. "It's awkward and interesting and textured," Hollowell says about the top. Just like April.
But as April's status changes from lowly assistant to invaluable asset, who protects little Jordan's secret, her outfits change too, and reflect her desire to dress like a boss—even if it's one who's trying way too hard, and so sports a metallic skirt, leopard-print shirt, and
way
too much gold jewelry. It is, little Jordan notes, something Cookie from
Empire
would wear. But April reels it in again, once she starts to feel more comfortable with and valued for who she is, and so she ends the film in a perfectly chic, black Alexander Wang outfit. "April starts out not having as much confidence, then ends up overcompensating, before actually figuring out who she is, style-wise," Hollowell says.
Hall, as big Jordan, only goes through a handful of outfit changes before she turns little, and then only a couple more when she returns to her regular self, but they also help tell the story of her transformation. Her first look is a red-and-blue, pinstripe Virgil Abloh shirt (Hollowell made it a point to incorporate a number of Black designers, including Abloh, Cushnie, Romeo Hunte, Brother Vellies, and Agnes Baddoo), which she pairs with red pants. "I had a discussion with Regina early on, and we were talking about the color red and how a lot of people are scared of it, but a lot of people love it, too," she says. "It means power, and most men, they wear these power red ties. Well, she's a powerful woman so let's go for this powerful red color."
When we see her character again, she's gone through a significant personality change, which is displayed in the color and the lightness of her clothes. "She's bringing in a new day," Hollowell says. "When she appears at the board meeting, she appears softer to everyone, and I needed to communicate that through the clothes."
For Hollowell, costume designing isn't just about "putting pretty things on people," it's about making an impact. "When I design, I want the audience to go on a journey, and I want their eyes to dance on the screen," she says. "I knew that I had to have texture, I knew that I had to have movement in almost every thing that I put on these characters." The job is also about portraying, she explains, who that person is through the clothes they wear. "Every day, people get dressed, so it's my job to communicate what their emotions are or their socio-economic status or their feelings that day," she says. "It's a way of communicating the way people live their lives."