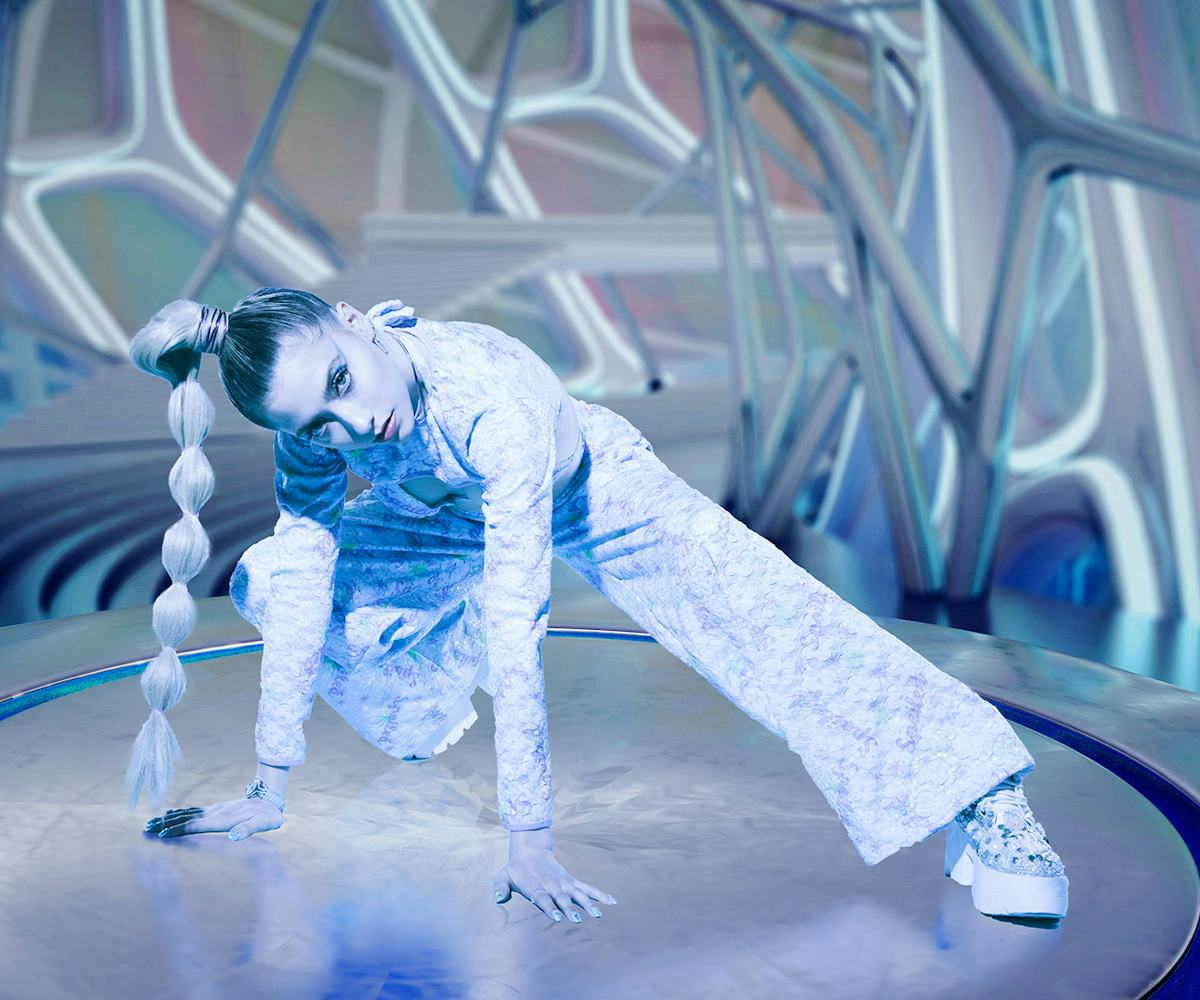 Photo Courtesy of LIZ
LIZ's 'Planet Y2K' Album Sounds Like Your Favorite Early 2000s Pop Record
We spoke to the artist about her debut album and how the best pop music is made during the darkest times
If you desperately miss the feeling of stepping inside a sprawling suburban mall at the turn of the millennium and getting lost in an endless selection of squeaky inflatable chairs, plastic butterfly hair clips, Britney Spears CDs, body glitter gel rollers, and baby tees embroidered with groovy cherries and daisies, allow LIZ's Planet Y2K to help you relive your wildest 2000s tween dreams.
California-based pop artist LIZ has long paid homage to the '90s and early aughts with her glossy brand of candy-coated R&B and electro-pop. Past releases, like 2013's saccharine "Hush" and 2015's frenetic Sophie-produced "When I Rule the World," leaned into the sleek sound of pop's past. But her new album, Planet Y2K, finds the singer-songwriter immersing herself into the era completely.
"I was a tween during the year 2000," LIZ says, reminiscing about how she felt "most inspired and safe" during that time in her life, back when she listened to unsung pop heroes like Christina Milian, Samantha Mumba, and Nivea on repeat. "When you're that age, you don't have too many worries. You don't have to be an adult yet. You're living in this fantasy realm, so you feel free to dream. During that period of time, the music and visuals were all so fun. It was magical. I'm always trying to chase and recreate that feeling."
Escapism plays a big part in LIZ's signature Y2K-chasing sound and aesthetic. Amid a particularly confusing socio-political climate — with generational anxieties regarding climate change, human rights, and politics mounting globally — looking back to a time marked by lighthearted fare like Lizzie McGuire and Mandy Moore "Candy"-era pop offers a much-needed spoonful of sugar to help the bitter medicine of life go down.
"I think the best pop music is made during the darkest times in the world," LIZ says. "People are always looking for an escape. I know I am. I choose to live in a world that I want to live in, which is why I'm so obsessed with creating things. I think that time right before 9/11, things felt more carefree. There's a reason why Millennials are super nostalgic for that era now."
In 2013, LIZ became both the first woman and first pop artist signed to Diplo's Mad Decent, home of acts like Jack Ü, Skrillex and Justin Bieber's DJ duo. Under the label, which maintains notable influence within the EDM and hip-hop communities, she built a steady stream of hype with a series of polished R&B-pop releases, including the Pharrell-produced "That's My Man," included on The Amazing Spider-Man 2 soundtrack. She also nabbed an opening slot on Charli XCX's tour, and later teamed up with Lady Gaga collaborator and Nicopanda designer Nicola Formichetti on an experimental 2016 mixtape, Cross Your Heart. But the momentum was short-lived, and as has been a recurring tragedy for so many independent musicians, issues with the label left LIZ marooned, uncertain of her place in the music industry — and briefly unable to move forward with her career.
"It didn't work out," LIZ shares. "The people that signed me left [the label,] and I was just left there without a champion. The industry is super fickle, and there's a lot of bureaucracy that you have to deal with. It's a problem that I see a lot with fellow artists, where they sign a deal with a major label and their champions leave — they're left just kind of floating around, neglected. You gotta make a move." And so, she did: Unwilling to waste time in label limbo, she leaked her own music to her fans online. But the move wasn't without consequence. The same day, she says, "[The label] sent a letter to my lawyer telling me that they dropped me."
Though half of LIZ's publishing remains with Mad Decent, she feels lucky she was released from the deal fairly quickly, unlike other artists, like JoJo, who have had to fight tooth and nail to break free from infamous contracts or else face being shelved indefinitely. But rather than wallow in frustration, the experience "fueled" LIZ creatively.
"I could have chosen to give up and say, 'This is too hard, this is depressing.' Instead, it made me even more passionate about what I do," she says. "It reminded me of why I make music. I definitely think you have to go through hell sometimes to get to something better."
Now signed to Moving Castle, the artist label and collective behind Planet Y2K, the performer is ready to do what she does best: usher listeners to a happier place. For LIZ, nothing is more representative of her personal utopia than Limited Too, the iconic 2000s tween mall-fashion haven and an inspiration for the new record. "The way they'd lay out that store, it was heaven — with the plastic bubble couches and the lip gloss. I used to love those trips to the mall with my mom. We'd go to Limited Too and Claire's, then my sister would go shopping at Rampage or Wet Seal. I wasn't old enough to wear that stuff yet, but it was still like, 'One day I'm gonna be a teenager! And I'm gonna have boobs!' I want to transport people, so they can relive the times when they were happy and innocent like that."
From the glistening swell of "Cloudbusting," the album's dreamy, driving trance-pop opening track, to the pulsating Europop beats of the Kim Petras co-penned "BTR 2GTHR" and the bubblegum stickiness of "Baby Blue," Planet Y2K is a sonic love letter to the reigning age of AIM, tube tops, and DJ Sammy (who, coincidentally, serves as one of the record's most salient aural influences).
"Diamond in the Dark," which features fellow 2000s pop enthusiast Slayyyter, is a radiant self-love anthem inspired by the DDR remix-friendly techno of the aforementioned DJ. "Lottery," which includes a sassy verse from RuPaul's Drag Race alum Aja, pays homage to the breathy club-pop of Nadia Oh and Blackout-era Britney, while dreamy teen romance banger "Laguna Nights" playfully nods to MTV's Laguna Beach. (LC and Stephen forever!)
One of the record's brightest gems, the Jimmy Harry-produced "Intuition," is also its most authentic paean to bubblegum pop. The track was cut by Kylie Minogue in 1993 but, luckily for LIZ, never released. "I hit Jimmy up like, 'Will you go back in your vault and see if you've got any demos?' I gave him a playlist with Mandy Moore, Dream, and Savage Garden as references ... It's real haute couture, vintage pop," LIZ says.
The tongue-in-cheek, Robokid-produced "Lost U 2 The Boys," meanwhile, owes much of its breezy island groove to the legendary palm tree pop of Ace of Base, particularly the Swedish group's 1993 debut album, Happy Nation. The track, LIZ shares, was written about a real-life date gone wrong.
"I played a show at a gay club, and I brought this guy that I was kind of seeing with me. Within 20 minutes of being there, someone already made a pass at him and wanted to make out. I asked him, 'So what did you do?' And he said, 'Well, I didn't want to be rude…' The next thing I know, he's making comments about how hot some of the guys are, hitting on my [male] friends, and running his fingers through their hair," she says. "If you're bi or gay or whatever, that's totally dope, but don't come to town and stay with me, be my date to my own show, and hit on other people! I had to write a song about it to get it out of my system... I look back on it now, and it's funny. I told him though, 'I'm writing a song about you. Get ready!'"
The ability to turn almost any situation into sunny dancefloor pop is pure LIZ. But as "bright and glossy and bubblegum" as her discography is, it's anchored by a vulnerable lyrical and vocal emotionality that adds depth to her largely wistful, club-friendly music. LIZ says she "could definitely make sad music," but she'd "rather have layers and express myself through happiness and things that remind me of the good times."
Hear what the good times sound like to LIZ with Planet Y2K, below.