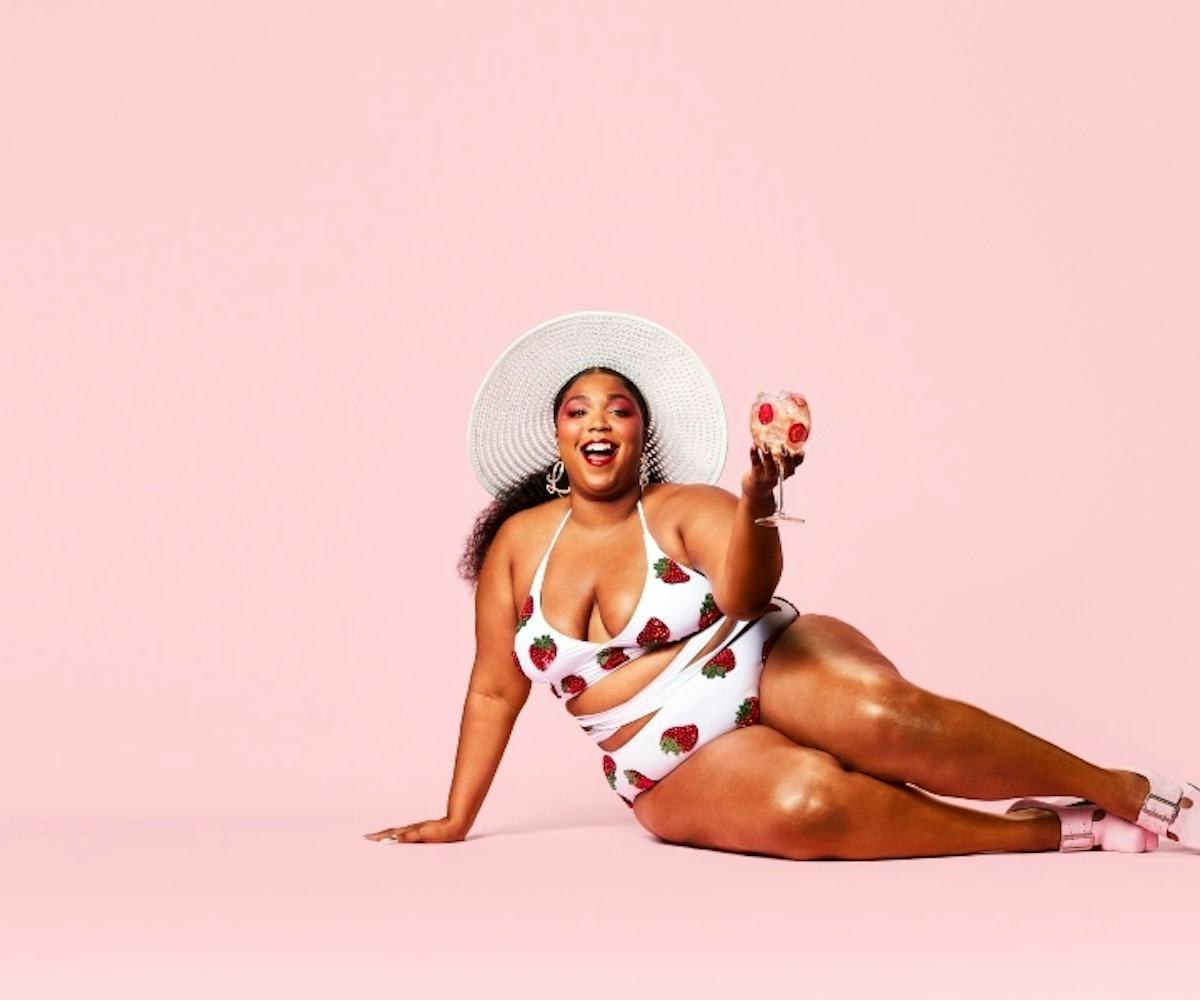 Photo courtesy of Absolut Juice.
Lizzo Talks About Her Hot Girl Summer And Her White Girl Fans
"You can all come, but know that a Black girl is throwing this party, so it's going to be some Black shit"
Can you name anyone, save for maybe Megan Thee Stallion herself, who's had a more successful Hot Girl Summer than Lizzo? No? I didn't think so.
Sis has been booked and busy all year: shutting down award shows and festivals, making friends and fans of all your favorite artists, and serving look after look. Absolut Juice even gave Lizzo a campaign and her own signature cocktail because she has "Juice"... get it? This week, Lizzo's single "Truth Hurts" hit number one on the Billboard Hot 100 and next week, she's making her big-screen debut alongside Jennifer Lopez and Cardi B in Hustlers. There were no inaccuracies on whatever DNA test told Lizzo she was 100 percent THAT bitch.
But it's more than her success that makes Lizzo one of the most fuckwithable artists of our generation. She's pro-Black, pro-woman, pro-LGBTQ, and body positive. She's affirming AF, pushing an agenda of self-love and empowerment that's not corny.
I spoke with Lizzo about all of this and everything else, like: playing the flute for a twerking Megan Thee Stallion, working with her icon, and yes, navigating a fandom that includes a lot of white women. Check out our conversation, below.
Hey, girl!
You sound like one of my good friends growing up. Are you Caribbean?
I am not, I am Chicagoan. [laughs] I am just a girl from the Midwest.
[Laughs] Listen, I am too. That's an island of its own.
True. How were the VMAs? You DID that!
The VMAs were really interesting. I was kind of nervous about it the whole time. I was afraid that I wouldn't say the right thing, and I was really outside of my comfort zone. Me and the women that I danced with on-stage really connected on this spiritual and energetic level. I knew that was going to be good. I just wanted to have the most special experience for them. I wanted it to be special and important for them. So I put a lot of pressure on myself for that performance, not to impress anyone else who was there or to be the best performer of the night. I don't care about that shit. I put a lot of pressure on myself to make sure that those women on that stage felt like they were represented in the right way and shown in the best light. And I'm just so glad it worked out.
I get that, because in many ways being on stage on live TV with your butt out is still a very vulnerable experience, even when you are performing. You have worked very intentionally throughout your career and up to that moment to reclaim the narratives that we set for our bodies. We are the only judge and jurors.
I spoke on that to the girls, too. Twerking is trendy, and booties are popping. But Black women have always twerked, and Black women have always had ass. I'm not going to shrink away from things because they're trendy. And I'm not going to shrink away from things because they are overdone. Because they're not overdone while honoring the originators. They're overdone while honoring the imitators. So why not claim this thing that is suddenly global? Why not own and claim cornrows, when cornrows belonged to us first? Afros belong to us. I wasn't up there trying to do cool things or do trendy things. I was up there making a statement and placing a flag back into these things that belong to us in our culture.
It's interesting that you mentioned that, because you are very pro-Black and pro-Black woman. But you have a lot of non-Black fans. Do you ever feel pressure to really push that message when you have fans who aren't the originators?
My fan base was primarily indie. I was an indie rapper and an indie performer. I was playing a lot of festivals. My audiences were a reflection of that. I didn't have as many Black people coming to my shows as now. That's just a matter of exposure and different privileges, and that's fine. I'll say, though, that I've always been this way. My message is just inclusive. I'm not saying, "I am Black and I'm twerking, so this is only for Black women." I'm saying that I am celebrating my individuality; and the things that make me an individual ARE what I do, It IS my skin color, it IS my hair. You can celebrate your individuality as well. I just invite people to my party, instead of having rules and being exclusive about who can come to my party. You can all come, but know that a Black girl is throwing this party, so it's going to be some Black shit.
There was a moment during the VMAs where you got really emotional when you were giving a tribute to Missy Elliott. Can you tell me more about that moment and what it's meant to be able to work with someone who has influenced and inspired you so much?
That whole thing was emotional. When I went in, I was nervous because I was [considering] who else was going to be in this compilation video. It's going to be little ole me... and Janet Jackson. [laughs] I didn't know who was going to be in it.
[Laughs] And that's exactly who was in it!
I was like, "I'm not worthy." But then I realize that Missy taught me that I am worthy. Don't shrink yourself around other people because you believe that their star shines brighter than you. Her advice always comes to me in the most necessary moments. I immediately got emotional once I stepped on set. And I told them I was emotional and the director said, "Justin Timberlake said the same thing yesterday." First of all, oh my god! [laughs] It just reminded me of who I'm doing this interview with. Also, it was just an ode to Missy and how she makes people feel. She really makes people feel special. She really makes people feel sacred. [And she] makes people want to treat her like she's sacred and special.
She said something really sweet on that stage. She's a Cancer, so she's very emotional. She said, "If my heart could speak, you would know how I feel." It was the most spot-on thing that she's ever said, because it made me realize: That's Missy in a nutshell. If her heart could speak, that's what her art would be. If her heart could speak, that's what all the advice and all the moments I've shared with her would look like. It's all heart. It meant a lot to me. It means a lot to me to have a relationship with her. It means the world. Not only is she someone that I look up to, she's one of the best people in the world you could look up to. She's so gracious and humble and gave incredible advice. I wanted to be just like her when I was little, and I still want to be just like her. Everything she's doing, she does it right because she does it from her heart.
Her influence was all over everything during the show. She's just monumental, and I really agreed with Justin Timberlake when he said this was one of the most overdue awards.
Of all time.
Can you give me a full oral history on how you became the official flute player for Megan Thee Stallion's twerk wind? I need to know how it all went down.
It was really quick and just made sense. We were in the studio. I have a little setup in Malibu where I was just recording and I [told her to] come through. She came through, and we were working. We are very similar in our focus. So it was like: Come through, drive the boat, get comfortable, let's get to work. We both had a list of things we wanted to accomplish. Then we accomplished them, and looked at each other, like, Wheeeewwww! We're done with work, it's time to turn up. She's so great in that way. But there was a song, and I said, "Let me go lay some flute down on this song." I grabbed it, and she was like, "Damn, I wish I could play an instrument. Shit, the only thing I can do is play this ass."
[Ed. note: The interview momentarily paused here because I was cackling so hard. We truly don't deserve Megan Thee Stallion.]
I was like, Hell yeah, that's a talent. Let's fuck it up. Let's do that one good time. She was like, "Let's go outside and do a twerk video." So I went outside with her, and everybody else went outside. She was like, "I need some booty shorts."
I can imagine her with a supply of travel booty shorts.
It was so funny. She had booty shorts on command. She was like, "I need some booty shorts," so we waited like 15 minutes for some booty shorts to appear. So I played this really nerdy classical thing [on the flute]. And she was like, "You gotta give me something I can bop to." So I was like, "Oh my bad." So then I played "Shake that Monkey," and the rest is on Instagram.
You've been so busy at festivals, award shows, events, and you're touring. Are you going to be taking a break soon?
I took a week off. I'm not taking a break. I'm literally in tour rehearsal right now. I'm about to go on tour. I'm about to go back to Europe. I'm going to Australia. I'm booked until 2021.
Wow. Secure the bag, sis. I also can't forget to ask you about Hustlers. How did you get involved with the project? Were you nervous?
The director wanted me to be a part of this for a while. My schedule wasn't working out with theirs. [But] being in a movie with J. Lo? That's crazy. There were a bunch of other offers I had on the table. My schedule wasn't aligning with that, and my schedule was stacking up so much that I would get distracted and forget. But then every couple of weeks, I would remember and be like, "Yo, what's up with the J. Lo movie? I want to be a part of that. Make sure that happens."
Eventually, it worked out to where the director found time in the production schedule and in my schedule. I flew out, and I was able to do it. I was literally on tour. I played a show, and then I hopped on a red-eye. Shit. Then I filmed all through the night, I hopped on another early morning flight, and then played a show the next day. I don't even know what that timeline looks like. It was in the span of like two days. I got all my shots in and did everything I needed to do and made it work because it was something that I really wanted to do. The offer came to me sometime in the fall of last year. We finally got it to work in May. I had been trying to get that for a while. I really wanted to act. I really want to get into that. I have always been very theatrical, and I was in theater until I got kicked out. That's just something that I'm passionate about. It's my first on-screen role in a movie. It's a big deal to be alongside Cardi B, and Constance Wu and Julia Stiles. It's going to be a moment just because of who's involved. I think it's just going to be really fun. Getting excited to go to the movies is rare these days. It's really cool to be part of a project that really inspires people to want to go see it.