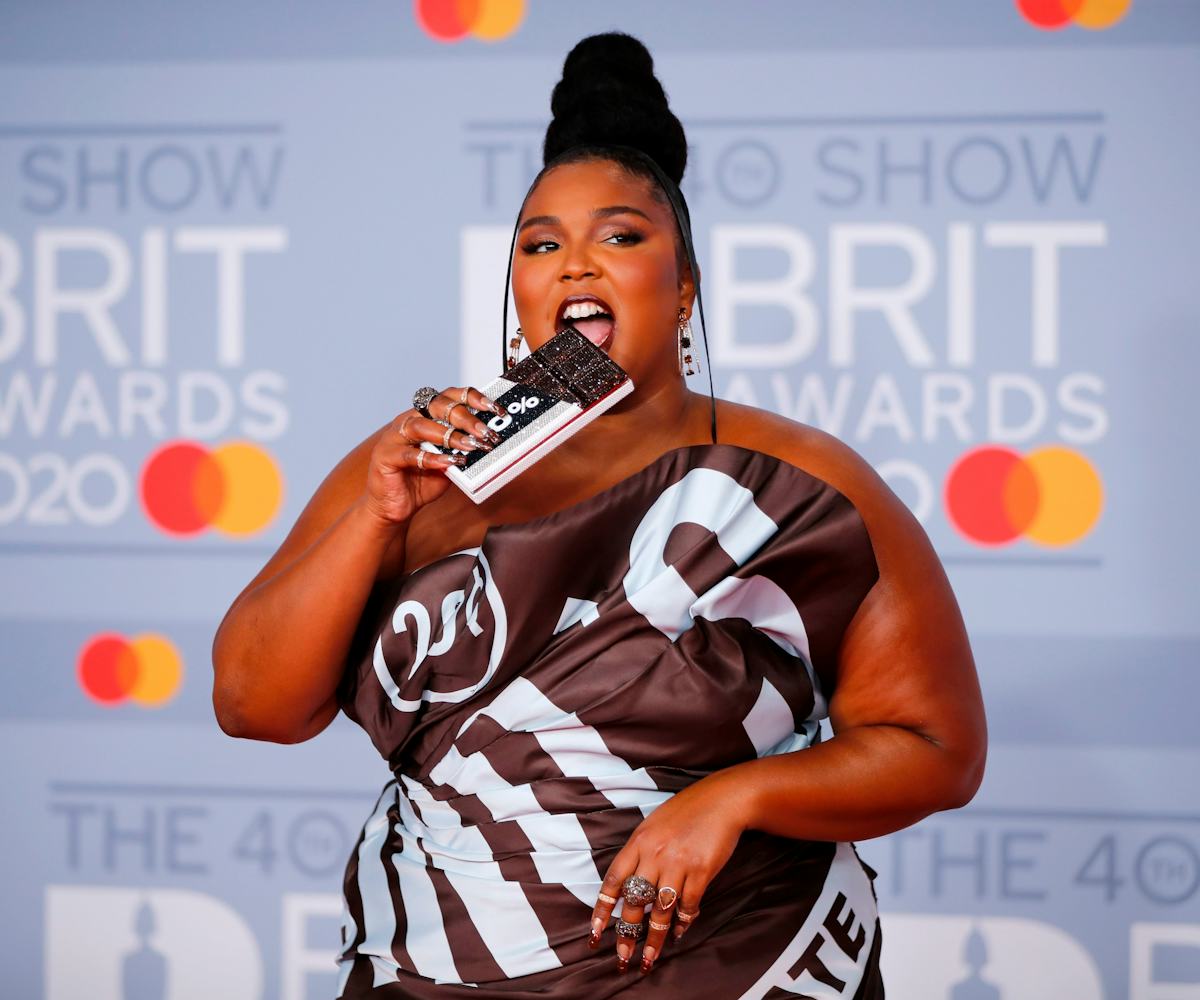 Photo by TOLGA AKMEN/AFP via Getty Images
Chocolate Scented Nail Polish Exists Now — And Lizzo Was The First To Wear It
The singer gave the Nails Inc. polish its red carpet debut at the 2020 BRIT Awards
The 2020 BRIT Awards red carpet was filled of stylish fits, ponytails that needed their own escort, and Lizzo's candy-inspired look. Every tiny detail of the singer's outfit featured a tribute to our favorite Halloween candy, including her nails. Wearing a custom Moschino gown designed by Jeremy Scott to look like a classic Hershey's bar, Lizzo went for a manicure that featured the debut of chocolate scented nail polish.
Manicure and chocolate enthusiasts can officially thank Nails INC. for the creation of the decadent polish, which is called Coco For Real. Available for preorder now, Lizzo gave the polish its red carpet debut, arriving at the Brit Awards alongside other celebs including Charli XCX and Billie Eilish. Her manicurist for the night, Eri Ishizu, shared a video of the "Juice" singer rocking the nail art, which turned the singer's nails into miniature chocolate bars, complete with packaging.
Nails INC. confirmed to NYLON in an email that Lizzo wore both shades from the upcoming chocolate scented Coco For Real nail collection. To create the look, Ishizu shared her process, saying that she began by priming the nails with NAILKALE Super Food Base Coat. The primer application was followed with one coat of the Coco For Real shade I'm Fondue You, and two coats of the 100% Hot Chocolate coloring. Acrylic and aluminum foil were used to mold the chocolate bar tips and their accompanying foil packaging. To finalize the look, Ishizu used one coat of the Retinol 45 Second Top Coat.
In keeping with the night's candy theme, Lizzo accessorized with a custom jeweled chocolate bar clutch designed by Judith Leiber, a makeup routine that featured hues of brown, and plenty of coordinating diamond jewels. Based on Lizzo's social media posts, it's clear that she was definitely loving the look. In addition to a TikTok dance, she shared a photo from the red carpet, writing, "The best kind of chocolate."
You can't scratch and sniff this photograph of Lizzo's nails, but below, get a glimpse at her sweet nail art.