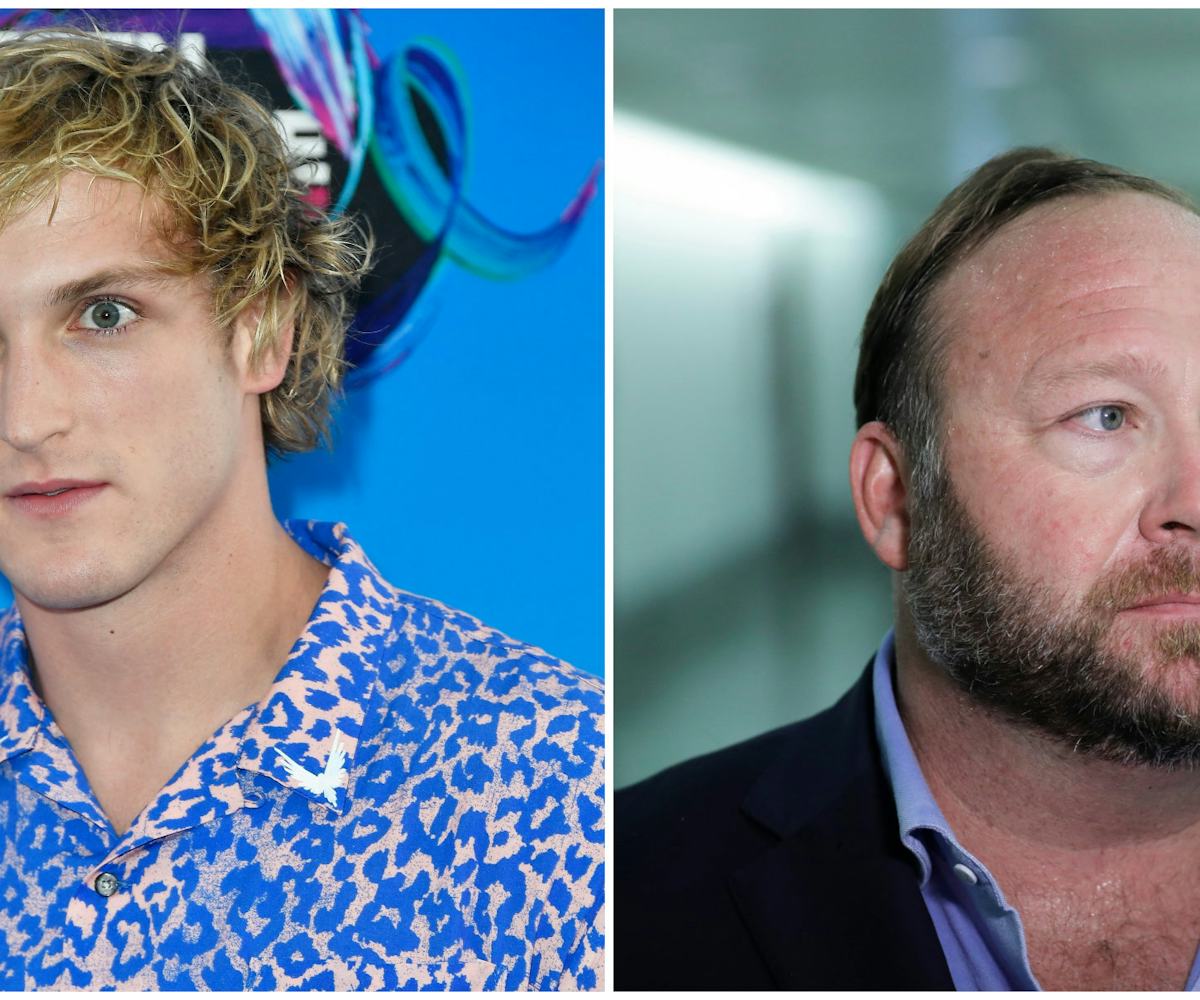 Photos by Frazer Harrison/Getty Images, Drew Angerer/Getty Images
Logan Paul Is Apparently Bringing Alex Jones Onto His Podcast
Logan Paul, the YouTuber who should have stopped being a public figure after he videotaped his reaction to finding an apparent suicide victim's body, is still creating bad content. According to a video from his Twitter account, right-wing sensationalist Alex Jones will appear on an episode of his podcast which is airing tomorrow.
Early Wednesday morning, Paul released a video of the podcast being filmed, which prominently features Jones screaming red-faced for the camera with both middle fingers in the air. He captioned it, "tomorrow on impaulsive ?" which is the name of his podcast. It's not clear whether the episode will be an interview or just incoherent screams spewed by Jones.
Only a couple weeks ago, Jones said in a testimony that he believed tragic events like the Sandy Hook massacre were fabricated due to a "form of psychosis" in a defamation case filed against him by families of the victims. He publicly deemed the massacre to be a "hoax" put on by "crisis actors" who oppose the Second Amendment. Jones' show has been banned by providers and his social media platforms deactivated, so Paul giving him a platform to potentially spew even more hate is, simply put, wrong.
But, unfortunately, this is the type of stunt we have come to expect from the YouTube star. He didn't seem to show any remorse for the video of the suicide victim, and has recently created a mockumentary about Flat Earthers that some are saying will be harmful for the kids who watch it and are exposed to this false theory. He's also worked with "gun babe"Kaitlin Bennett, which should give you a sense of what kind of people he likes to align himself with. Let's just say there's a reason we canceled this guy back in 2018.