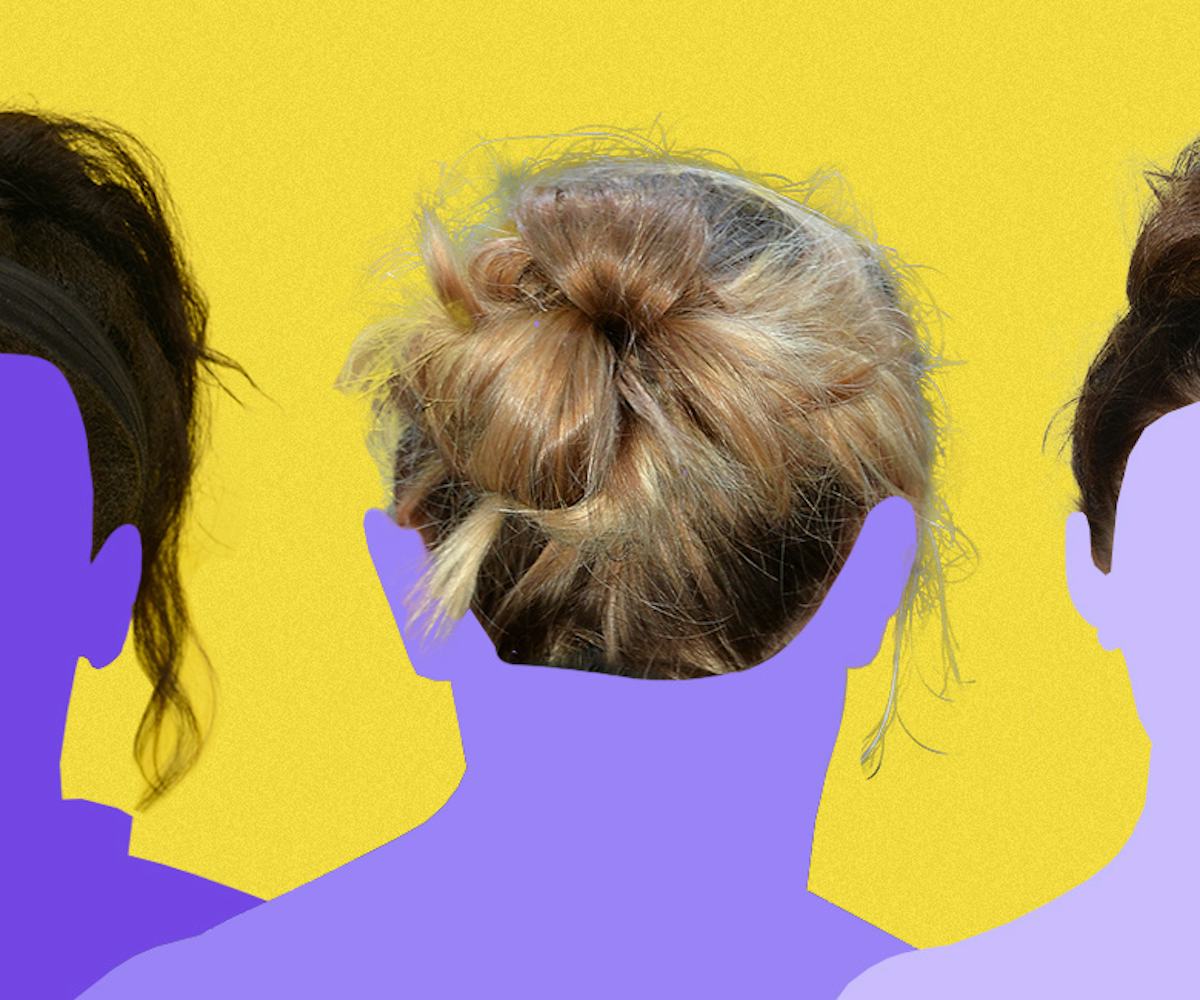 Photos by Daniel Boczarski/Getty Images, Anthony Harvey/Getty Images & Jason Kempin/Getty Images
Long Live The Messy Bun
An ode to the perfectly imperfect hairstyle
In 1998, I became a discipleof My Best Friend's Wedding. I bought the tape pre-viewed from Blockbuster for a few dollars and more than got my money's worth. Every night, while my parents and siblings were asleep, I'd sit on the floor of the living room, press play, and make sure the volume was low. Sound was superfluous. I watched My Best Friend's Wedding for a lot of reasons, not least of which was Julia Robert's beauty.
In MBFW, she was more than beautiful: She was a writer and charming, too; everything I wanted to become. (Yes, I realized this was a character, but a role model's candidacy isn't predicated on birth certificate.) To this day, I can still hear Roberts' admonition to her rival—"you're never gonna be Jell-O"—in my intonations, but mostly I can just picture her: The purple satin number, the striped henley, the fetching black dress with perfect straps. And the scene where I most wanted to be her, the one in which she's about to flop on a hotel room bed; Rupert Everett's patient ear and cigarettes await. She wears a bathrobe, a schlubby tee. Her eye makeup is smudged. Her hair is in a messy bun.
My fixation with the movie lasted just a few months, but I can see evidence of the impression it made on me nearly anytime I look in a mirror. Not the smoking, not the bathrobe, not the conniving, and definitely not the ruthless pursuit of a taken man—but there, in the messy bun.
I've worn one for the better part of two decades, and these days it's why I expect I'll keep long hair for the rest of my life. I crave the feeling of tautness, like an extension of my spine, the pulling at my scalp. I love the sudden lightening, that quick freedom from my long, thick locks. I love the way strands get loose around the top knot or wisp by my ears, the tendrils that curl at the nape of my neck. But more than the aesthetics, I like its implication.
The messy bun is a style that means being beyond reproach. It's a symbol of preoccupation, a preference for the imperfect. It's the entire decade of the '90s summed up in a hairdo. "Whatever," the messy bun says (Tai and Cher sport two iterations of the do in Clueless). Tuning into the alternative station, the messy bun cites Fiona Apple: "I wanna make a mistake, I wanna do it on purpose."
"On purpose" was important to me when I watched MBFW and when I started wearing a messy bun. If Kimmy (Cameron Diaz) was "never gonna be Jell-O," at 13, I sure as hell was never going to be Roberts. I was also never going to be like most of the other girls my age; I had never liked being a kid, and suddenly, I saw a few ways to bypass the whole, pimply ordeal. These ways are not necessarily advisable. I started a vigorous diet and took to heart the Serenity Prayer I'd memorized: I accepted the things about myself I could not change and summoned the courage to change the things I could.
My eyes could be further apart: unchangeable. I seemed destined for shortness: I stashed heels in my locker. I did not laugh easily: I told myself to get a sense of humor. My nose was bumpy rather than aquiline: I starved until the rest of my face, too, was bumpy, with bones. Everything, it seemed, could be redone, as long as I kept my hair up and out of my face, so I could think. I started piling it on top of my head.
For most of my childhood, I had agonized over my appearance. Now I think, maybe I was greedy. I was in gifted classes; I was a talented writer and an above-average drawer, and I knew more about the history of haute couture than did anyone else I knew. I had to be pretty too? Yes. But it didn't matter if I went to a fancy beautician on Armitage in Chicago or memorized Tom Ford's first lookbook for Gucci. I was dorky, unglamorous, and my Mason Pearson brush couldn't save me. No matter how much I tried, I couldn't arrange butterfly clips with the same degree of haphazard whimsy as other girls. My attempts at zigzag-parting were maddening. Even the simplest thing—a ponytail—never looked right on me. Was I supposed to brush back my hair and confront the world like a seal or preserve the center part? How did Kristin and Kelly, the popular girls, have such bump-less crowns? "I'm not good at this stuff," my mother would tell me when I asked her to curl my hair on picture days or special occasions, like trips to the ballet.
I wasn't good at hair stuff either; what I was good at was leapfrogging over adolescence and getting to the part of life where I could be ambivalent about my appearance. The sooner I discovered my calling, I decided, the sooner I'd be free of slavering to fit in. My efforts were met with varying success. By the time I finished eighth grade, I knew I wanted to be a writer or a fashion designer, and I affected accessories that could work with either profession. I carried around a notepad and a sketchbook and colored pencils; I wore my hair up and my eyeliner heavy, more black.
"Are you trying to look thinner?" my friend Ross once asked me on the bus. We were talking about his mother's Dana Buchman pantsuits. I was wearing flared black pants.
"Not really," I said blithely. By that point, I didn't need to look thinner: I'd become thinner. I realized, though, that I hadn't just lost weight or changed my hair. The more I practiced not caring about my appearance, the better I got at living my life.
The other day, I went to the doctor's office. I'd been writing all morning, hair coiled in a snail at the top of my head. In the elevator, I shook it out and flipped it over on itself. I sat down on the couch and picked up a magazine when I felt the receptionist staring at me.
"Your hair looks so good," she said, beaming.
"Thanks," I said. "It was up, and I just took it down."
"Whatever you did," she said, "it looks great."