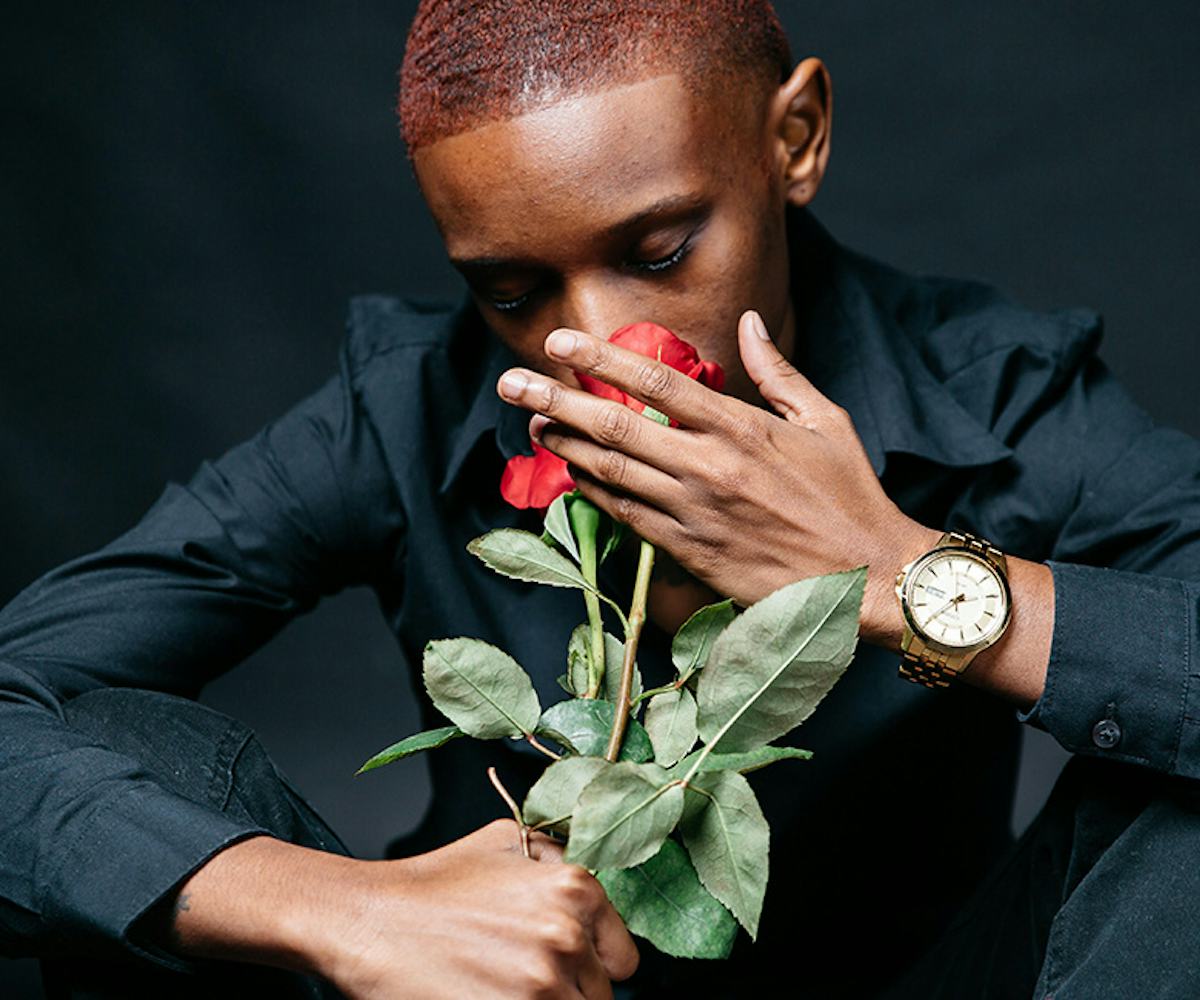 Photo by Charlie Peacher
Lor Choc Is Bringing A New Tenderness To Rap
The Baltimore rapper talks 'Love Is Love'
For decades, most street rappers barely dabbled in romance, save for an overly A&Red radio single here and there with a hook by the season's hottest R&B singer. But, as many MCs have embraced melody in their music, hip-hop love songs have become more commonplace, though they have rarely felt as kinetic and emotionally transparent as those written by Baltimore's Lor Choc. Born Delvrona Conley, the 21-year-old's new album, Love Is Love, is a vivid journey through a relationship, from flirtation to fights to flights overseas.
A capable vocalist with impressive range, Choc grew up singing both alto and soprano, and her delivery is a natural extension of how she raps—focused and earnest, vulnerable in ways that many rappers don't allow themselves to sound.
"I remember getting a lot of solos in choir because nobody else's voice sounds like mine," she recalls.
Her first project, 2016's Worth the Wait, is a blend of the tough and tender, with tracks like "Forever On My Mind" and "Wind On Me" as clear predecessors to Love Is Love standouts like "Love Me" and "Vibe." The earlier cuts are a bit more autotune-dependent, and the hooks are less refined, but she's clearly been a romantic for some time. She says she came up with the idea for a softer, more intimate project in 2017, marking a departure from some of her early online hits like "Run Up On Me" and "Fast Life."
"[There's] nobody in Baltimore that can do what she does, from the lyrics to the flows to the switch between different tones and pitches of her voice that she taps into," said rapper Geter HD, a longtime friend and collaborator of Choc.
Now, she's a critical favorite in a robust Baltimore scene that includes acts like Shordie Shordie, Bandhunta Izzy, and Creek Boyz. The city is primarily known for its no-nonsense street rap but acts like Shordie Shordie and Choc are expanding the perception of Baltimore music by showing a more vulnerable, R&B-inflected side.
Though an honest and emotive songwriter, Choc seems like someone who very much needs to turn on her performer persona when the cameras are rolling or she's beckoned to the stage. Sitting at the kitchen table of a midtown Manhattan Airbnb, she's pensive and stoic, taking time to consider her answers but keeping a straight face throughout the conversation. She explains that there's never a choice made before heading into the booth about whether a given song should be grimy or romantic, just an innate realization of where the track should go.
"I'm not going to stress myself out about it, whatever comes out when the beat talks to me is what's going to go on the beat," she says. "I'm not going to put an emphasis on saying or not saying something because it sounds better if I sing it [instead of rapping it]. I'm just trying and testing out all sorts of different stuff."
Just like how she's always composed and in control on the mic, Lor Choc is deliberate with her words. Some artists short-circuit interview questions so they can say whatever is on their mind, but she strives to make sure that, in her this chat as in her music, there are no wasted words.
That's part of what makes "Go Far" and "Ride," the two songs Choc says were the most difficult to write on the album, so compelling. "Go Far" treads a difficult line, it's a celebration of her partner, while also pointing out the ways in which she still has potential. In contrast, "Ride" is wanting and wounded, the pleas of someone who has struggled with pain and rejection but is still willing to open up.
"I want you to want me and need me, yeah/ I want you to say, don't ever leave me," Choc sings.
In the era of rappers who seem to release songs before they've even finished recording them, Choc is a perfectionist who describes herself as her own harshest critic. She often can tell quickly whether a beat is right for her, a hallmark of prolific MCs like Young Thug and Gunna, but when it comes to her lyrics, she's willing to let thoughts marinate. For "Speechless (Hurts So Bad)," Love Is Love's forlorn lead single, she heard the beat by Mitch Mula and immediately began ruminating on one heart-wrenching phrase.
"The first thing that came to mind was 'It hurts so goddamn bad, can't talk about it.' I didn't say nothing at first though. I actually let a day go by, and then when I got back in the studio the next day, Mitch was like, 'Come on, Choc. What you got for me today?' I was like, 'Bro, cut that beat on that you played yesterday,'" she recalled. "He said, 'Why you ain't been say nothing? You've got to start saying stuff.'"
Choc, who recently graduated from college in her hometown, is grappling with the adjustment to being a full-time musician. Like anyone who makes a passion into their profession, she's figuring out how to maintain her love of it now that music has adopted a new role in her life.
"Taking a break from school helped me a lot, but it also hurt me a lot as far as my career, because I don't operate the same way that I used to operate," Choc says. "I used to wake up singing and rapping, go to sleep singing and rapping. Now it's like I've got a set time that I put aside just for singing and rapping, and it helps a little bit, but not really."
Though her circumstances have changed and she's now receiving national attention, Choc remains fiercely loyal to Baltimore and the people who were in her corner early. That's not to say that Choc isn't kind and warm in her own way, and her attitude in that regard matches her relatable, empathetic rhymes.
"Once our song ["Run Up On Me"] had gone viral, she invited me out to her neighborhood to feature in the music video," said producer Brett Cox. "She made sure everyone showed me love and knew that I was the one who produced the song. I'd never felt so comfortable in Baltimore like that."
Choc wants those close to her to be welcome and comfortable, and she wants the world at large to be more accepting. The phrase "love is love" is obviously well-known for its use in the battle for LGBTQ rights and marriage equality, though Choc, a gay woman, doesn't say that's where it necessarily originated. She explains that the title emphasizes the universality of love. It's fitting that her descriptions of romantic highs and lows have an everyman's accessibility.
"At first, the name of it was Love Love without the Is in the middle. It just recently became Love Is Love like two months before I dropped the project, and that's because it is what it is," she says. "Love is love. I believe in letting people be free, not judging people for what they want to do, and loving them regardless."
Choc recently came off the road opening for Kodie Shane, a buzzing queer artist from Atlanta. Fittingly, the jaunt was called the Young HeartThrob Tour, named after Shane's own standout, relationship-driven project. Both women have shown impressive versatility balancing between each of their city's grittier stylings and heartfelt tracks that are vital for the visibility of LGBTQ rappers.
Though the ever-pragmatic Choc says the goal of making a romantic record was "to capture a new fan base," like all of her music, it's grounded in something very concrete. Love Is Love was inspired by the relationship that Choc is in now, and while her girlfriend gravitated to "Go Far" and "Get Away" initially, she's become a fan of the album writ large. Choc explained that the music has helped them as a couple, adding context and clarity when they're dealing with disputes or communication issues.
"Sometimes, we might be in the car, and she wants to listen to the whole tape the whole way through," Choc said. "She'll cut the music down and then start asking me, 'What do you mean by this?' It kind of helps."
Want more stories like this? Sign up for our newsletter.