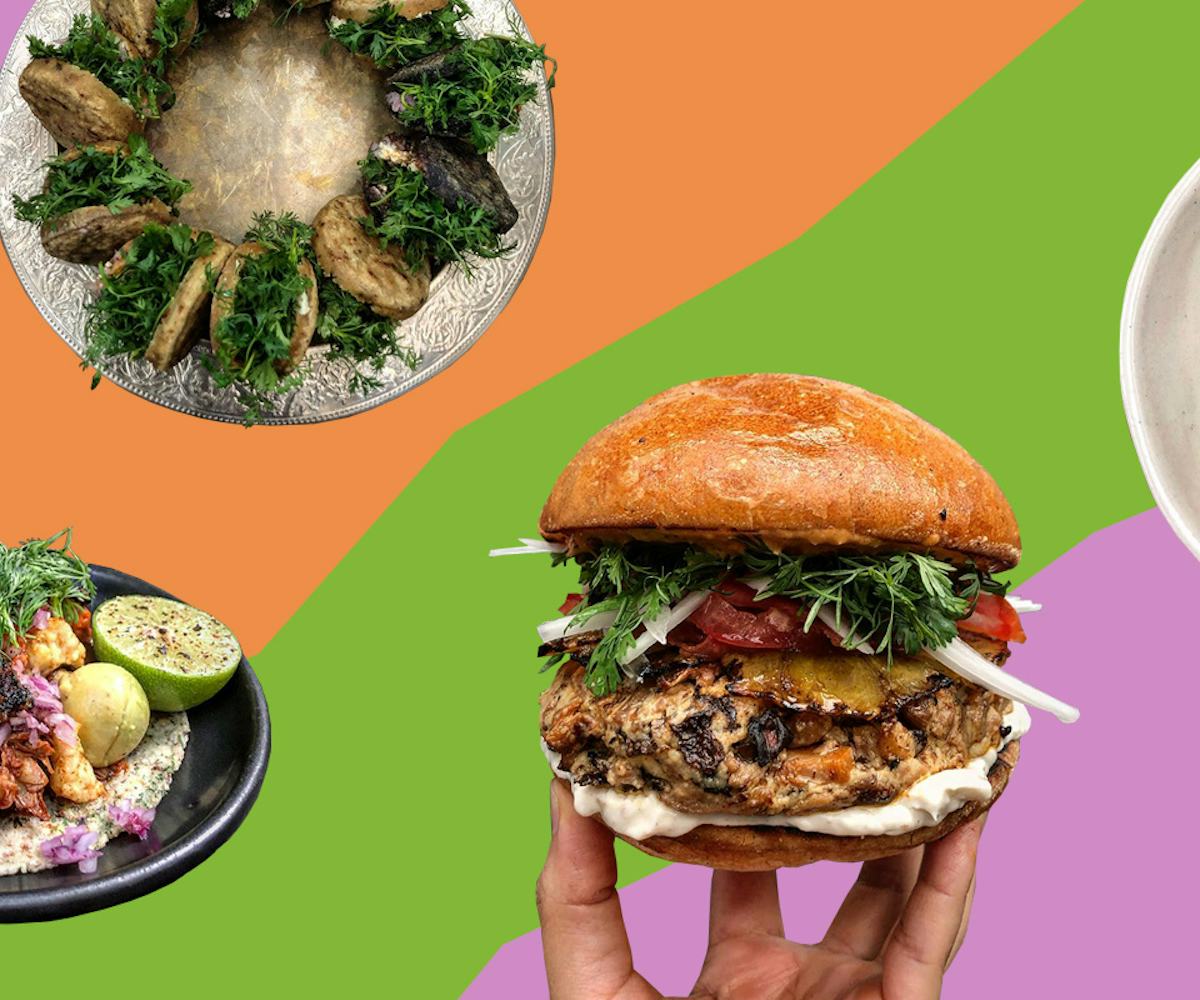 Photos from instagram.com/losloosers
How Los Loosers Became Mexico City's New Vegan Foodie Destination
Get to know its founder, Mariana Blanco, and try out a recipe for Mexican Chocolate Cupcakes
In our monthly column, Meatless Mondays, writer and host of the podcast, Meatless, Alicia Kennedy will explore veganism, social justice as it relates to food, and home cooking—and, yes, there will always be a new recipe to try out for yourself.
Los Loosers began with a burger and a bicycle. In May of 2011, Mariana Blanco quit her journalism job with $5,000 Mexican pesos saved and began selling veggie burgers out of her Mexico City apartment through Instagram.
"I didn't have a business partner," she says, and so she opened the business all by herself, starting with deliveries and occasional events with brands like American Apparel. Now she has a team of 20—"mostly girls," she notes. The brick-and-mortar restaurant in the Roma Norte neighborhood has been open now for four years, and it's allowed her to expand her offerings far beyond just veggie burgers. In the dimly lit, small space, her playlist of Depeche Mode, Tears for Fears, and Joy Division sets the tone for veggie-stuffed gorditas served in house-made masa.
When Blanco initially opened Los Loosers, it was the first vegan option in the city, she says. Three-and-a-half years later, the range of meatless businesses began to expand, but her food was met with open arms even prior to plant-based cuisine becoming more popular.
"I was using social media to take orders, and I remember the first day, I delivered one burger," she says. "The second day, I was delivering five. People didn't notice that it was vegan. There were never people saying, 'I don't know what this is,' 'What is vegan?' or 'This is boring.'"
It was a classic recipe served in an incredibly un-classic way, with a rice, bean, parsley, quinoa, and oat patty topped with a mustard made of potatoes, mustard seeds, and Oaxacan herbs. Raw onions, tomato, avocado, pineapple, and habanero salsa topped it off. She made the buns, as well, which included bananas in the mix.
After opening the space, customers were able to get a glimpse at what Blanco was cooking for herself, like a very spicy ramen topped with a breaded mushroom that looks just like chicken. The menu itself focused on the burgers and traditional Mexican cuisine, but she is influenced by Korean and Japanese flavors, and was always cooking those foods for herself. At first, she was reluctant to serve these dishes to customers, but after one guest begged to be served her own lunch, they have become staples of the menu.
"I was in my apartment, wrapping these beautiful burgers, and I hid that part of myself," she says, but that's changed. "The menu here, it's the food that I eat." Such as kimchi enfolding guacamole, with an unexpected balance of acidity, spice, and fat. That ramen, which blooms with intense, flavorful heat, comes served with half a lime on the side.
Blanco became vegan very young and learned how to cook because her parents told her she had to make her own food. That initial creativity has continued to influence her approach, in which nothing is off limits and rules like "banana doesn't belong in a burger bun" don't apply. Mexico forces her to be more creative in vegan cooking, she says, because she doesn't have access to all the specialty ingredients that line natural grocery shelves in the U.S. "If you have a tomato, a chile, and garlic, you can do amazing things," she says. "But you have to take a risk and make ugly food, weird stuff, with weird smells to get to that flavor. That's the beauty of cooking: In the kitchen, there's no perfection."
The restaurant has drawn a crowd of mainly omnivores, which was her intention; she doesn't advertise that the food is vegan. "I don't want to have a vegan restaurant with vegan people, because, at the end, I need to change something," she says. "The way that I cook, there's so much spirituality. I really believe that everything is energy, so when you're cooking, it's making a ritual. When you are staring at the ingredients, you are sending vibrations. When you are cooking, what's in your mind will affect everything. Having a lot of omnivores is amazing for me. There are a lot of people who never realize it's plant-based."
Once she quit the delivery service and had time away from the endless burger orders, she was invited to cook Day of the Dead celebrations in Japan and Korea, as well as to do events in Europe, the U.S., and in other cities in Mexico. She's even taught classes on vegan ramen in Japan, despite, as she admits, never having tried a "real" ramen. But whether through delivery (which she's brought back), the menu at Los Loosers, or in all the new ventures she has planned, Blanco's intentions remain grounded in the flavors of her home country and proving animal products aren't necessary to deliciousness.
"In Mexico, we have amazing ingredients. You have all the possibilities," she says, and she focuses on the local and organic—always picked up on her bike. "Every day there are huge connections, and it's all because of food. My mission is to pass my consciousness on in every dish."
Mexican Chocolate Cupcakes, courtesy of Alicia Kennedy
1 ¼ C almond milk + 1 teaspoon apple cider vinegar
239 grams sugar
106 grams refined coconut oil, melted
222 grams flour
41 grams cocoa powder
¼-1 teaspoon cayenne powder (depending on desired spice level)
1 teaspoon baking powder
1 ½ teaspoons baking soda
½ teaspoon salt
2 teaspoons Mexican chocolate extract
1 teaspoons vanilla
Powdered sugar, for topping
Stir almond milk and vinegar together. Let sit.
Prepare 1 8-inch cake pan by greasing with coconut oil and adding parchment to the bottom. Preheat oven to 350 degrees.
Melt coconut oil over a double boiler or in the microwave.
Whisk together all wet ingredients along with sugar in a large mixing bowl.
In a medium mixing bowl, whisk together the dry ingredients.
Pour dry ingredients into the wet and mix until no lumps remain.
Pour the cake batter into the prepared cake pan. Tap lightly onto the counter to get rid of any air bubbles. Bake for 30-40 minutes, until cooked through in the center.
Let cool. When ready to serve, top with powdered sugar passed through a fine-mesh sieve.