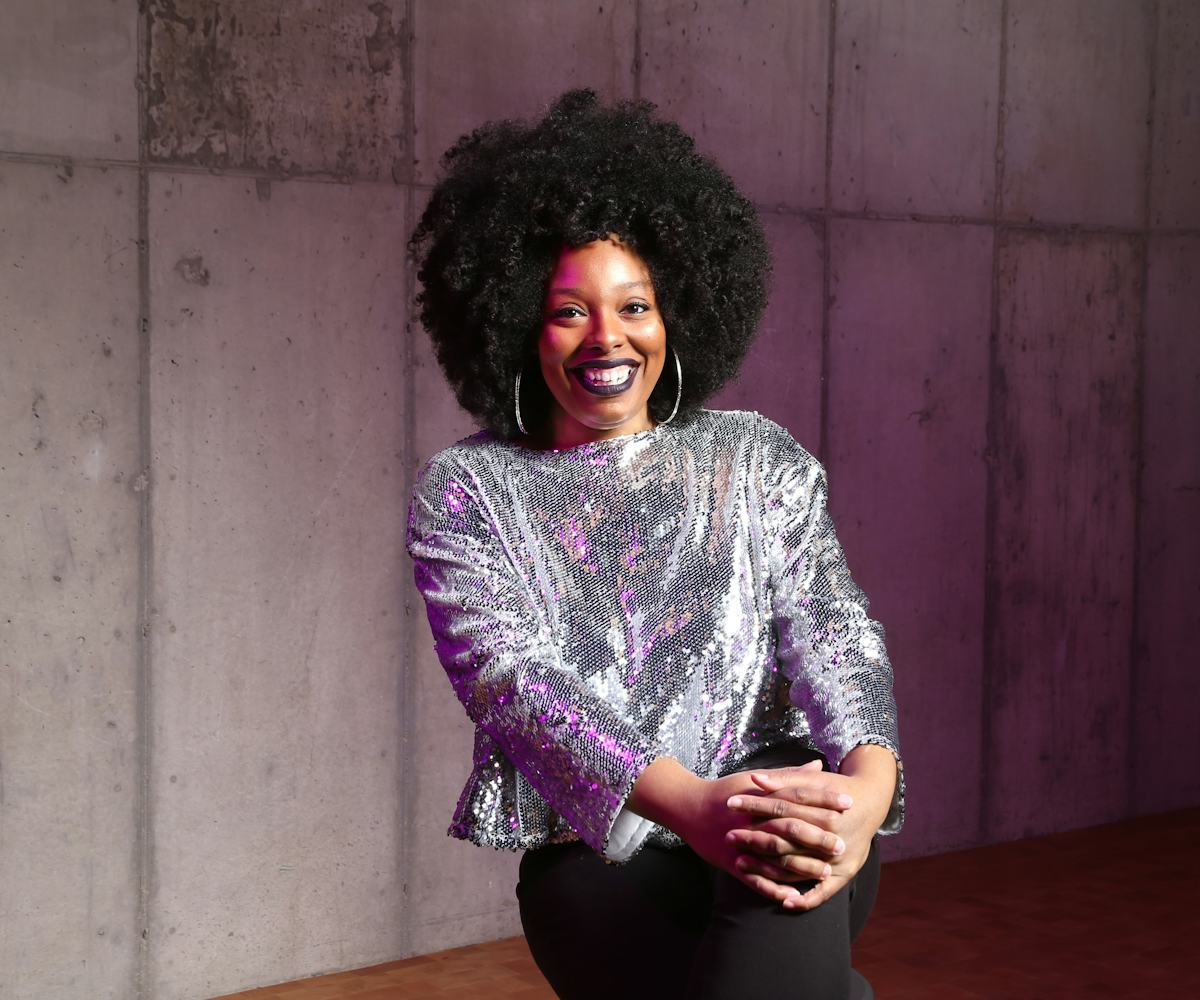 Photo by Curtis Brown.
'The Light' Is The #MeToo Play Everyone Needs To See
Creator Loy Webb explains why
My initial intention was just to interview Loy Webb about her off-Broadway play The Light. However, when two Black women get on the phone to talk about sexual assault, Black men, Black love, college days, abortion, and our own creative processes, the result is more intimate than an average Q&A.
Webb and I attended the University of Illinois at the same time. Together, we worked with SOLHOT (Saving Our Lives, Hear Our Truth), led by Dr. Ruth Nicole Brown. It's a framework and program that celebrates Black girls in all their complexities. I've followed Webb's creative journey to bring The Light to life on social media and was thrilled to be invited to see it. Still, though, I didn't expect to be floored when I left the theater.
The 70-minute, one-act performance features McKinley Belcher III (of Ozarks and Power fame) and burgeoning actress Mandi Masden, as a couple who Webb says "radiated together" in their auditions. Set on the night of Genesis (Masden) and Rashad's (Belcher) engagement, their happy occasion quickly derails when Genesis accuses one of Rashad's favorite artists of rape. What follows is a gut-wrenching dialogue about the work that Black women undertake to heal and educate others about sexual assault, even when we don't want to.
The Light is the #MeToo play you didn't know you wanted, but that you need to see. I found that I still had a lot to process after I saw it, and that's what Webb and I did. Check out our conversation, below.
Tell me more of the origin story for the script.
I began writing this in 2016. The idea came to me because I was a huge fan of Nate Parker. Like, I loved Nate. He was one of my favorite actors and what I loved most about Nate was he was the type of person who wouldn't take a film role if he felt like it put African-American people in a bad light. I thought, It's so rare that you have someone so full of integrity that they will not take a role if they feel like it puts our people in a bad light… willing to really not work. I knew about this passion project he had: Birth of a Nation, the Nat Turner story. I was so excited when I heard that it got a standing ovation at Sundance and made the highest deal they'd ever made at Sundance. I'm like, Yes! Good people do win! So I was super-stoked when it came to theaters for everybody to see.
During the time that it was getting ready to make a theatrical release, there was information released that, while Nate was in college, he had sexually assaulted a young lady. I remember thinking, Wow, I would really love to hear what this young lady has to say.I would really like to hear her side of things. Her brother ended up [coming forward to say] she had taken her life five years earlier because she was still dealing with the traumatic effects of that assault. It was a hot button issue on social media about whether to support the film or not. People were saying, "Black women, if you don't support this film, there will never be another film about our Black leaders," and stuff like that. And I just remember trying to figure out where I stood on the issue. I was sitting in the theater watching the Michelle and Barack love story, Southside with You, and the trailer for Birth of a Nation came on, and I literally sat in the theater and cried. I said, "I cannot support this film." I cried for the young lady [who was assaulted]. I cried for my confusion regarding Nate. And I said, "I can't go support this film, but what I can do is try to write a story that encompasses everything I'm feeling about this moment, this social media debate, and everything." That's what birthed this to life.
I personally think that this is the #MeToo play; this is the missing narrative about #MeToo that we need. It's one that puts Black women in the front of it. How do you feel about the play and where it fits into the broader conversation about #MeToo?
You know, the crazy thing is I started this in 2016, right? A little bit before we had even got into rehearsals for the Chicago production, the #MeToo movement actually broke. The #MeToo as it has gained national attention, not Tarana Burke's version.
The whitewashed version…
[Laughs] Yeah, I love that. The whitewashed version. We were shook because we have been writing this. And even while we were in rehearsals for [the off-Broadway run], the R. Kelly documentary came out. We were literally in rehearsals one day, and everybody was like, "Y'all saw that R. Kelly documentary?" The thing about it is when people review the play and say, "She ripped this straight from the headlines," or "This is like the R. Kelly play," and I'm not even thinking about R. Kelly. He wasn't even on my mind. This was about my feelings towards the Nate Turner situation. But like you said, it's such a pervasive problem.
What I feel like [The Light] does, that I have never seen a story about sexual assault do, is it puts Black women at the center and has a conversation that we have been having repeatedly in the Black community. Even with the Bill Cosby… sometimes people say it's about Bill Cosby. Every time someone [accused] comes from the Black community, there's always this social media debate. It was the debate with Nate, it was the debate with R. Kelly, it's the debate with Bill Cosby.
I feel like the Black community is so afraid of the myth of the Black rapist that we've turned rape itself into a myth. Sometimes I legitimately feel like Black men don't think Black women get raped at all, because of the amount of skepticism we're met with when we come forward. The fact that people think you had to read a headline in the news to be inspired to write a story about a woman who was sexually assaulted in college… That's what really made me contextualize The Light within #MeToo because the most immediate precursor to that movement was Title IX and holding universities accountable for not taking their sexual assault seriously. When it comes to Black people, our narrative about sexual assault is all about these famous Black men. Another thing that I really liked about the play was that it was a merging of those two worlds.
Yeah. When I was in the process of writing, one of my sources that I looked to was... I don't know if you remember, but there was an anonymous young woman who made a Raped at Spelman Twitter account. She was just talking about how she was raped at Spelman by several men and recounting how the university was slow in responding to it. Even someone in the administration told her, like, it's her job to protect her brothers.
It's something that goes on amongst us, and we have these social media conversations, but I just hadn't heard a story about it. I wrote The Light because I feel like there's no other story out there, like this, now. It's the first one, and I'm sure they'll be other ones that come because so much stuff is going on. But I just don't feel like there's a story out there that deals with this issue how I dealt with it. And that's not me being cocky about it, it's the truth. Coming from a Black woman's perspective of us being heard, us being tired of having to always explain these things.
What influence did your college work with Black girls have on your creative process?
I really think that U of I shaped my valuing of Black women and girls, and essentially valuing myself. That whole unit we had, it was about us learning how to celebrate us and protect us. That was my first time in college being exposed to other women like me. That has never left me. It began to be a mission for my writing: to celebrate Black women.
Also, I hear Viola [Davis] talk about, "When are there gonna be writers that have the imagination to write roles for Black women that allow them to have depth?" So I always have that in the back of my mind, too. How can I write a role for a Black woman where she gets to experience her full self? Although this play takes a tragic turn, you get to see a Black woman in love! You know what I mean? A man that is willing to be there for her and love on her, even through his complications, is just something that we don't see. That all plays a part in the way I create the female characters at the center of my narrative.
I loved how you created so much tension. There were several moments where I found myself getting really nervous that Genesis was going to retreat. That she wouldn't want to argue about it anymore. I appreciated that at the end, Rashad had to accept that there might come a time where the best thing for him to do is leave. I really love the moment when Genesis asks him to go, he refuses, and she insists. In so many other depictions, we're supposed to think it's endearing but sometimes in situations like that, when you've already experienced trauma, it can feel like another form domination to be denied that space.
For you to say, "This is the only play I need about this issue" means more to me than anything. That's why I created it. I remember some white reviewer said, "Ms. Webb is writing about issues that are happening in the Black community, but those of us who aren't a part of that community might not understand it." And I'm just like, Oh really?! This ain't your story!
Since when do y'all not understand college sexual assault?
But when it happens to [Black women], I'm just talking about an issue in the Black community, as if this is some foreign issue that only happens [to us]. But what has been the most rewarding for me is when I have Black women come up to me and say, "Loy, I feel seen, I feel heard, I feel valued." That's all that I need. Forget anybody else. Forget any review. When I have Black women coming up to me and saying, "This is the first time I'm seeing bits and parts of my life onstage," that means the most to me. That's who I do it for, and that's what I hope to accomplish.
Even with the complications we have with Black men, I still wanted to write Rashad in love. That was very important to me. I didn't want this to be an attack on Black men. I wanted to write them in love so they can at least have their ears open to listen. That's why I didn't make him a stereotype. I tried to give a brother every benefit of the doubt that I could.
Yes. There is a way that we can say, "We love you and appreciate what you bring to the table, but there are still blind spots that you are going to have, period." That's just what it is. I also really loved the abortion narrative.
That part of the script, where [Genesis is conflicted] about making that choice, was a very big point of contention. People had very strong opinions both ways. Some people felt like it wasn't compassionate. Some people felt like she had a right to have control over her body, especially when things weren't how she expected them to be.
I felt like it doubled down on the idea that sexual assault against Black women is serious. So serious that I am considering whether or not I want to risk having a daughter with a man who thinks Black men deserve more protection than Black women. I don't want my daughter to devalue herself in that way.
People get so stuck by the abortion part that they don't get the message.
The Light is running at the MCC Theater in New York until March 17.