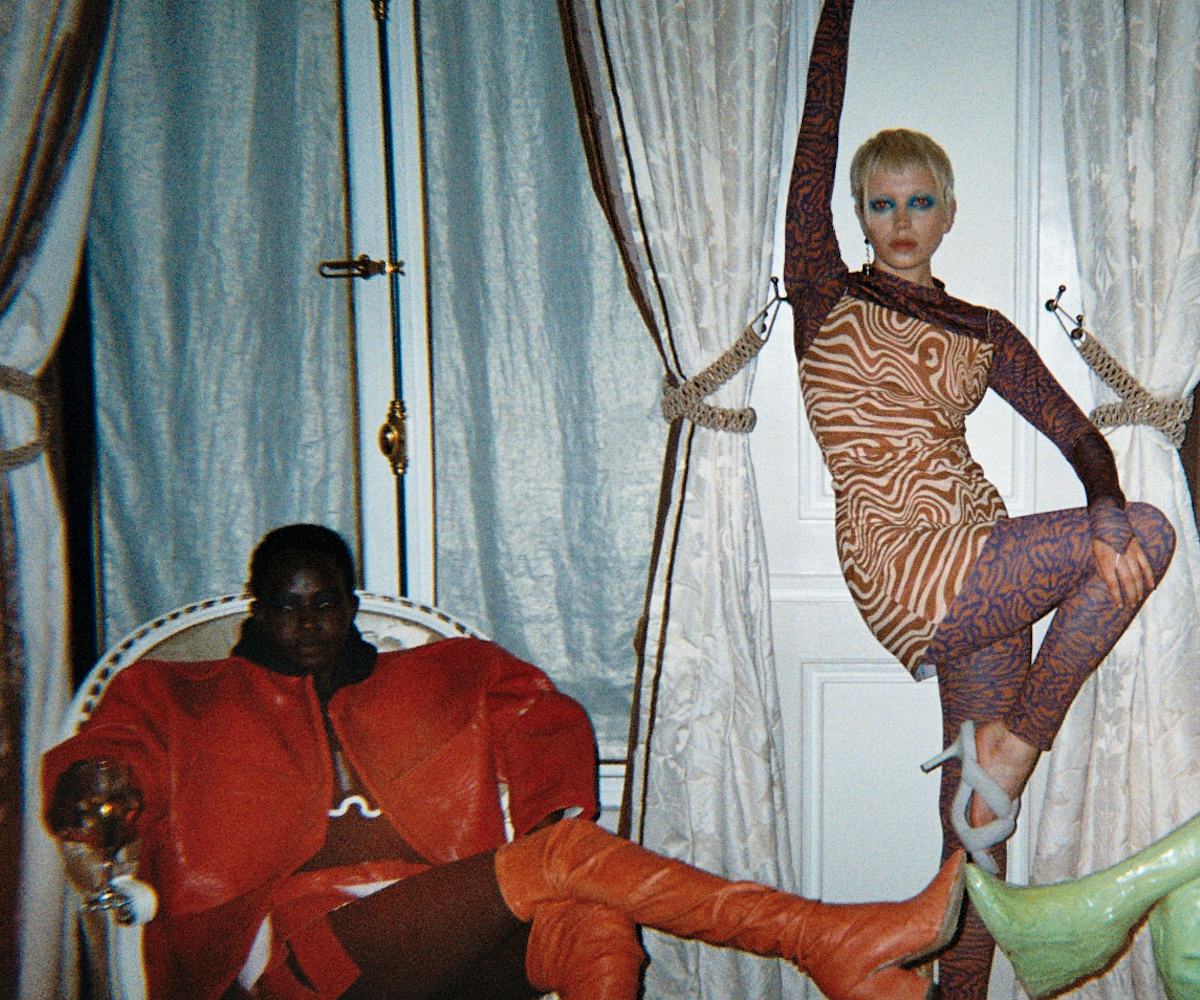 Photo by Christine Hahn/Courtesy of Maisie Wilen
Maisie Wilen Will Make You Want To Get Dressed For Going Out
These are definitely not your cozy, stay-at-home clothes
Studies have shown that younger generations prefer to stay home, marathon-watch Netflix, and order food from the many online apps at their fingertips instead of going out on the town. The way to be "seen" these days mostly takes place on social media — posting stream-of-consciousness thoughts on Twitter; documenting everyday activities on Instagram Stories; and creating potentially viral videos on TikTok. But designer Maisie Schloss will make you want to get out of the house, and her label Maisie Wilen, whose dresses have been worn by Kim Kardashian, Kendall and Kylie Jenner, and even North West (custom, obviously), will get you dressed for the occasion, too.
"The other day for the first time I saw a girl out in the wild wearing a piece, and I got so excited," Schloss tells NYLON at a launch event at The Webster in Miami during Art Basel. The high-end retailer was packed with fashion- and art-adjacent types hoping to catch a glimpse of the first-ever Maisie Wilen collection on the sales floor. Schloss debuted her new line back in June, which included a private presentation in Los Angeles attended by friends, family, and Kanye West himself, who met the Parsons alum (and Chicago native) while she was designing womenswear for Yeezy. Upon the announcement of West's newly launched creative incubator program, he handpicked Schloss to be the first recipient. Now, her Pre-Spring 2020 pieces are available for purchase at SSENSE, Farfetch, Forty Five Ten, and more.
"The opportunity to be backed by Kanye was the push that gave me the confidence to go off on my own," says Schloss, adding that she didn't exactly have plans to start a brand. "I always really loved the idea of it because of the creative freedom. At the same time, I was always so daunted by the idea of, well, if I do that, I'm not just a designer. I'm doing everything."
Indeed, Maisie Wilen is essentially a one-woman show, as Schloss handles both the business and creative sides of her brand. Publicity, however, has been pretty clutch so far. Thanks to her affiliation with Yeezy, West, et al., her designs can be spotted on a slew of famous bright young things. In addition to the Kardashian-Jenner sightings, there's Bella Hadid, Megan Thee Stallion, Charli XCX, Jorja Smith, Carly Rae Jepsen, Rowan Blanchard, and Cami Mendes, among others, wearing her brand. In multiple interviews, Schloss has stated that her white whale is Dolly Parton, possibly wearing a sleeveless dress, specially bedazzled just for her.
It's easy to point out a Maisie Wilen item. For starters, it has to be covered in a trippy graphic print (inspired by robots and rhythmic gymnastics) in a color palette of neons and pastels. They are made from a slinky, stretchy mesh material — the kind of fabric choice that scrunches and gathers but still seamlessly hugs the body without being uncomfortable. Then there's the early-aughts details: ball-chain shoulder straps, one-shoulder or cowl-neck silhouettes, and asymmetrical hemlines. The dresses especially make me think of what Paris Hilton wore for her 21st birthday in 2002, a silver halter-neck dress that's making its way back into the fashion zeitgeist. If someone decides to go out to celebrate the same milestone birthday anytime soon, then they should wear Maisie Wilen — it's the go-out-and-be-seen brand for Gen Z.
These days, that could happen both IRL and online. Back at The Webster, Schloss chose to have the models wearing her collection hold masks of Lil Miquela, an Instagram-only CGI personality who still manages to garner attention and engagement for what she wears, even if it was digitally constructed by a computer. "We were inspired by Lil Miquela parodying influencers," says Schloss. "We wanted to apply the surreality of her online persona to an in-person event."
While Maisie Wilen is hitting stores, Schloss is already prepping to reveal her new pre-fall collection in January. (Though, she didn't tell us much as we pried for more details.) "What I learned from my first collection that's been applied to my second, if nothing else, is to go with my gut," she says. "Trust my idea of what I want to wear and what girls want to wear. Make really sincere clothes that I think a lot of women are connecting with."