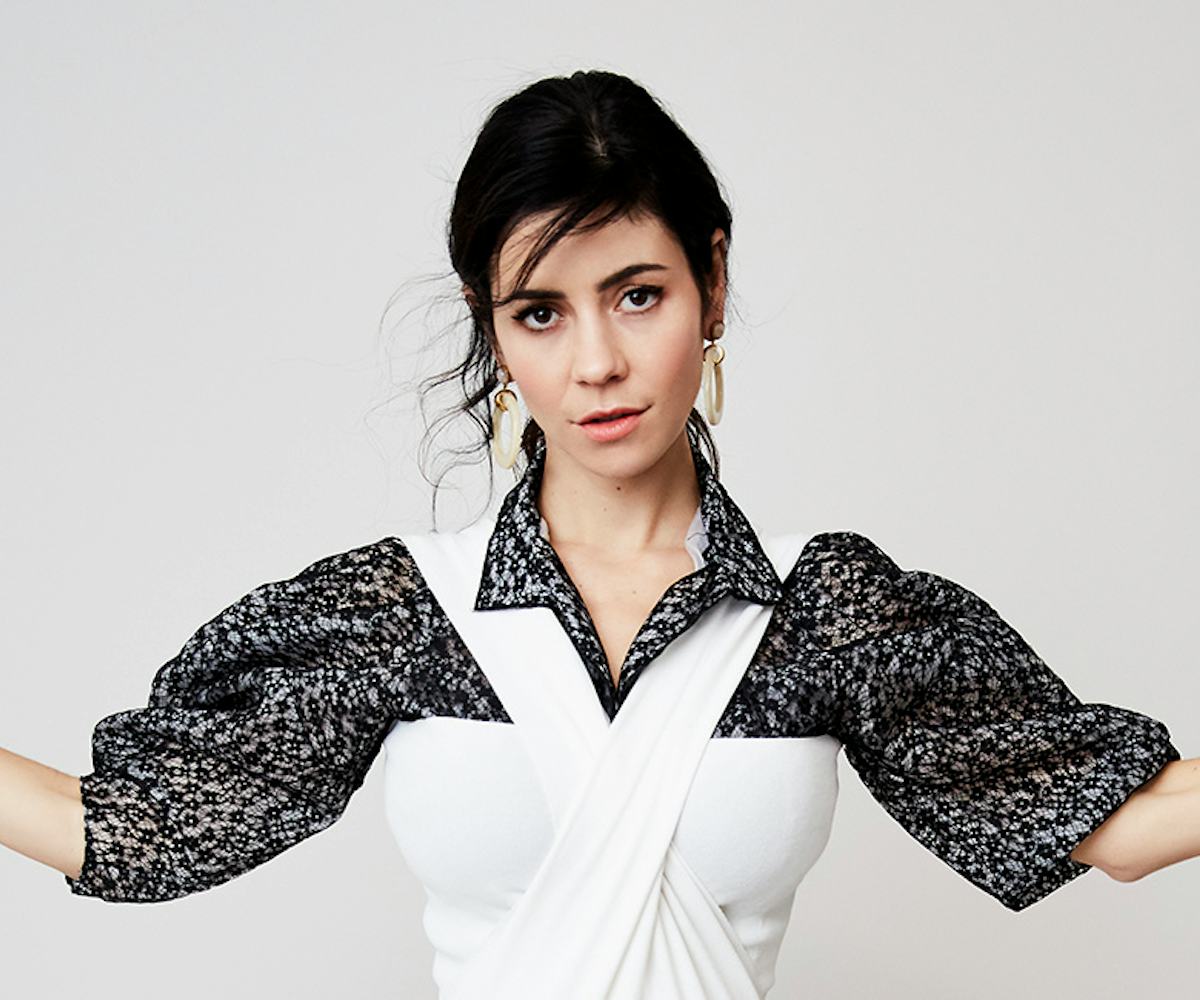 Photos by Lauren Perlstein
MARINA Tells The Story Of Her New Name
She's getting rid of her old personas and becoming more fully herself
MARINA, the Welsh-Greek pop singer formerly known as Marina and the Diamonds (and born Marina Diamandis), has always been good at getting rid of things she doesn't want. "I don't own much," MARINA says, perched on a velvet couch at NYLON's offices in New York. Her jet-black hair is pulled back at the nape of her neck. She wears black leggings, a powder-blue sweater, and white sneakers. Her nails, the only trace of glam from the photo shoot she's wrapped just minutes before, are painted cherry-red.
"People would be shocked at how little clothing I have," she continues. "The amount that you're given and collect over the years—costumes, stuff like that—it literally gives me anxiety. Honestly, just seeing those coats on the rack, I'm just like"—a yelp-squeak escapes from her throat—"Ahhh!" She dissolves into laughter, then continues: "Even when I didn't actually have that much to throw out, back in the day, I've always been good at culling things."
Last December, ahead of the release of her fourth studio album, Love + Fear, Diamandis nixed something else: the latter half of her moniker. As Marina and the Diamonds, Diamandis, now 33, made a name for herself as a pop star, albeit a left-of-center one, with three very different albums: The Family Jewels (2010), a quirky indie pop record; Electra Heart (2012), a glittery concept album from the point of view of a character of the same name who represented four female archetypes in American pop culture; and Froot (2015), which Diamandis wrote entirely herself and recorded with a live band.
Of the three, Froot was the biggest success—it was a hit with critics and also peaked at No. 8 on the Billboard charts in North America. The album was also Diamandis' reassertion of her own identity after Electra Heart. While touring to support the album, she styled herself like her alter ego, with dyed blonde hair and a black heart below her left eye, where a tear would fall. Ahead of Froot, she "killed" Electra Heart, with sleeping pills, in a music video.
But ironically, it was after stripping herself down on Froot that Diamandis started questioning whether or not she wanted to keep making music: "I'd always had this internal North Star that guided me," she says. "Suddenly, I was like, I don't know where I am. I don't know who I am. I don't know what I'm supposed to do. Did I even do anything good with music? What's my contribution in life?"
As she struggled to answer these "very big questions," she continued writing on and off until she hit a wall: "I think at a certain point, I was like, Okay, I'm definitely not going to do this anymore,'" she says. "And I just allowed myself to quit, and that somehow cleared something."
Once Diamandis gave herself permission to stop, she did something she'd missed out on as a young adult: She went back to school, at the University of London, taking courses in psychology as well as acting, painting, and floristry. "I was kind of catching up on the past 10 years," she says. "I didn't really think about music. I was actually so happy. I loved studying. I loved going to the library, being with a completely different group of people. And then, for some reason, that freed something up in me. I started to write [music] again, from a new but original place that was very pure and second-nature to me."
Once she had her fresh start, it was actually psychology that helped her conceptualize her new album. Specifically, it was a theory from the Swiss-American psychiatrist Elisabeth Kübler-Ross: There are only two primary emotions, love and fear, and our choices are motivated by one or the other. Diamandis found that once she considered her new songs, she could easily sort them into those two categories, ultimately deciding to release two eight-song halves together. (Diamandis surprise-dropped Love earlier this month.)
Diamandis views the whole collection as contemporary, effortless pop. "I say effortless because I definitely didn't think I was going to do a record like this," she explains. "In the beginning, I thought I was going to write another one all on my own and record it with a super-simple, live band in two weeks. But then it ended up that I started to really love collaborating."
The last time Diamandis collaborated with groups of songwriters and producers, on Electra Heart, they were mostly men decades her senior, including Dr. Luke, Stargate, Greg Kurstin, and Liam Howe. This go-round, they're her peers, including Captain Cuts, Wolf Cousins (Max Martin and Shellback's songwriting collective), and Alex Hope. Georgia Nott, one-half of the New Zealand pop duo Broods (and Diamandis' Neon Gold labelmate) co-wrote and sang backing vocals on "Emotional Machine"; Jack Patterson, one-third of the English electronic outfit Clean Bandit (and Diamandis' real-life boyfriend), co-produced three tracks. (Clean Bandit, along with Luis Fonsi, is also featured on "Baby," a danceable, Latin-infused single about longing for a past love.)
Although Love + Fear contains self-love anthems, like the carefree "Enjoy Your Life," Diamandis' exploration of romantic love centers on her four-year-long relationship with Patterson. On the minor-key bop "Superstar," Diamandis pays homage to her partner: "I like the idea of writing a song about how someone is the light in your life," she says. "I know that sounds kind of cringe-y"—she laughs—"but that's what I wrote it about, you know? It's a love story. I was just kind of meditating on the progress of the relationship but also myself and how I viewed love. [Patterson] was really the first person who I felt completely at ease with, and that's very, very hard to find."
Once Diamandis found herself in a healthy relationship, however, it was difficult for her to believe it was real. On "Believe In Love," she confronts how her past negative experiences have hindered her ability to trust: "Losing you is what I'm afraid of," she sings before drifting up into her falsetto, repeating an affirmation: "I need to believe, believe in love." Of the song, she says: "I think when you love someone really hard, any kind of attachment fears you've had in the past really come to the surface, and you have to deal with them. [The person you're dating] can only help you so much—you've got to do the work."
And now? This internal work has paid off for Diamandis. "All I can say is, it definitely gets better," she says. "[These fears don't] go away completely, but—I mean, compared to two years ago, I'm so much more stable." On the album's piano-driven closer, "Soft to Be Strong," she sums it all up: "And I guess I've known it all along/ I found out love has to be soft to be strong."
Although Diamandis spends much of Love + Fear grappling with both personal and existential issues—she even questions the meaning of life on "To Be Human" and "Life is Strange"—there are moments of lightness, too. Diamandis actually seems to have the most fun when cutting out toxic relationships. On "No More Suckers," a sassy, sauntering track laced with piano riffs, she chirps: "Put a stop sign up, you're not getting any nearer/ Wave goodbye to the suckers in my rearview mirror." On "Karma," Diamandis shades a nemesis with a delightful I-told-you-so: "I'm like, 'Oh my god, I think it's karma,'" she jabs before a tropical-sounding drop.
The album is also filled with natural imagery, as on "Handmade Heaven," where Diamandis envisions the earth without human destruction, and the summery "Orange Trees," an ode to the Greek island of Lefkada, where she spent summers as a kid.
As Diamandis enters into her second decade of releasing music, Love + Fear lands as both a step forward and a reminder of who she's always been as an artist. "We all have instincts," Diamandis says, "but the less you listen to them, the more they fade—that's when you become really indecisive or lost. But the more you listen to [your instincts], the stronger they get. You start to know the answer to your own questions much faster."
But really, she's had the answers to her own questions this whole time. On "Hollywood," from her debut, The Family Jewels, Diamandis mimics the men in Los Angeles who typecast her based on their skewed perceptions of her appearance, her abilities, and her gender: "He said, 'Oh my god—you look just like Shakira," she sings. "No, no, you're Catherine Zeta!"
With a wink: "Actually, my name's Marina."
Love + Fear is out Friday, April 26, via Neon Gold/Atlantic Records.
Credits
Photos: Lauren Perlstein
Styling: Jenna Igneri
Hair/Makeup: Stephanie Peterson