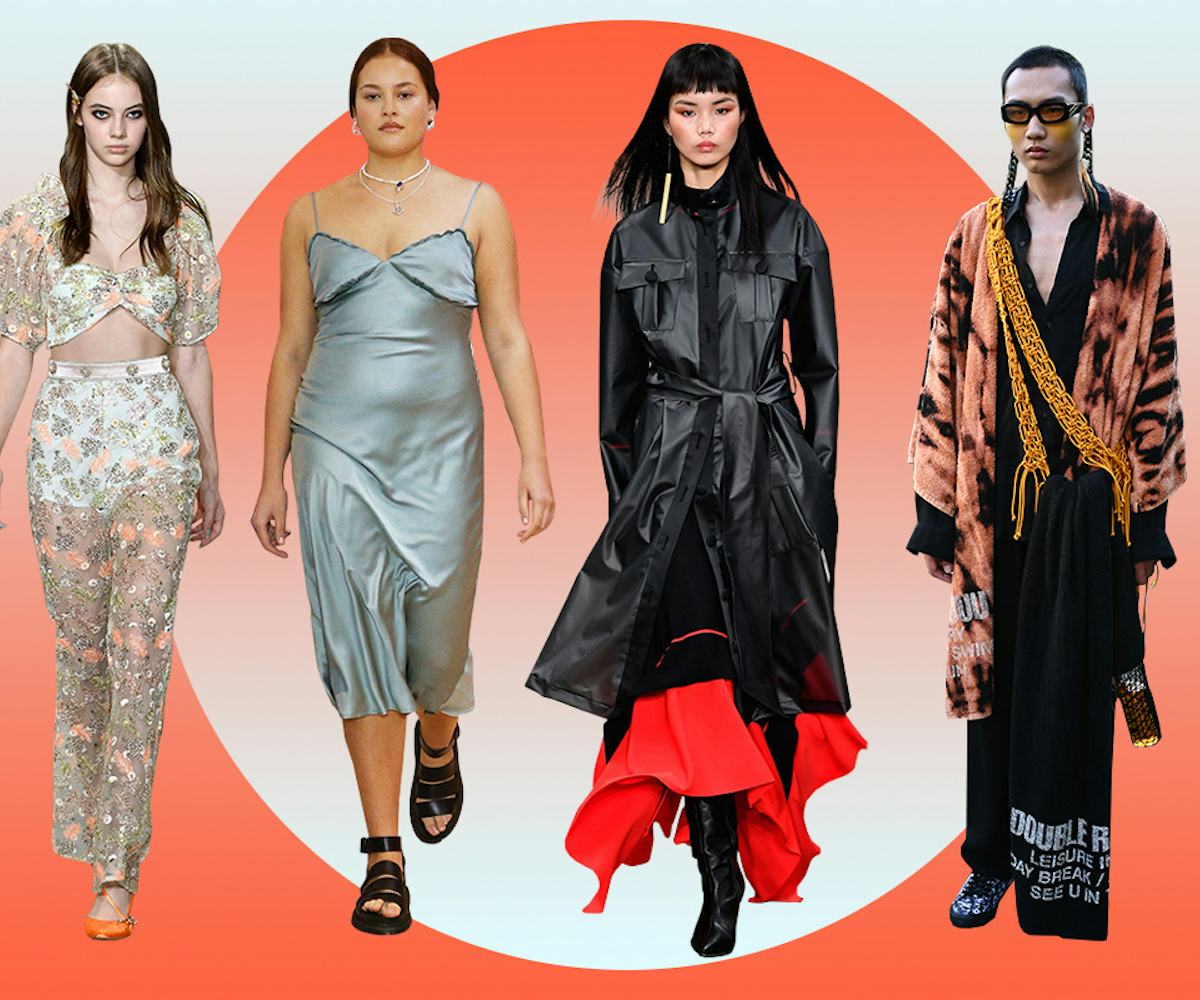 Photos via Mercedes-Benz Fashion Week Australia/Getty Images
The 9 Australian Brands You Need To Know
Our favorite collections from 2019's Mercedes-Benz Fashion Week Australia
It's hard not to love Mercedes-Benz Fashion Week Australia, an annual exhibition of some of the best in resort dressing, that has Sydney's various cityscapes and beaches serving as its backdrop. For five days, we hopped all over the Australian city to check out the Resort 2020 collections from some of Australia's most established designers and emerging newcomers through an assortment of runway shows, presentations, and parties. The result? An extravagant display of beach-ready fashion, elevated streetwear, and signature Australian style.
For those of you not familiar with the resort season—sometimes referred to as cruise or holiday—it's the in-between seasonal offerings of summer garb that typically hits stores in time for the winter months (you know, right about when we're ready to take those vacations we've been dreaming about). And while we're gearing up to head into summer over in America, these collections also serve as the perfect inspiration for warm-weather dressing—even if we won't be seeing them hit stores until much later this year.
From Aussie staples like Double Rainbouu and Alice McCall to emerging brands like P.E Nation, we rounded up the best Aussie collections we saw this week. Take a closer look at each of them, below.
Aje
Mercedes-Benz Fashion Week Australia kicked off with a bang, the bang being Aje and its glorious Bloomscape collection. Whimsical pieces inspired by the native flora and natural landscape of Australia made their way down the runway, from billowing, sculptural dresses with hand-painted floral prints to rugged, masculine tailoring inspired by the soil, the trees, and the nation's rocky wonders.
Alice McCall
Alice McCall has been a longtime favorite in the U.S., known for its whimsical and quirky pieces that never skimp on sequins, feathers, and tulle. For Resort 2020, McCall was inspired by the treasures once found in her mother's "dress-up box" of the late '70s, creating her own take on vintage silhouettes but modernizing them and making them new. The result? Romantic, feminine, and glitzy pieces that are sure to turn heads.
Hansen and Gretel
Good news for anyone who's into the whole sea nymph thing: This trend is not going anywhere, anytime soon, according to label Hansen and Gretel. The Aussie brand's Resort 2020 collection, Venus, celebrated femininity and womanhood while nodding to this very trend with seashell knit crop tops, slinky slips, pastel summer knits, and plenty of shimmery pearlescent fabrics.
Lee Mathew
Lee Mathews Resort 2020 runway show was a special one: a celebration of the brand's 20th year. And, with that came a retrospective collection taking inspiration from the brand's archives over the past two decades. The collection presented the perfect mix of feminine and tomboyish pieces, mixed and matched and layered with extravagance. Ruffled, tulle skirts were paired with tailored shirting, while in-your-face prints such as polka dots, brush strokes, and bold stripes were used throughout, showing up on flowing silk dresses and structured, oversized shirting and separates.
Bondi Born
Resort 2020 saw Bondi Born, the ever-chic sustainable swimwear line based in Sydney, debut its first full resort capsule collection. The brand saw its sustainably produced fabrics take the form of knotted and bow-adorned swimwear, breezy seaside dresses and separates, and clean, simple eveningwear—all stunningly timeless, surpassing fashion trends and to be worn for seasons to come.
Double Rainbouu
In just a few short years, everybody's favorite Hawaiian shirt brand Double Rainbouu has grown beyond its playful shirting assortment with apparel, accessories, and more. For Resort 2020, design duo Mike Nolan and Toby Jones were inspired by the hippie travelers of the '60s and '70s, and a utopia where all creatures live together harmoniously. Set in Sydney's gorgeous Chinese Garden of Friendship, the brand's show featured model "tourists" who wore worldly prints, hippie tie-dyes, and plenty of linen alongside colorful zebra prints, sporty polos, chambray jumpsuits, and classic hoodies, making for a playfully diverse, yet wearable, collection.
P.E Nation
This season saw emerging Aussie label P.E. Nation present its first solo runway show, Physical Education, for Resort 2020. The brand took its signature spin on sporty '90s activewear and elevated it, incorporating bold, oversized silhouettes, denim, and all of the bold neons we covet. Bonus? The brand announced a killer new collab with Speedo, presenting its vintage-inspired swimwear at the very end of the show. Even bigger bonus? The brand's been upping its sustainability efforts, debuting its first-ever recycled active set, using recycled yarns and organic cotton. It will also be moving to biodegradable packaging by July.
Leo & Lin
One of our favorite collection this season came courtesy of Leo & Lin. Celebrating the designer's love of history, the romantic "Imperial" collection was a nod at both ancient Rome and the Victorian era, which saw sweeping, bulb-sleeved and high-necked floral dresses and suiting walking alongside flowing, draped Roman-inspired frocks. A modern flair was also sprinkled in, seen in the form of vinyl trench coats and fishnet fabrics.
Ten Pieces
One of the most buzzed about shows this season was Ten Pieces, the contemporary sportswear collection born from the collaboration between founders Maurice Terzini and Lucy Hinckfuss and designer Allan Marshall. For Resort 2020, Terzini was inspired by his time as a teen in Italy in the late '70s and the disco freak era. A bit punky, a bit hippie, and set in the drained pool of Sydney's iconic Icebergs Club with Bondi Beach as its backdrop, the collection's sporty streetwear pieces—unisex, and meant to be mixed, matched, and layered to its wearer's delight—felt more apt for the beach than a bustling city.