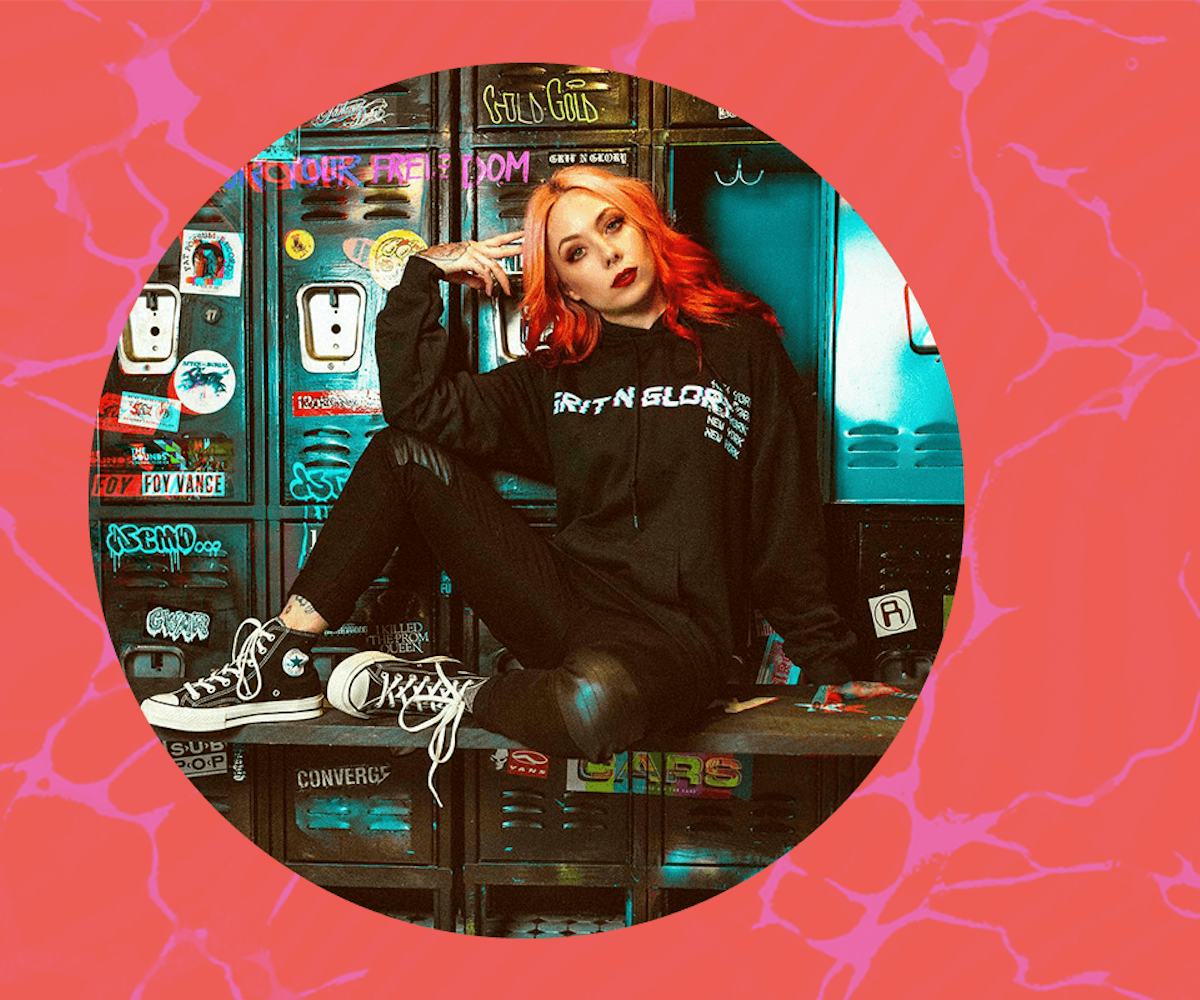 Megan Massacre Tells The Truth About Sexism In The Tattoo Industry
She's a true artist—and, yes, she did give Zayn Malik that Gigi ink
Megan Woznicki, more widely known as Megan Massacre, has been an artist since she was a kid, experimenting in mediums like photography, sculpture—and tattoos. She was only 14 when she saw a friend's shoddy tattoos and decided she wanted to become a tattoo artist.
"I remember looking at my friend's tattoos and being like, I know I could do so much better than that," she tells us. "And then I was like, I should do better than that." She decided to go to the local tattoo shop in her small Pennsylvania town to try and get an apprenticeship. "I went in, and they basically laughed me out," she says. "At the time, tattooing was a little bit different; the shop was run by bikers or gangs, stuff like that. They didn't really want a little 14-year-old girl in there."
So, Megan put her dreams on hold for a couple of years. She graduated high school, and went to community college, while also working at a department store, selling furniture—though it wasn't her favorite gig ("I was voted worst employee—literally," Megan says). One day, her coworker asked for a ride to a tattoo shop where she was interviewing to become a body piercer.
"I sat in the lobby and waited for her to do her thing, and I guess she told the guys, 'Hey, Megan can draw really well,' because that's all I did all day at work," she says. "I didn't sell furniture, and I drew all day." The guys at the shop came out and asked her, somewhat mockingly, to show off her talents. "They were like, 'Oh yeah? Draw this, draw that,' so they gave me a pencil and paper and I just sat there and I was drawing things. I remember it was like, 'Draw an evil butterfly. Draw a name in tribal.' I don't know, it was a bunch of weird stuff. And they were like, 'Wow, these are really good.'"
They then asked her to trade out her pencil for a needle to ink one of the apprentices in the shop. "His name's Timmy, I'll never forget, because that's the first tattoo I did—his name, Timmy, on his leg." They liked it so much, they asked her to come back the next day. Then, they kept asking her to come back. "I quit my job, and I quit school, and I started tattooing," she says.
What followed was 15 years of hustle. Megan bounced from one shop to the next (12 total), in part to escape the boy's club environment she experienced at each. "I was working with a lot of rough biker-type people, so I was treated really badly at a lot of places," she says. "And I basically would just work there long enough until I literally couldn't tolerate it anymore. Things would go too far, and I would be like, 'Fuck this, I'm getting out of here,' and then move on to the next shop."
She also says that hopping around so often was part of the artistic journey. "I would work at a shop, learn whatever I could from the people there, and then I would realize, Okay, I'm kind of already better than these people. I have nothing else to learn here. I need to move forward." Then, after attending a tattoo convention, she met, in Megan's words, "the first tattoo artist that I feel was an actual artist and not just some guy tattooing crappy tattoos." His name was Paul Acker, and he offered her a job in Philadelphia, which is where she graduated from "just a tattooer" to an artist. She began drawing and making her own art to incorporate into tattooing, instead of doing what a lot of people at the time were still doing: generic flash stencils.
After working in Philadelphia for four years, Megan got an opportunity to work on the reality show NY Ink. She appeared on the TLC show for several seasons before moving on and doing a couple of other tattoo-related shows like Bondi Ink Tattoo Crew and America's Worst Tattoos. It was this time spent in the public eye, when she was exposed to criticism about trivial things, like her Pennsylvania accent, that spurred her to start channeling the Massacre side of Megan and not just the Woznicki one.
Her "stage" name, she says, is one she came up with way back in the day when she would attend hard metal concerts with her friends. "We started making fun of the people, because they all had gangs and they all had these really tough-sounding names like Benjamin Breakdown," she says. "So, we as kids, made up our own names. I was like, 'Yeah, I'm Megan Massacre!' Meanwhile, I'm five feet tall, not tough at all, but we would just do it just to mock them." It was never meant to stick, but it soon became something of a second persona when she appeared on TV. "It was almost like I was playing that character and it wasn't really myself," she says. "I needed a part of me that was just me in private, because if people were to pick on that Megan, that was my character, it didn't feel as personal."
It was during this boom in reality tattoo shows that she came became known for being a rarity in the industry: a female artist. "I remember the second year I was tattooing is when Miami Ink came out," she recalls. "That was the first tattoo TV show, and Kat Von D was on it, and I'd never even seen a female tattooer before. I was like, 'Oh my god, there are other ones.'" After she finished up her time on the small screen, inspired by an all-women shop in Australia that she worked in for a bit ("I got there, and it was like heaven," she recalls), Megan decided it was time for her to have something of her own.
Megan opened her studio within the NYC boutique Grit N Glory in 2014 which, at the moment, employs 10 women and two men. She makes sure to emphasize that she doesn't look back on her time bouncing around boy's clubs as bad necessarily. She was a big tomboy anyway, and most of her friends were guys, "so I felt like I didn't mind that level of humor and roughness." But it did act as a kind of motivation to do better for women artists coming after her. "I wanted to have a space where people felt, or at least women felt, comfortable and accepted," she says. "And it doesn't mean that women can't be comfortable working with a bunch of men, it's just that, in this industry, it's just now becoming even a legitimate professional industry, so people get away with so much unprofessionalism."
She continues: "I would hate for other young girls coming into this world to have to go through some of the shit that I did, so I just want to use [the shop] as a tool to try to talk to other people about it and then just create situations and opportunities for girls that I didn't have… I always wished I had a mentor. I always wished I had somebody to look up to and talk to, but I never did. So, I choose to be available to people; not just people here but anybody. I talk to so many tattoo artists, so many tattoo artist friends, men and women, and I try to help them and educate them as much as I can."
Now, more than a decade after being laughed out of a tattoo shop, Megan has more than one million followers on Instagram and celebrity clients like Zayn Malik (she's behind the design of Gigi Hadid's eyes he has on his chest). Most recently, she celebrated a collaboration with Moxy Hotels in Washington, D.C., where she tattooed attendees for free as a part of the brand's Blank Canvas program (the one-day free tattoo studio pop-up will travel to Chattanooga, Tennessee and Atlanta this summer). The tattoo industry is a lot more crowded than it was before and she says one of the biggest challenges is making sure she's evolving with the times, but still staying true to herself. Her preferred style of choice is color realism. "For me, it's a pride thing," she says. "Like showing off; this is what I can do. It's the closest thing to painting or art." But she makes sure that she can do it all: the tiny, fine line stuff that, she says, everyone's into right now; the "new school" styles; the '80s-inspired designs; even the pet portraits which, she says, people always, always request.
"Everybody wants this as a job now, you make really good money, you have a lot of freedom, you can travel," she says. "But because of that, you have to really be able to pull off something that nobody else is doing, and do something special and also be extremely versatile." It's a struggle, she says, "but I'm learning how to keep up without losing who I am as an artist and throwing away my style and doing something else."