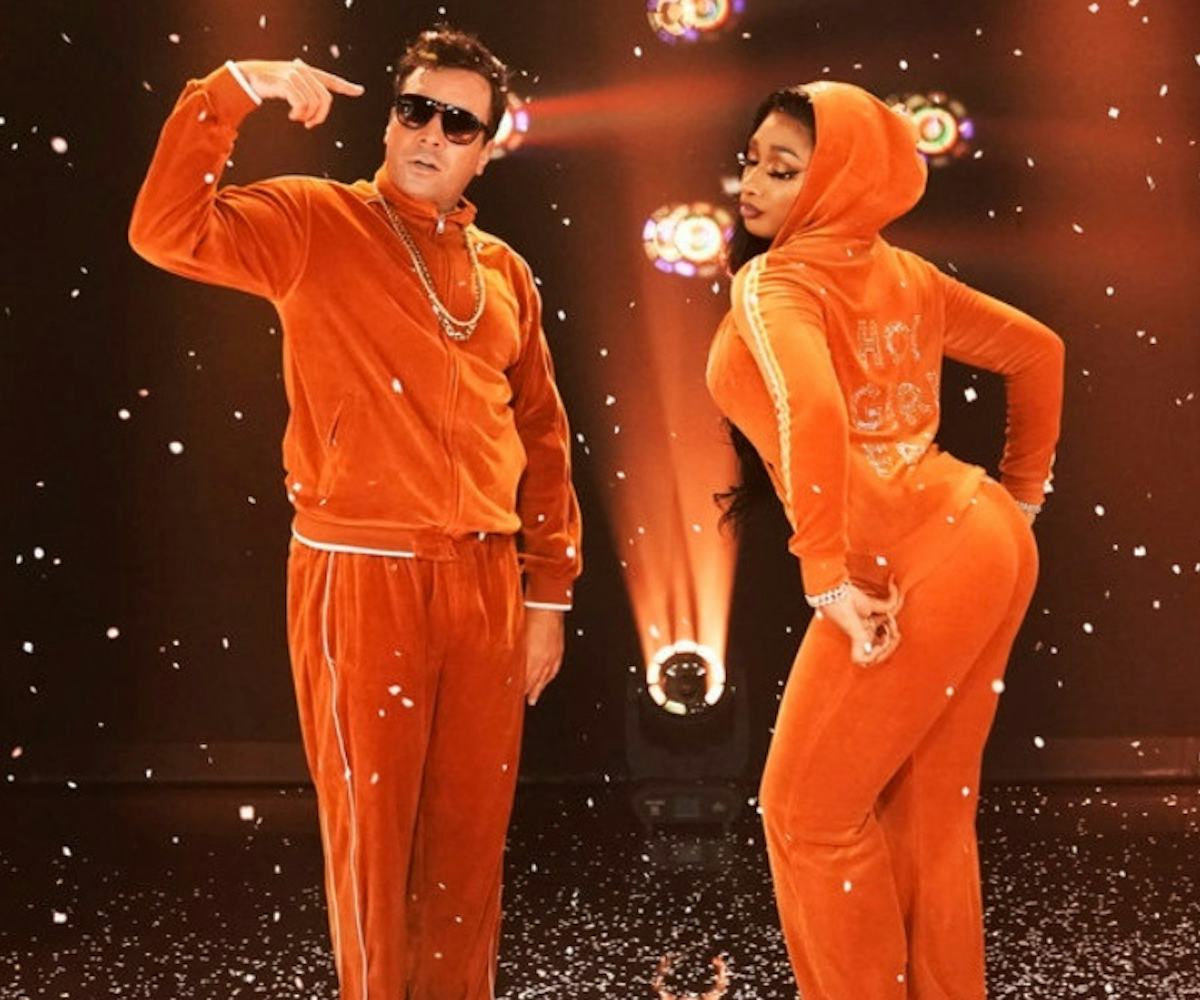 Photo by Andrew Lipovsky/NBC.
Keep Jimmy Fallon Away From Megan Thee Stallion, Please
He's trying to ruin Hot Girl Fall
I don't watch late-night talk shows. They're too white and there are too many Jimmys for me to keep up with. But from the next-day clips I've seen, I feel confident in my assertion that Jimmy Fallon is the corniest of them all, and not even having the Roots as his official band can fix that for him.
On the other hand, my good sis Megan Thee Stallion can do no wrong. So I'm blaming Fallon for how much I hate their collaborative "Hot Girl Fall."
Megan appeared on The Tonight Show to debut a video for a new track featuring Fallon and The Roots' Black Thought. In the video, Fallon raps about the changing weather—"Staring outside, all the leaves are changing/Feelin kind of cold, can't stop complaining" are actual lyrics—and dreams himself cool enough to get a personal phone call from Megan to usher him into Hot Girl Fall. The whole thing gets Barney-level corny when he childishly asks "Can I do Hot Girl Fall, too?" and whether or not it should be "Hot Guy Fall." They wear matching orange velour tracksuits. Megan doesn't mention driving the boat once, instead shouting-out "pumpkin-ass beer." I hate everything.
Honestly, I feel the same way about "Hot Girl Fall" as I did when I saw white women co-opting Hot Girl Summer: awkward. Stick to interviews, Jimmy, and leave my beloved Megan alone. Check out the video, below. If I had to see it, so do you.