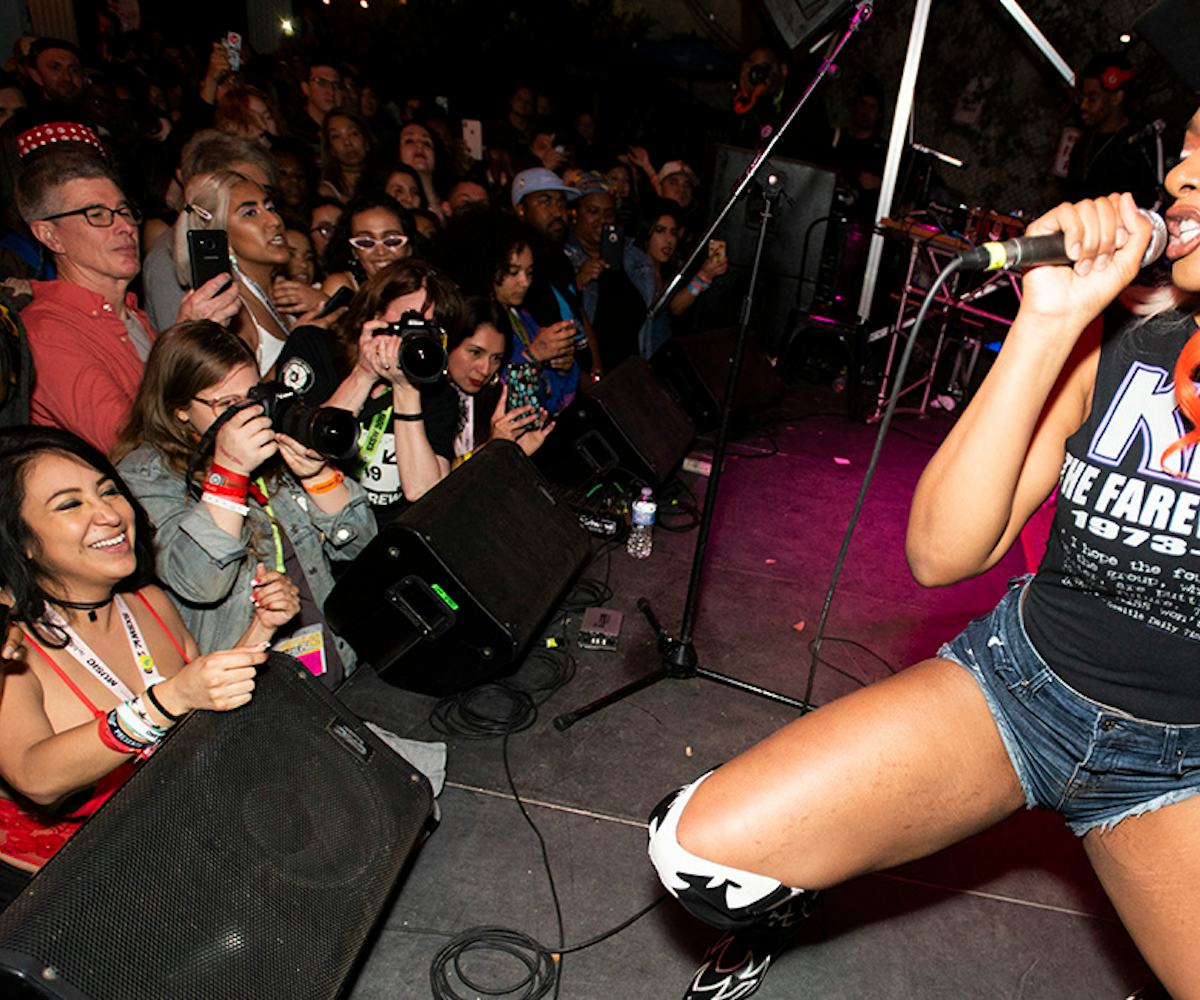 Photo by Lindsey Byrnes
Why Megan Thee Stallion Is The Answer To Our Prayers
Rappers like Lil Kim yee'd so Megan Thee Stallion could haw
Megan Thee Stallion is like the result of our wildest dreams—and those of the female rappers who came before her. She is the full package of talent, authenticity, and—as of November when she signed with 300 Entertainment as its "first lady"—she has the opportunity to make it to the top.
But it's Megan's skills on the mic that set her light-years apart from some of her peers, including the male ones. In an era where song lyrics can and often are dissected endlessly online, Megan sticks to what she knows when concocting her rhymes: turning up with her friends, looking like a million bucks, not backing down from any challenge, and—naturally—her prowess in the bedroom. As a result, Megan has amassed a loyal following of "hotties," including me; and while there are officially a million of us on Instagram alone, our numbers are growing every day, and the intensity of our fandom couldn't be higher. We cling to every word of Megan's music, relating to shared experiences or aspirational goals. And it's this growing, steadfast support that helped Megan's single "Big Ole Freak" hit the Billboard Hot 100 this week.
Hot Girl Meg has maintained a consistent schedule of club appearances and performances on campuses and secondary markets all around the country, but this year, she's going even bigger. This was clear when I saw her perform as one of the headliners at our 2019 SXSW showcase; by the time she'd finished her set, there was no doubt in my mind that she was working with some big superstar energy. And it wasn't just me: The audience—which included other rappers like Lizzo, bbymutha, and Yung Baby Tate—was captivated by the sheer power of her voice, the message of anthems like "Freak Nasty" and "Stalli Freestyle," and, yes, the image of her twerking in a pair of truly tiny shorts.
Before she hit the stage, I sat down with Megan (and her friends) at her hotel and asked if she felt her own star power. Just as I suspected, she does. "I think I'm a superstar," Megan said. "I'm definitely grinding. I'm trying to get to that status." Next month, she's performing in Miami at Rolling Loud Festival, the biggest hip-hop festival in the world—a superlative that really means something to Megan. Initially, she explained, she couldn't even believe she got the booking, but, quickly enough, she shifted into preparation mode, telling me, "I [thought], I gotta get in the gym heavy, because I have to be on-point for that." Though she was mum on the details of that set, she promised that it wasn't going to be like anyone else's, saying, "It's going to be a fucking party." If nothing else, the H-Town Hottie knows how to have a good time.
If you are one of the million people who follow her on Instagram (and if you're not, get on that), you'll likely recognize all of Megan's close friends, who have become part of her brand, and speak to Megan's commitment to her friendships, and to other women. Her friends have also been permanent fixtures in her music videos since her first YouTube upload. Megan told me the story of how she filmed her "Big Ole Freak" video three times with them in mind: "I shot it once in Houston, and I didn't like it. I shot it again in New York, but my friends weren't in it, and I didn't feel like it was enough genuine chemistry with the women in the video. So, the third time, we shot it in L.A., I had my girls with me, and we did it big." It's more than a little refreshing to see the way Megan has subverted damaging tropes of competition between women, and instead committed so deeply and publicly to female friendship, all without sacrificing her messages of sexual empowerment, financial mobility, or dominance in the rap game. Unlike other rappers who hyper-focus on a couple of specific topics, Megan tells a comprehensive story of 20-something Black girls.
This is just one of the ways that Megan's success represents a changing landscape in hip-hop, demonstrating that the genre is finally ready to invest in the promise of female MCs and what they have to say. It's yet another reason that Megan is the realized dream of female rappers like Roxanne Shante, MC Lyte, Queen Latifah, Lil Kim, and Trina before her. She's also standing on the shoulders of her mother, Holly Thomas. Before Thomas was her daughter's manager, she rapped under the name Holly-Wood, and it was her studio sessions where Megan was first inspired to write her own rhymes. It was Thomas' hands-on approach during the beginning of Megan's career that has helped the 24-year-old craft an image that makes use of several alter egos, not unlike her idol Pimp C. Megan Thee Stallion is the irresistible sex siren. But there's also Tina Snow, a boisterous pimp that reigns over men and women alike, and then there's Hot Girl Meg, the turn-up queen. It was Thomas who helped her daughter launch a career that included all of her different sides.
But, Thomas passed away in March, and now Megan is forging ahead in her honor, but doing it in her own inimitable way. Megan moves according to her own time frame. So while she's left antsy fans on read as we await the arrival of Fever, her follow-up to Tina Snow, she's already released one single from the project, "Sex Talk," where she sets the bar pretty fucking high for her lover. It's a bass-heavy track made for twerking, and she assured me that there's more where that comes from on Fever, which is, she promised, due any day now, saying, "Fever is definitely a whole project full of: I'm not gonna stop shaking ass."
And that's part of why Megan Thee Stallion is such a welcome addition to the rap game. She embodies that good feeling you walk in the beauty supply store and leave with everything you need to pull off your look. Her Instagram Live moments give fans the same feeling of giddiness as when some really good tea is spilled. Her entire presence feels like a testament to keeping it real as the only way to live, and her success is just one example of how we are finally making room for Black women in rap. It's hard not to wonder how often the women who came before her, including her mother, dreamt of a moment like this, a moment that is finally a reality—and a perfectly wild one, at that.