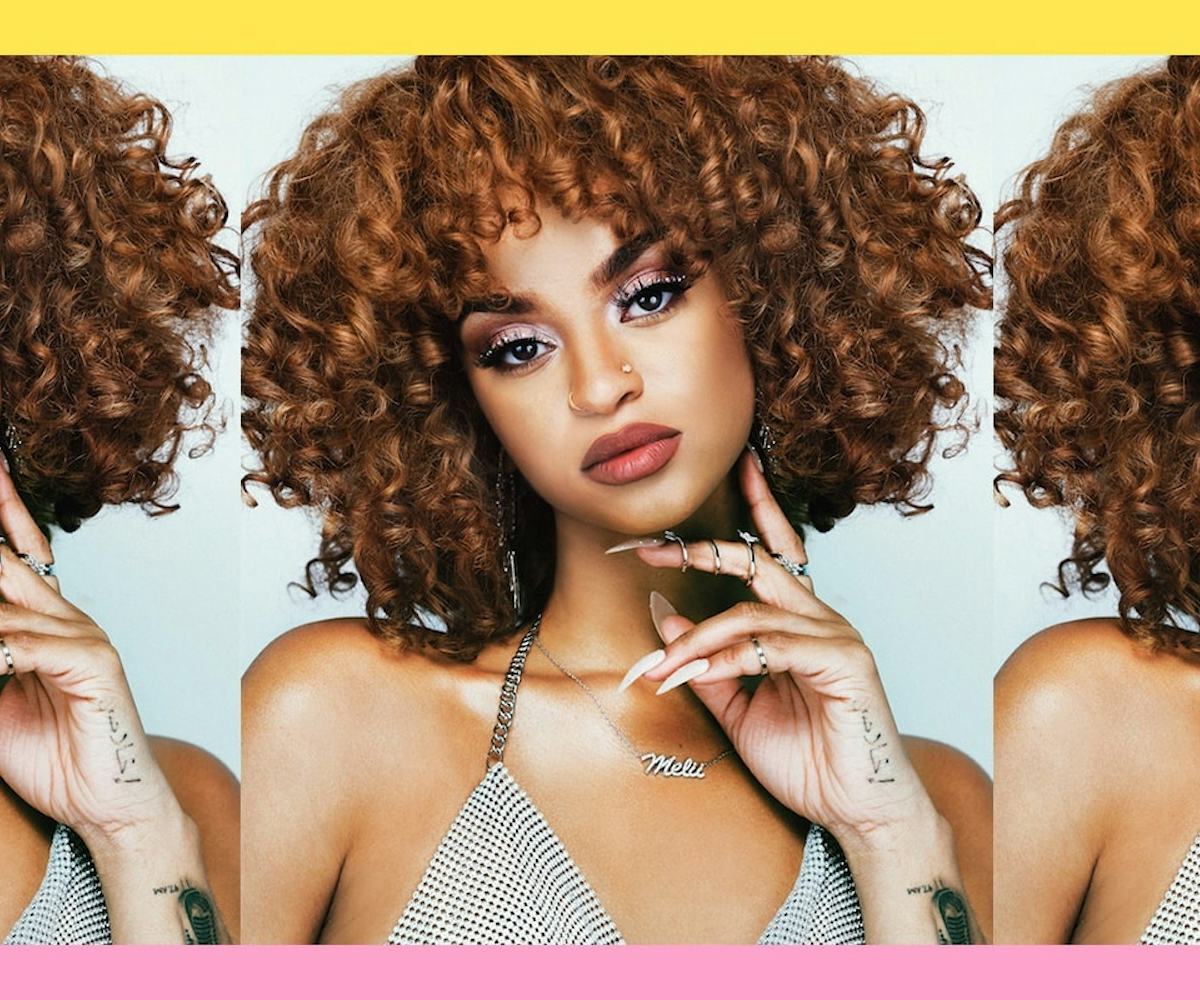 Photo courtesy of Universal Music
Rihanna Loves Melii, And So Do We
The artist's new album 'PhAses' is ultra-relatable, just like she wanted
On the phone with Melii, she repeats a word to me over and over again: "guideline." it's what she wants to be for her fans, and what she wants her music to give to people who may feel lost. It's not an empty term for her: She's packed her entire story into her debut album to give her listeners something to grasp onto and learn from.
Melii hit the ground running when it came to her music career. She released her first single "Icey" last year, which quickly became a staple for everyone—including Rihanna, who played it in a Fenty Beauty tutorial on her Instagram story. She also got attention with her covers of songs like Cardi B's "Bodak Yellow" and Logic's "1-800-273-8255." But, aside from a handful of singles and features, she hasn't released an LP until now.
PhAses, Melii's first full-length effort, encapsulates much more than a single or a cover ever could, and gives us insight into the young artist. Other than just one moment, or one emotion, Melii is giving us a deeper, wider look at herself. And she's glad to have all that out in the world. "Because I'd only have one song out at a time," she told me, "I'd be afraid that people wouldn't be open to hearing anything that's different coming from me. But to have my project [released,] it feels like the biggest accomplishment, especially with the positivity, love, and support I've gotten back in return."
Besides being just downright catchy, Melii's songs are lyrically smart, equally self-aware and self-assured. Perhaps this is because, since she was in elementary school, Melii has been baring her soul on the page, through poetry. "I first started to write poetry, and [also wrote] my thoughts and feelings down in a journal," she says. "As I started to get older my poetry started to transition into lyrics and songs."
A native New Yorker, Melii grew up in Harlem, joining the ranks of musicians like Kelis and Teyana Taylor, who also hail from her neighborhood. Before she dropped out to pursue music full-time, she was attending the same high school that A$AP Rocky, another Harlem kid, attended. It feels like, though she just got into the game, Melii's roots have given her the foundation for tremendous growth. The atmosphere she grew up in, she says, "pushes my pen game to be nothing but the best."
"I'm proud of my hometown, and I get so much love and support from Harlem, so to be included in that canon of musicians is a feeling of fulfillment," she says. "It feels so surreal and amazing." The Harlemite in her, though, isn't usually this humble.
Growing up in Harlem made Melii "confident and swaggy," and that confidence is heard on many of her tracks. She doesn't give a shit about what you think of her, and she knows she deserves acclaim and respect, and she's not going to feign humility if she shouldn't. "I'm a boss bitch, and I don't take anything from anybody," she tells me, "and I want anybody who's listening to my music to feel that way as well." It's a confidence that we'd all like to have a bit of—and reciting the lyrics of "False Signal," "Gangsta Talk," or "Copy," you can attain it.
But even the most confident people, of course, have their own issues. Melii isn't opposed to talking about her own, and some of her songs, like "Pretty Girls" and "Feel Me," touch on topics like depression and anxiety. Even though mental health shouldn't be taboo, it definitely is still a tricky subject to talk about, which can make people going through it feel like they're alone. Melii brings her own issues into her lyrics because it's "a part of who I am," and also to show someone who's been through it, and sometimes still gets knocked down. "I want my supporters or anyone who is listening to my music to know and feel that they're not alone, and to keep pushing through it all."
Putting every single part of her on this record turned it into the guideline that she wanted it to be. She's not covering anything up about herself, and she's digging into the grittier parts of her life, to make it easier for people who are going through something similar. "I'm not perfect, and I am unapologetically myself, always," she says, which makes her a better poet, and makes her music easy to take in.
So, then, while PhAses is about her life, it's meant to be for everyone. It's personal, yes, but it's entirely relatable. We all go through moments of feeling insecure, and lots of us deal with mental health issues. But that doesn't mean that we can't feel good about ourselves lots of the time. Melii wants listeners to "relate to PhAses in whichever way it applies to their lives." There will definitely be quite a few options.