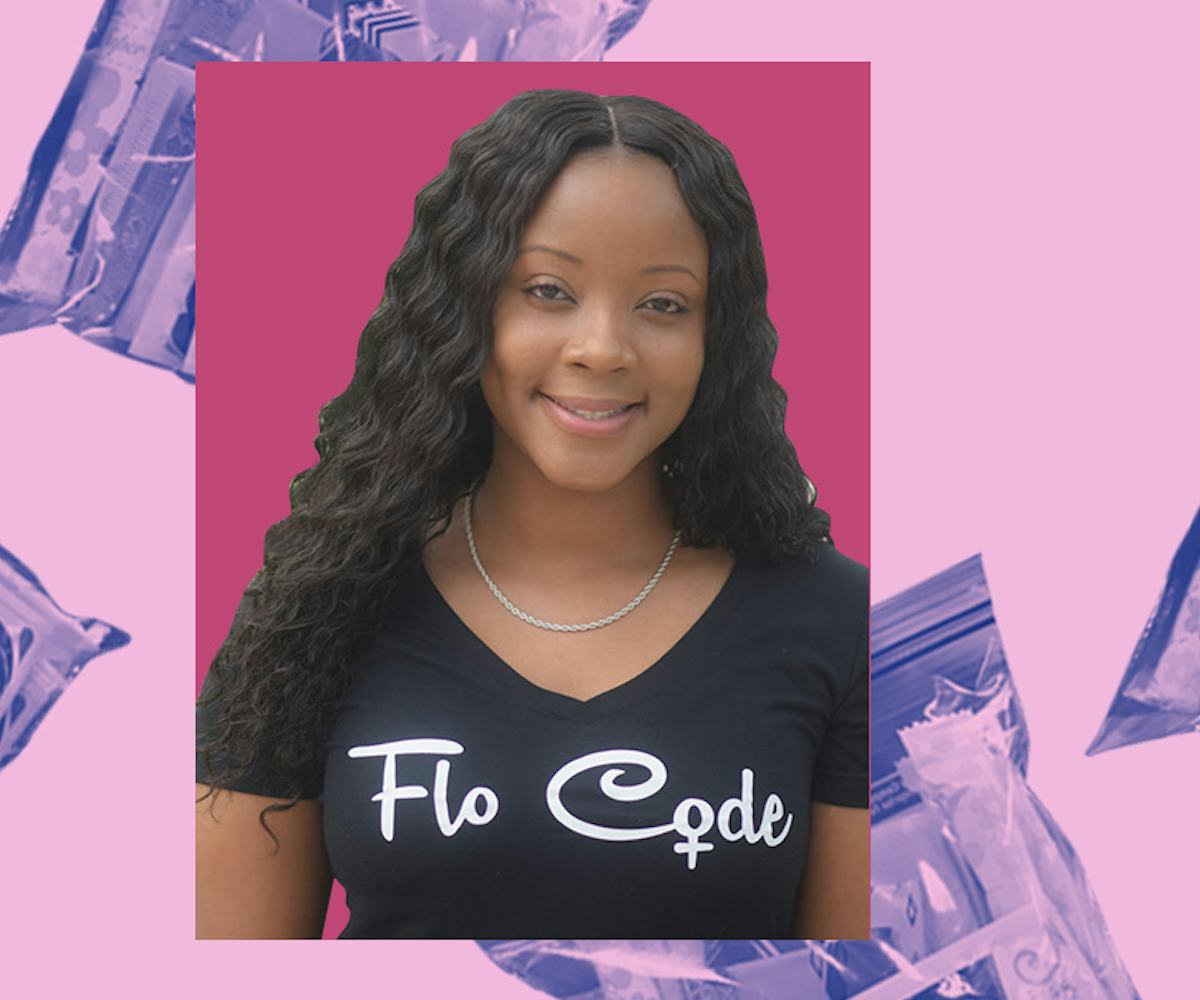 Periods Shouldn't Be A Privilege For The Rich
Meet the woman making sure underserved communities have enough menstrual products
After starting her period while in the fifth grade, Lamanda Ballard, the founder of central Texas-based nonprofit Flo Code, remembers missing at least one day of school each month thanks to cramps and a limited supply of menstrual products. She also remembers seeing the first few spots of blood and initially thinking she was dying. Eventually, she realized the loss of blood wouldn't be fatal, but it would take her much longer—until adulthood—to become comfortable talking about periods and the ways in which society's treatment of menstruation can put women at a disadvantage.
Now, Ballard is hoping to use skills from her day job in digital marketing to get people to change the way they talk about periods.
Ballard launched Flo Code two years ago, after realizing homeless shelters often lack enough feminine hygiene products to meet the demand. People donate other necessities— clothes, socks, toiletries—but they often forgot about the fact that homeless women menstruate, too. Ballard says she was mobilized to act after learning about women who were making period products out of socks, paper towels, and other readily available items.
Since getting started in March 2017, Ballard has already donated more than 300,000 products to shelters, schools, and natural disaster victims. Ballard says this includes donating at least 20,000 sanitary products to central Texas schools each year through national organization Communities in School, as well as via donations following Hurricane Harvey. Many of the donated products come in the form of "Flo Packs," which can include items such as pads, tampons, sanitary wipes, and panty liners. In addition to receiving donations from individuals, Flo Code also partners with companies such as Shea Moisture to host fundraising drives.
The most fun way for the organization to receive and package donations, however, is through local "Flo Parties." These include "pack n' sips," for example, during which volunteers have the chance to sip on mimosas and listen to music while packaging donations to communities in need. Ballard says these events are often where a lot of conversations and education about menstrual cycles take place.
For instance, one of the organization's main goals has been to change the way people think about periods. According to Ballard, this includes bringing underserved communities, including impoverished, homeless, and imprisoned women, into the conversation and working to reduce the stigmas around these groups. "[I often say,] when a homeless woman asks for $10, instead of you thinking that she's going to use it to buy drugs and stuff like that, why don't you think maybe she's going to use the $10 to purchase her next set of [menstrual] products that will only get her through the next month," Ballard says.
But changing public perception is only one of the problems that needs to be solved in order to ensure women throughout the country aren't disadvantaged simply because they are menstruating.
The Flo Code founder says she recently met with legislatures to advocate for Texas to eliminate the "tampon tax" that places a sales tax on menstrual products. New York, Pennsylvania, Maryland, Florida and, most recently, Nevada are among the 10 states that have already abolished the tax, according to the New York Times. While bills that would eliminate the tax have been introduced during this legislative session, the Texas Tribune notes several bills aiming to eliminate the tax have been introduced in the past and failed to be successful. With the state sales tax in Texas ranging from 6.25 percent to 8.25 percent, successfully eliminating this hurdle would go a long way in making menstrual products more accessible.
Texas isn't the only state grappling with "period poverty," and Ballard certainly isn't alone in the fight to make menstrual products more accessible. There are several organizations throughout the U.S. that are dedicated to this cause, including Helping Women Period, which focuses on providing menstrual products to homeless women and Distributing Dignity, which collects bras and period products for ill or displaced women, as well as those in foster care and homeless or domestic violence shelters. Even on the 2019 Oscars stage, the acceptance speech for Period. End of Sentence in the Best Short Documentary category brought the conversation about menstruation to a mainstream co-ed audience. Ballard believes this shift is necessary, but we still have a ways to go. And, she says, one of the biggest things people can do to speed up this shift is to change the way they talk about "period poverty" in general.
"I was reading [an] article that was saying how period poverty isn't just an issue in third world countries. It's an issue right here in our own communities," she says. "Our girls do not need to be missing school because they can't afford menstrual hygiene products."