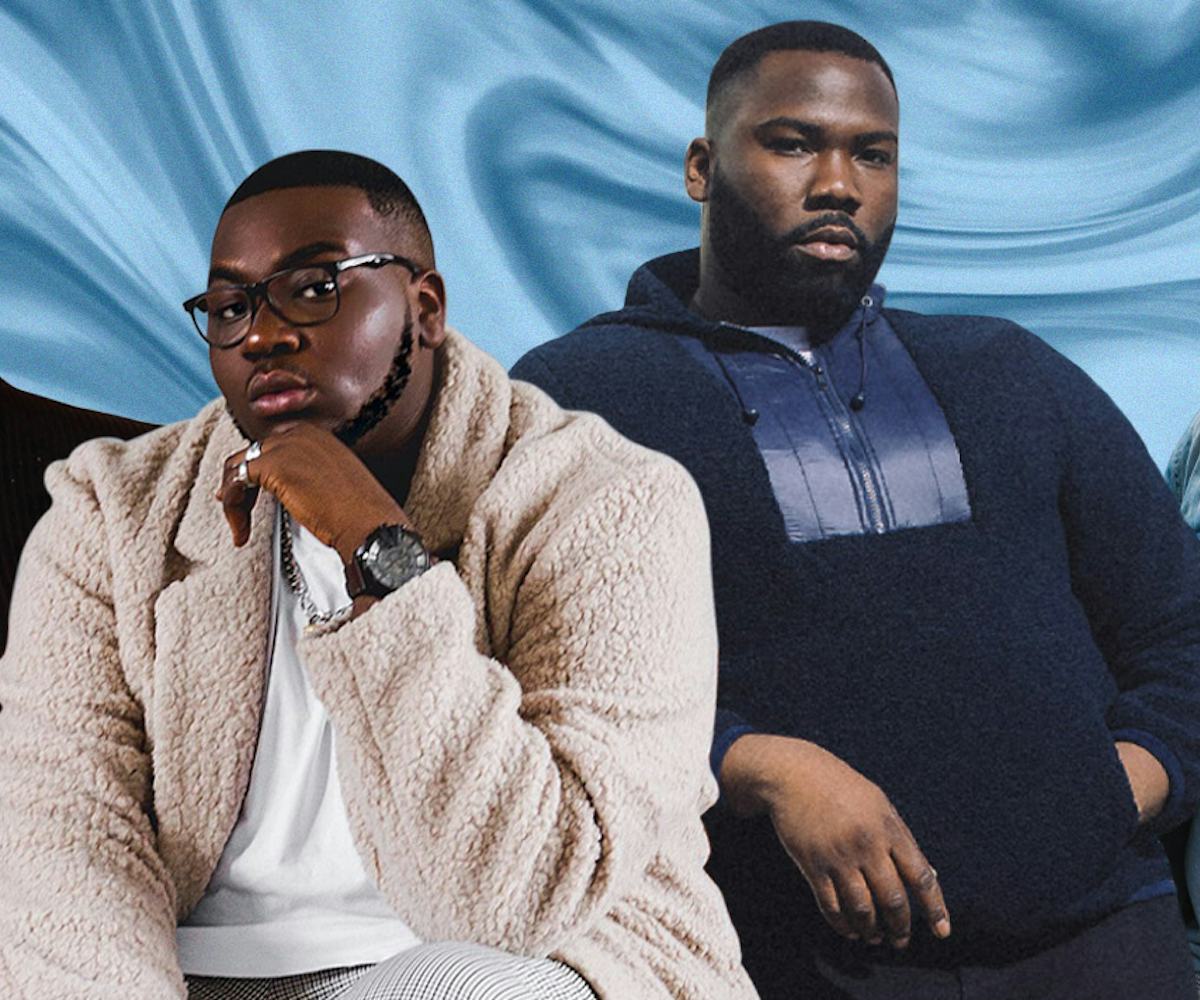 Photos: Cody Guilfoyle, Bridge Models, IMG Models, Wilhelmina/Collage by Kelsey Cadenas
Meet 5 Advocates Pushing For More Size Inclusivity In Menswear
They're the bodies you may never see at men's fashion week
There's a reason runway representation is so important. While a brand offering extended sizes is always the end goal, seeing those sizes actually at work on plus bodies has an even bigger impact. Yet unfortunately, for men above a size 36 waist, that's a moment they've only been able to fantasize about. Each season during New York Fashion Week: Men's, plus-size men are constantly let down by the lack of body diversity on the runway.
In fact, after looking at photos from every show on the official calendar, only one big and tall man was featured in a Fall 2020 presentation during New York Men's Day. And still, he was dressed in a simple all-black look (much less eye-catching than the other models) and seated as opposed to standing, tucked away behind other (thin) models that towered over him.
The lack of body diversity at men's fashion week is hardly a new issue, but it is becoming an increasingly surprising one considering the multiple brawn/big and tall divisions that have been created at major agencies like IMG Model and Wilhelmina. The average American male wears a size 40.2 waist after all, so why can't menswear catch on?
"I don't know if we've actually seen too much physical change in terms of brands changing their size diversity," says Josh Stephens, manager at IMG Models. "I think it's conversations that we're having daily, and we are seeing more and more brands kind of signing up to have those."
IMG has spearheaded the big and tall menswear market with many of their models — most prominently Zach Miko — experiencing mainstream success. Even still, the increased visibility that's come from their initiatives, as well as from those of similar agencies, hasn't quite convinced many brands to join yet, especially not luxury ones.
"Some people just aren't as educated on the financial opportunities that can be made by selling different sizes," he says. "Because I think there are definitely men who are willing to pay for luxury goods in their sizes."
Charlotte Griffiths, director of the curve- and brawn-exclusive agency Bridge Models, notes similar, telling NYLON, "Men want to be able to have choice and variety to shop for their shape and size... and with brands launching big and tall ranges, I do think it is a step in the right direction, but my desire and goal is to not need to have separate lines and ranges and for these lines to be truly inclusive, merging these collections as part of their portfolio."
When it comes to the plus menswear market, change has barely begun, especially at fashion week. But with the power of social media, more men of varying body types are speaking out, advocating for their community that, after so long of being ignored, wants to finally feel seen. They're the bodies you never see at men's fashion week, but they're the fighters pushing for size inclusivity every day.
Below, we spoke with five plus-advocates who are aiming for more change in the menswear space.
Nemar Parchment, IMG Models
After signing with IMG, Nemar Parchment has quickly risen to the ranks of leading brawn men, starring in campaigns for ASOS, Boohoo, and Old Navy. Although his star is certainly on the rise when it comes to fighting for body diversity in menswear, he explains that it's still hard to break age-old stigmas about larger bodies.
Throughout his experience as a model, Parchment has had many great moments on set, but also some not so great ones: "You can tell when someone isn't interested in styling a [bigger body]. I've had stylists who didn't even take the time to learn my name, but they'll take the time to build a relationship with a straight-size model," he says. "When I'm at these shoots where people aren't treating me fairly, I stand up for myself and advocate for myself so that the next plus model that comes up doesn't have to deal with that."
What inspired him — and how he hopes to inspire others — is the community that's been formed through plus menswear, particularly through the agencies, including IMG, that have led this initiative. He explains that he's found all the big and tall men to be so supportive of one another, as there is room for them all to be at the top.
Matt Wirken, IMG Models
"Obviously we're bigger than some other people… [but] I'm not a rare type of human, especially in America. It's cool that I've been thrust into this role where I can be that pioneer," says Matt Wirken, a model signed to IMG's Brawn division.
Wirken has a point: He's not a rare type of human at all. In fact, a glance through his Instagram might confuse you as to why he's considered brawn when he looks like your normal average guy. Unfortunately, designers have misconstrued what the "average" is in menswear, and Wirken — who is also a professional rugby player in New York City — is fighting to change that, wanting extended sizes to not be an afterthought or separate category, but rather, to be normalized.
"I want to be fashionable, and I want to wear nice clothes as well," he says. "So why would you limit to just these 10 pieces that come in big and tall, and then these 37 come in straight sizes?"
Wirken has modeled for Everlane, Brooks Brothers, and Tommy Hilfiger since signing with IMG. But often being the first brawn man these brands work with comes with its challenges. "[It's difficult] when I go to a shoot, and they're prepping for a straight-size model, and then my large and tall self comes into the room, and the clothes don't fit," he says. "There are bigger men, there are taller men; there is plenty of room for all of us in fashion."
David Fadd, Bridge Models
"For me, an inclusive future for menswear is for guys like me that are a 3XL/4XL to be able to walk into a regular store and find a plethora of clothing items that fit great," says David Fadd, a UK-based model signed with Bridge. "[I want to see] adequate representation in fashion campaigns and television where younger boys can be 'bigger' and still aspire to work in fashion."
Fadd's unique fashion sense, which he often showcases on his social media, is what distinctly sets him apart from other models in the game. His originality and bold looks show that plus-size men can wear more than button-downs and khakis. They can, in fact, be fashion icons, and hopefully one day, kings of the street style galleries.
"I find it quite disheartening that, although there's been progress on a selection of brands, this hasn't reflected in fashion week," says Fadd. "It's a shame, as a forum like this has the power to create a lot of opportunities to celebrate and encourage diversity."
Fadd is right: Because of less pressure on men's fashion week — in addition to the fact that it's often the launching point for many emerging designers who are showing for the first time — designers have a unique opportunity to take risks and push the needle forward. But Fadd brings up another vital issue: societal factors. Even in 2020, many men are still afraid to express an interest in fashion in fear of being labeled "gay" or "girly." Additionally, multiple studies show that plus-size men are viewed as less masculine because of their weight. The sad truth of that is enough for them to write off fashion altogether.
Fadd plans to continue to use the strength and power he's acquired from his time modeling to enforce change in menswear, but more so to drive the message home to men who are longing to feel free from societal norms about body image and finally feel worthy of what they've always deserved.
Alex Frankel, Wilhelmina Models
Growing up, Alex Frankel's wardrobe consisted of ill-fitting looks from Marshalls and Target, two of the only stores that had clothes close to his size. It was enough to discourage him from pursuing an interest in fashion growing up, and even further, it prevented him from being able to explore a new part of himself.
"It felt like I wore the same thing every day. It was really difficult for me to express myself via the way I dressed because I couldn't find anything that would fit," he says. "[Men's magazines] always made it feel like, unless you were funny or rich, you were not worth time, attention, love, or a spotlight if you were fat."
Frankel eventually got into musical theater and became a professional opera singer post-graduation. But even then, he couldn't escape the fashion world's avoidance to design for fat bodies, having to buy expensive custom-made suits for gigs when others could go and pick up a cheap fit from H&M or Zara.
That all began to change, however, when he stumbled into modeling — largely because of his iconic hair — and slowly built his portfolio until being signed with Wilhelmina. Now, with access to more clothes that fit for the first time, he's learning so much about himself that he never knew existed.
"I've had a lot of different versions of this body over the past five years, and every photo shoot that I do helps me to see myself in a new way and be even more accepting of what my shell is," says Frankel. "Despite the fact that I have a big belly and man boobs and I jiggle, there is still something inherently sexy about me and about other people of size."
Ady Del Valle
Thanks to social media, freelance model Ady Del Valle has created a triumphant career as a plus-size male model, recently starring in Patrick Church's latest collection campaign as well as walking at the DapperQ Spring 2020 show. He also identifies as a body-positive activist, stressing the importance of the platform he's created over the past five years.
Utilizing his social media presence — as well as being incredibly vocal about body diversity and representation for all body types, from average size men to those who wear a 4XL and above — Del Valle has received loads of press, attention, and unique opportunities without the help of an agency to back him up. Walking in the DapperQ show last September, in particular, was a huge moment for him, as well as for menswear as a whole.
"The fact that the designer took time to specifically make something for me was so refreshing, because if this designer has the time to construct for my measurements, why aren't other designers taking the time to create dope looks for us, too?"
Del Valle is very cognizant of the fact that he represents men who are visibly fat, a body type that's often not reflected in big and tall modeling. And he doesn't take that lightly: He regularly is not afraid to call out brands and designers who let his community down time and time again. And to him, that community of brawn, big and tall, plus-size and fat men, who finally want to feel good in their skin and in their clothes, is everything.
"We have an opportunity to speak out and represent for people who don't have a voice," says Del Valle. "And I understand that my voice is important in some shape or form, and [I value that responsibility]."