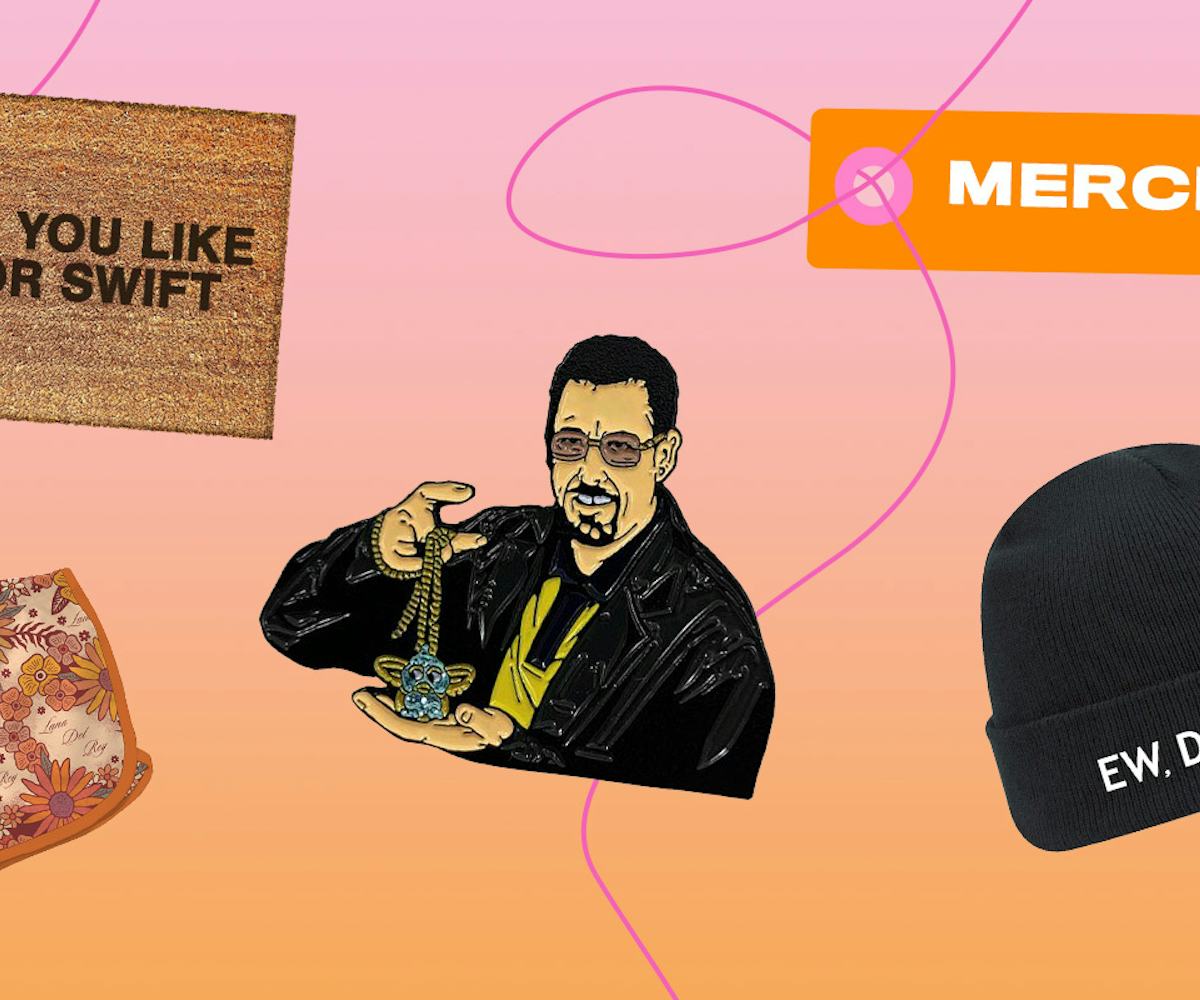 Unwrapped: 20 Unique Merch Gifts For The Pop Culture Lover
From Baby Yoda accessories to Taylor Swift home decor
'Tis officially the season for gift-giving. For us, that's a full month in which we'll be providing gift ideas for everyone on your list with our Unwrapped holiday gift guides. So make your holiday shopping a breeze this season, and let us help you find gifts for all the people in your life.
The perfect gift is one that makes the receiver feel seen. The gift that says, "I know who you are, and I know the freaky, unique interests that make you special, and this gift is a direct reflection of that." In the era of pop culture standom, there is no end to pop culture gifts tailored to your loved one's affections.
Gone are the days of the generic concert tee — we are now in the golden era of merch. From Baby Yoda phone cases, to Taylor Swift home goods, to temporary Post Malone face tattoos, to Ariana Grande-branded onesies, to that Rihanna book, to Kacey Musgraves coloring books, to rolling papers courtesy of Rico Nasty, to enamel pins capturing ridiculous and iconic moments in recent movie history, there's something for everyone.
Below, find 20 gifts that tell the pop culture lover in your life, "I see you."
Midsommar, Flo Scream Pin, $10, available at A24 Films.
A subtle nod to one of the year's creepiest movies.
Taylor Swift, Welcome Mat, $55, available at TaylorSwift.com.
A warning, a declaration, a welcome mat!
The Mandalorian, Baby Yoda Phone Case, $34.95, available at Disney.
Until Disney rushes through plush dolls in the likeliness of the adorable Mandalorian character, this phone case can satiate any Baby Yoda thirst.
Billie Eilish, Slime Mask and Digital Album, $30, available at BillieEilish.com.
Apocalyptic slime green vibes = the perfect teen gift.
Post Malone, Face Tattoo Pack and Digital Album, $15, available at PostMalone.com.
For your next Posty cosplay session.
Harry Styles, "Adore You" poster and digital download, $39.95, available at HarryStyles.com.
A chic wall decoration from your favorite heartthrob.
Charlie's Angels, Dad Hat + Digital Album, $30, and high-waisted brief, available at Charlie's Angels.
A subtle way to let the world know you stan Kristen Stewart.
Uncut Gems, Adam Sandler Enamel Pin, $10, available at Patti Lapel.
The brilliant kitsch of Uncut Gems summed up in a pin.
Lewis Capaldi, Campaign Tee, £25, available at LewisCapaldi.com.
The election merch your recipient needs.
FKA Twigs, Magdalene Bomber Jacket + CD, $195, available at FKA Twigs.
A classic bomber from your favorite avant-garde musician.
Normani, "Thank God For The Weekend" Shirt, $36, available at Normani.com.
As usual, Normani understands.
Ariana Grande, Christmas and Chill Onesie, $90, available at ArianaGrande.com.
Perfect for snuggling by the fire.
Schitt's Creek, "Ew, David" beanie, $30, available at SchittsCreek.com.
You can only hear this in Alexis Rose's voice.
Rihanna, Fenty x Phaidon coffee table book featuring tattooed hand stand, $140, available at TheRihannaBook.com.
A chic gift for die-hard Navy or a casual fan.
Rico Nasty, Stash Box and Roller, $30, available at Warner Records.
Sometimes naughty is nice.
Kacey Musgraves, Coloring Book, $19.99, available at KaceyMusgraves.com.
Golden hour becomes any color hour.
Tyler the Creator, Igor Wig, $30, available at Golf Wang.
Instantly iconic.
Lana Del Rey, Vintage Floral Short Shorts, $35, available at LanaDelReyStore.com.
Big NFR energy.
Cardi B, Enamel Pin Set, $10, available at CardiB.com.
Invasion of Privacy is a classic, and so are these pins.
Beyoncé, Your Favorite Rapper Wrapping Paper, $15, available at Beyonce.com.
Do you want your gifts wrapped in anything else?