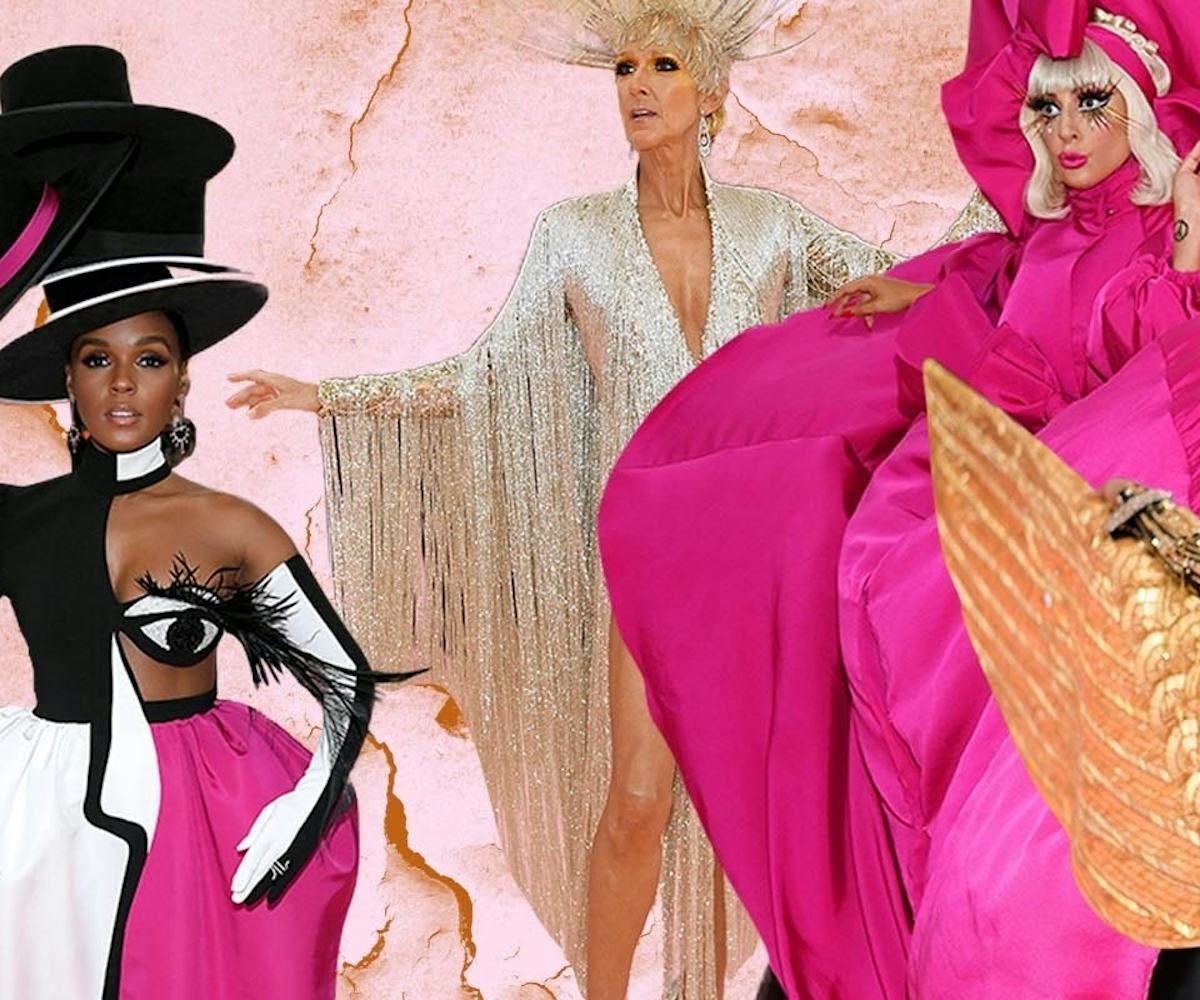 The Best, Most Over-The-Top Looks From The 2019 Met Gala
This year might just be our favorite yet
We were nervous coming into this year's Met Gala. Not because there was a high chance of appropriation like past themes, but rather because there was a high chance for disappointment. You see, this year is all about camp, meaning extravagant, over-the-top, borderline tacky outfits. AKA everything a lot of the celebrities tapped to attend the Met Gala aren't good at. The majority tend to play it safe, while only a handful (mainly Rihanna) stay on theme. This year, though, was different.
Yes, there were still some who thought throwing some feathers and sequins on a dress was considered daring, but we also had Billy Porter in gilded wings, Lady Gaga with a multi-outfit entrance, Kacey Musgraves dressed as Barbie, Zendaya dressed as Cinderella, and Janelle Monáe with a blinking eye over her boob. Basically, we got what we were looking for. We might not have had Rihanna this year, but we're grateful for the other celebrities who stepped up their style game in her place.
Ahead, our favorite campy outfits from the night.
Lady Gaga managed, somehow, to out-camp herself by changing Brandon Maxwell outfits four times, all while walking the red carpet.
Camp is all about the capital D-drama, and Billy Porter brought just that with both his entrance and outfit. Being carried on a bed by a group of shirtless men and then emerging as a gilded butterfly courtesy of The Blonds? All hail.
Celine Dion is a Vegas showgirl on acid in Oscar de la Renta—and, well, we absolutely want what she's taking.
A beaded jumpsuit and feather stole from Prada has turned Yara Shahidi into a campy version of the actress we once knew.
Florence Welch hopped out of Winterfell and landed on the Met Gala red carpet in Gucci.
Tiffany Haddish is the definition of the Black yeehaw agenda in this sequined Michael Kors suit and Stephen Jones cowboy hat.
Lili Reinhart was very Marie Antoinette-esque (the Kirsten Dunst version) while wearing Salvatore Ferragamo.
Is this camp? Yes! Of course, it's Katy Perry in Moschino we're talking about. Do we like it? Eh, TBD. We also don't envy her table neighbors.
Elle Fanning in Miu Miu is like if Jeannie from I Dream of Jeannie was also a breakdancer. Translation: We love it.
Danai Gurira in Gabriela Hearst was inspired by Oscar Wilde for her "dandy reimagined" look.
She's a barbie girl, in a barbie world. Kacey Musgraves in Moschino, that is!
Multiple hats! An eye that blinks! Janelle Monáe always gives us what we're craving, and this time around, she had help from none other than Christian Siriano.
Someone clearly understood the assignment, and for that, Tracee Ellis Ross in Moschino gets an A+ in our book.
As one Twitter user pointed out, Gemma Chan in Tom Ford appears to be giving a nod to the traditional headdresses worn during Chinese operas (though, according to the brand's press release, it was inspired by Elizabeth Taylor). Say it with us now: El-e-gance!
We weren't expecting this level of slay from Priyanka Chopra (by way of Dior), but we're definitely not complaining.
Cara Delevingne is a whole lot of campy fun in this colorful Dior Haute Couture 'fit and headpiece.
Does Lupita Nyong'o ever disappoint? That was a rhetorical question, because the answer is no. We're not sure if we'll ever recover from this Versace number though.
If you need a gaggle of guys to carry your Thom Browne train, you're doing something right. Cardi B topped her look off with a headdress for good measure.
If anyone's going to make sneakers (neon Off-White ones) red carpet-appropriate, it's going to be Serena Williams.
You have to see the video (here) to appreciate Zendaya's truly magical Tommy Hilfiger Cinderella gown. Not only does it light up, but she also had a mini performance in which her stylist, Law Roach, activated the gown with flicks of his wand. A Disney camp connoisseur!