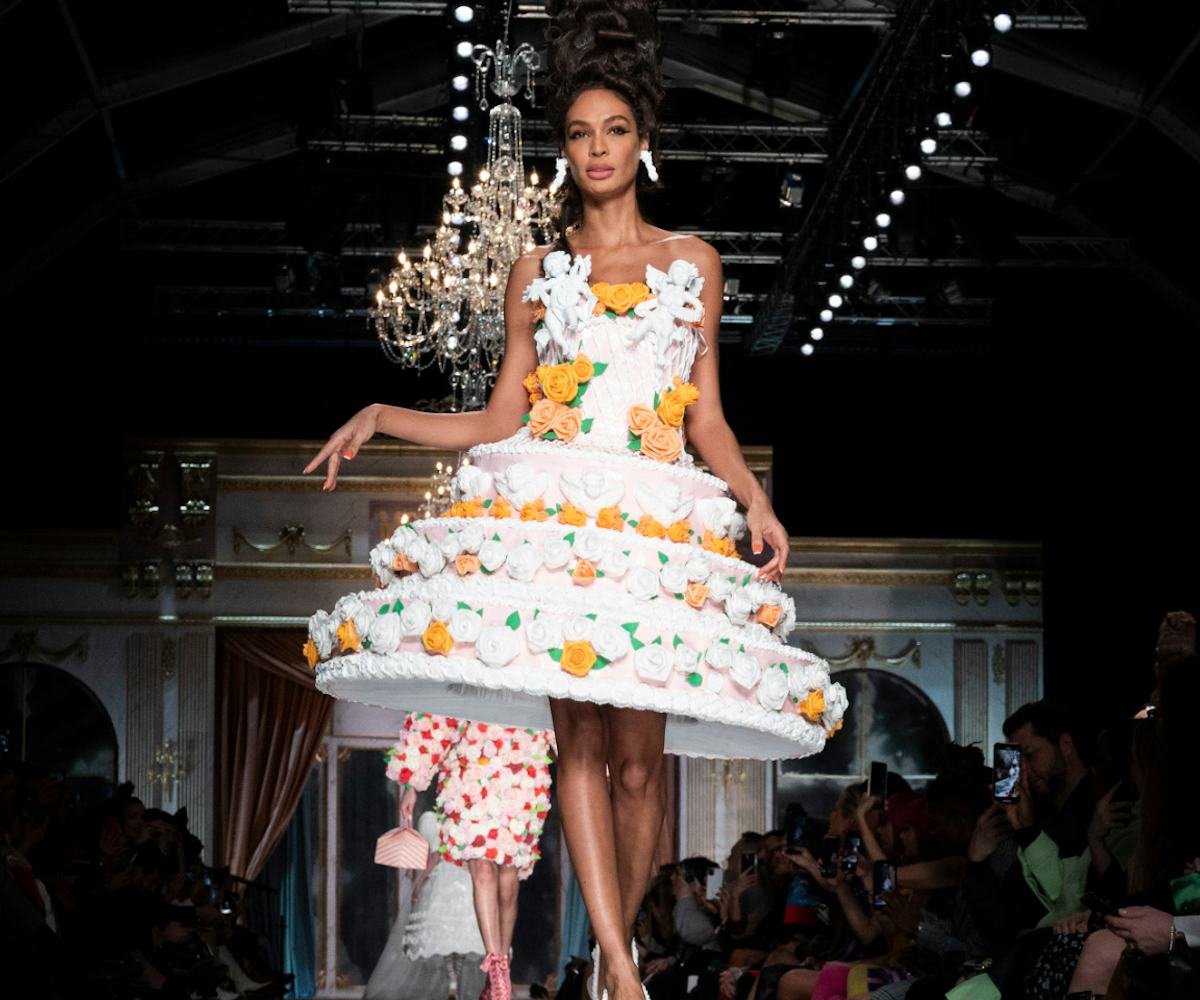 Photo by Pietro D'Aprano/Getty Images
Everything You Missed From Milan Fashion Week Fall 2020
From Moschino's cake dresses to TikTok's Charli D'Amelio at Prada
Now that we're more than halfway through fashion month, we've finally hit the final, homestretch of a weeks-long stint on all things Fall 2020 fashion. But before we kick off Paris Fashion Week on Tuesday, let's take a look back at Milan Fashion Week, shall we?
Gucci started the week celebrating the industry tradition of throwing a fashion show, taking his audience on a behind-the-scenes journey on what the chaotic and creative process entails. Meanwhile, emerging French designer Christelle Kocher of Koché breathed new life into Emilio Pucci as the brand's first guest designer for its latest collection. It also seems like Prada is onto new trends, too, as the Italian fashion house invited TikTok star Charli D'Amelio as one of its front-row guests. Plenty of dance video content was made, of course.
And while Prada's TikTok nod might have caught some attention online, it was the luxury brand's last-minute press conference on Sunday, the final day of Milan Fashion Week, that truly set the industry buzzing as they planned their departures for Paris. The news? Miuccia Prada and Raf Simons are joining forces as co-creative directors of the brand, set to debut their first collection in September. "Because these two are such seasoned veterans, survivors, cultural figureheads, that now, as they're joining together to reinvent Prada, I feel they're going to show us all how it's done," wrote Tim Blanks for Business of Fashion. Milan sure did go out with a bang, didn't it?
Below, read up on everything you missed from the Milan Fashion Week Fall 2020, and we'll be back again to recap the best moments from Paris, too.
Gucci's Runway Show Was Totally Behind The Scenes
While the industry was contemplating the state of New York Fashion Week, Alessandro Michele was in Milan planning to celebrate the fashion show tradition. The result was his Fall 2020 presentation, a behind-the-scenes take on the cyclical spectacle. Showgoers arrived through a makeshift backstage space as they witnessed models get prepped for hair and makeup. Once the audience took their seats, the models were on full display on a merry-go-round-like stage as they got dressed by members of Gucci's team in the newest collection.
Moncler Threw A House Party With Its 'Genius' Collaborators
Moncler has been (successfully) banking on collaborations with its Genius project, working with designers across the fashion spectrum to apply their own take on the brand's classic puffer. For 2020, Moncler Genius hosted a creative hub of 12 different installations from partnering brands, both new and old, including JW Anderson, Simone Rocha, Richard Quinn, Craig Green, and more. Rick Owens' custom tour bus — straight from Area 51 — was also on display.
Emilio Pucci Hired A Guest Designer For Its New Collection
Speaking of collaborations, Emilio Pucci is applying the same technique to help revive the Italian fashion house. Emerging French designer Christelle Kocher of Koché was announced to be the guest designer for Fall 2020 and her collection did not disappoint, as it added a fresh and youthful perspective to the heritage brand. Not only did Kocher reinterpret the Pucci logo and monogram, but she added her signature designs to the mix, too, like lace with jersey and sportswear-inspired silhouettes.
Charli D'Amelio Brought TikTok to Prada
Another social media famous teen has paired up with a major luxury brand. While Louis Vuitton has YouTube star Emma Chamberlain, Prada invited TikTok's Charli D'Amelio to Milan to sit front row at its runway show. Of course, plenty of content was made, including a video of D'Amelio dancing to Avril Lavigne's "What The Hell," which, when we last checked, was already viewed more than 25 million times from her 28-million-plus followers.
Fendi Casted Curve Models For The First Time Ever
Fendi made history when it casted two curve models to walk its Fall 2020 runway show: Paloma Elsesser, who is a vocal advocate for plus-size representation, and Jill Kortleve, an up-and-coming face who's walked Molly Goddard, Michael Kors, and Rag & Bone this season. When Vogue asked creative director Silvia Fendi if she was frustrated about sticking to sample-size models, she replied, "Of course. Especially because you talk to me and I am not really a prototype of that shape. So it's liberating for me to portray these clothes in a different way, on different sizes."
Moschino Sent Cake Dresses Down The Runway
The Moschino show invite happened to be pink, multi-tier cakes, which gave a small hint for what to expect on the runway. Designer Jeremy Scott used Marie Antoinette as his sartorial muse for Fall 2020, and dressed a few of the models in confectionary-inspired ensembles, from Joan Smalls in a colorful, multi-tiered cake look to the show's closing (and traditionally bridal) look that was an actual wedding cake-shaped gown. Plus, we think Scott's inspiration may or may not have come from his judging stint on an episode of RuPaul's Drag Race All Stars.
Miuccia Prada and Raf Simons Are Joining Forces
What really shook Milan Fashion Week this season wasn't exactly a show or party or front-row sighting, but a last-minute press conference from Prada. On Sunday, it was announced that Raf Simons would join the Italian fashion house as co-creative director alongside Miuccia Prada "with equal responsibilities for creative input and decision-making," according to the press release. (His official start date is April.) The joint partnership finally put to rest months of rumors, and one could point to hints of their collaboration from as early as 2016, when they both took part in a discussion for SystemMagazine: "If I could do a show with him, imagine how much fun we would have," said Prada. Their first collection together will be the Spring 2021 women's show in September during Milan Fashion Week.