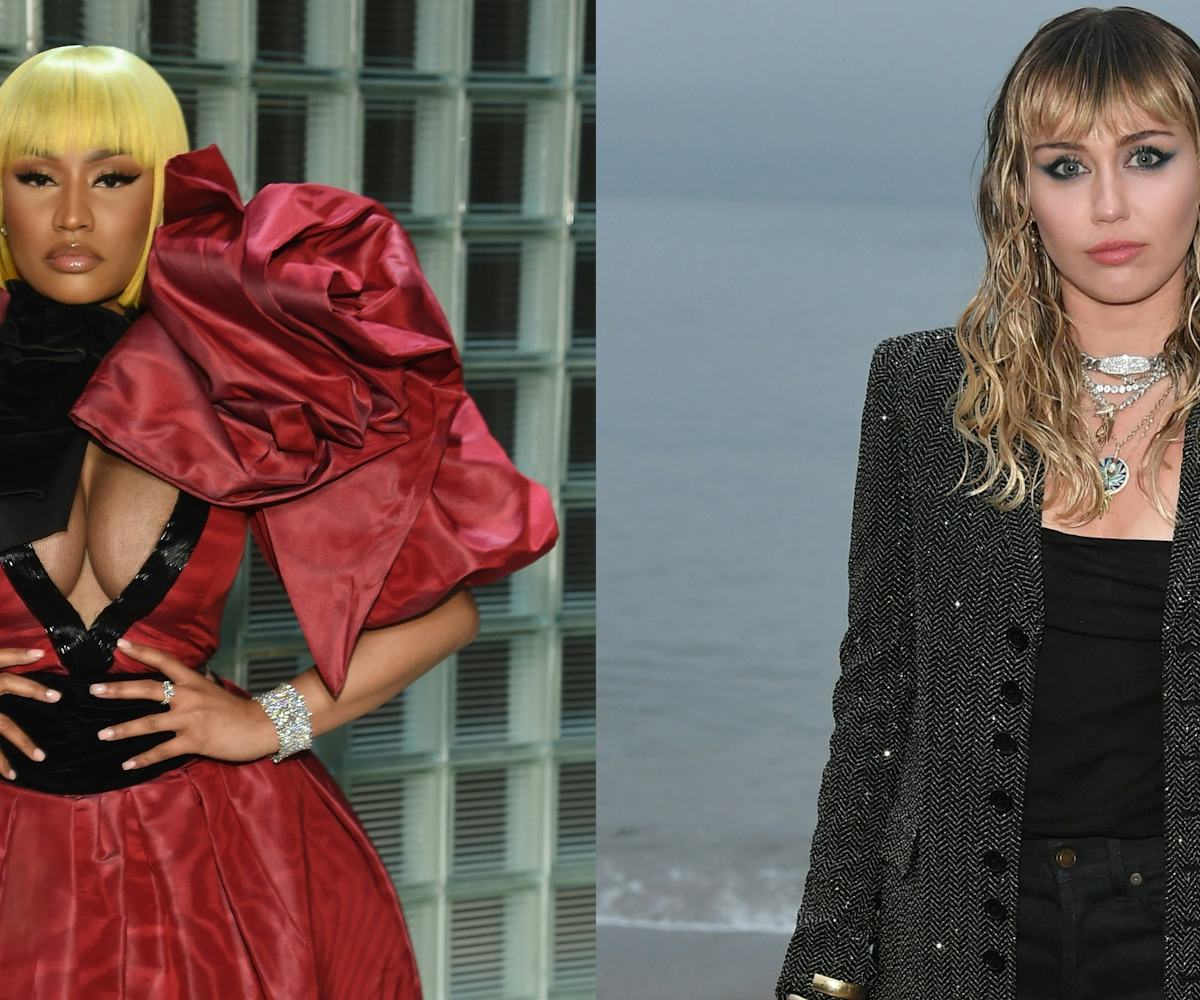 Photo by Dimitrios Kambouris / Neilson Barnard / Getty Images.
Here's What Nicki Minaj Got Right In Her Miley Cyrus Rant
"And then she cried the white girl cry"
I'm not sure I'd even call the ongoing spat between Nicki Minaj and Miley Cyrus a beef. We've seen Minaj in real beef, like her ongoing feud with Cardi B that culminated in some major Fashion Week drama. But even though things aren't that level between Minaj and Cyrus, things are still definitely not okay.
On the latest episode of her Queen Radio show, Minaj addressed a comment made by Cyrus in her song "Cattitude." In the track, Cyrus says, "I love you Nicki, but I listen to Cardi." Given her own troubled history with Minaj, Cyrus should have stayed out of this feud, but Cyrus doesn't seem to know where she's not wanted (see: her past dabbling in hip-hop). And, naturally, Minaj wasn't having it, and didn't mince any words on her Queen Radio show about Cyrus' privilege and lack of respect, both within their relationship to one another and the music industry on the whole.
Minaj voiced her thoughts on Cyrus after she was asked by a guest about "Cattitude," but it was clear that the rapper couldn't wait to blast off. She began by calling Cyrus "a Perdue chicken," and then went on to say that Cyrus was using Minaj's name for "clout."
Minaj explained, "That's always been happening. And then she cried the white girl cry and made Black girls think [I] was the bad guy." This is in reference to the 2015 New York Times interview where Cyrus suggested the rapper was jealous that "Anaconda" wasn't nominated for Best Video at the VMAs. Minaj recalls this as Cyrus disrespecting her "for no reason." Minaj notoriously addressed Miley and her NYT comments at the 2015 VMAs on live TV with the now-iconic: "Miley, what's good?"
On Queen Radio, Minaj further said that the NYT comments were particularly shady because she "had just seen [Cyrus] after she sucked Mike WiLL's dick in the studio," likely referencing a point several years ago when Minaj and Cyrus were both in the producer's studio:
Minaj continued: "You sucked all that dick, only to come out looking like a Perdue fucking chicken on stage, and then got mad and went back to country music. Bitch sit yo' stupid ass the fuck down!"
Unsubstantiated implications that Cyrus traded sexual favors for hip-hop clout aside, Minaj is speaking to the larger point of the way that white women capitalize off their association with and often abandonment of hip-hip and the Black community, in general. "White girl tears" are a very real weapon; they're what Taylor Swift used to catapult herself into infamy after Kanye West interrupted her at the MTV VMAs so many years ago. And they're what Cyrus has used to paint Minaj as nasty and mean, even as Cyrus herself has often been the provocateur. So while Minaj has done and said some questionable things, I guess even a broken clock is right twice a day.