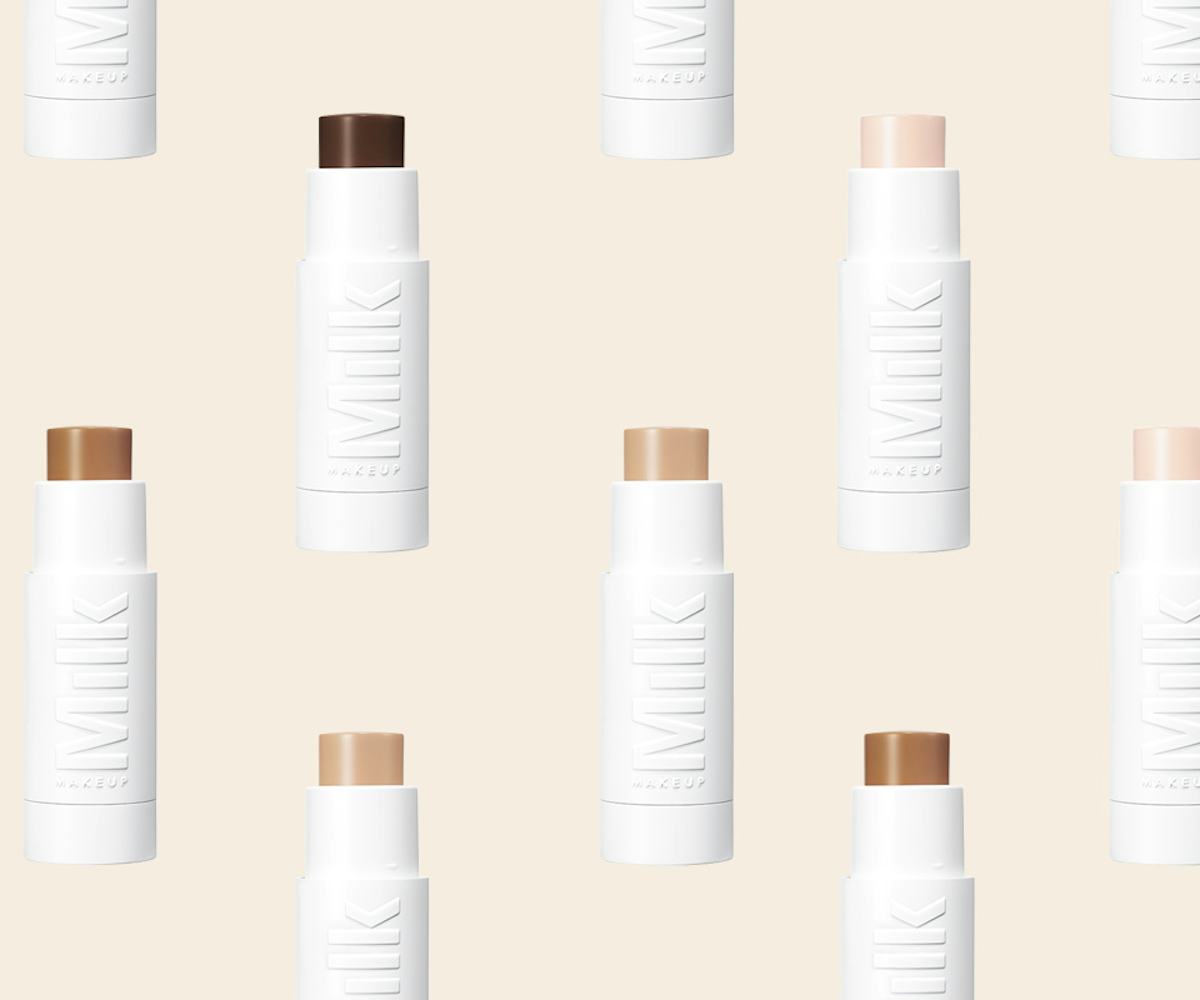 Image courtesy of Milk Makeup
How Flexible Is Milk Makeup's New Foundation?
Four NYLON staffers put it to the test
When Milk Makeup announced the launch of its new Flex Foundation, the brand set out to do something they'd never done before: Create a medium-coverage foundation that still offered a skin-like finish in an easy-to-use stick. This isn't easy to do—mimicking skin can be tricky business—and isn't something that can be only kind-of accomplished. It's either good or it's not.
Upon first glance, Milk's Flex Foundation seem promising. It has all the trappings of a soon-to-be cult-favorite product. It has calming ingredients like blue lotus and chamomile (specifically designed to cover redness), comes in 36 versatile shades, and contains marshmallow root extract to make sure the foundation doesn't crease or cake.
But does it actually work? Four NYLON staffers flexed in the foundation to find out.
Lindsay Hattrick, Designer
Before foundation
After foundation
After three-and-a-half hours of wear
Lindsay says: Bottom line, this is not a New York City summer-friendly foundation. But first, the benefits.It was easy to buff the foundation into my skin after applying a radiant primer using a flat top kabuki brush. It is definitely more light coverage than medium coverage, but it did provide cover to some of the redness in my cheeks without obscuring all of my freckles. However, it did almost nothing to cover up my darker, inflamed acne. Initial application looked great, but after an evening of karaoke in a small A/C-less art gallery, the foundation was completely broken up across my face—even after setting it with powder in my T-Zone and oilier areas of my face. To sum up: It could not stand up to a performance of Lit's "My Own Worst Enemy." In another attempt, I wore this to work, and by the time my 50-minute subway commute was over, my foundation had broken apart once again. I'll try it again in cooler weather, but this is absolutely a no-go for the summertime.
Tembe Denton-Hurst, Beauty Editor
Before foundation
After foundation
Tembe says: I'm almost positive I've reached peak Angel-Baby Energy with this foundation, and I'm not mad at it. In fact, I'm thrilled. I'm pretty anti-foundation in general, but this one is really good. I was impressed with the color match (Caramel was a perfect fit) and how weightless it felt on my skin. I survived a hellish commute on a subway car without air conditioning, and although I had streams of sweat dripping down my face by the time I got to work, my foundation was still in place. Maybe it was the Milk Makeup HydroGrip Primer paired with it, or maybe my skin just likes this one, but it's definitely earned a permanent spot in my lineup.
Allison Stubblebine, Editorial Coordinator
Before Foundation
After foundation
Allison says: This past weekend I was home visiting family in upstate New York, and running plenty of ~outdoorsy~ errands. One quick trip to buy plants for my mom's garden, and this product creased wherever it felt like and made the few stress lines I have on my forehead look cavernous (which is... not cute). The only thing flexible about this product is where I could expect it to be on my face at any given moment. As a daily foundation wearer, I can't imagine trusting this to do the trick for a full day, given that it failed me after one non-strenuous errand.
Bailey Calfee, Staff Writer
Before foundation
After foundation
Bailey says: Milk Makeup said this was "flex" foundation, so naturally, I tested it while I worked out to see how much of my flex it could really keep up with. Before I got to my class, I applied a modest layer of the foundation and liked how it felt on my skin. It makes my skin look airbrushed, but didn't feel heavy at all. It was easy to blend if I applied it right after my moisturizer soaked in, but became a lot harder if I waited a little longer. I had a bit of time to kill before class, and while I ran some errands in the 80-degree heat, the makeup kept up with my flow.
Unfortunately, it didn't fare too well when I was in my heated yoga class. The sweat dripping down my face took my makeup with it, and by the end of class, I was a bit splotchy and a lot streaky. Even though it didn't end up even, I will give the foundation this: I didn't look red at all, when I usually look like a tomato. I wouldn't say that this is the best foundation for working out, but then again, you shouldn't really be wearing foundation when you work out, anyway. I would recommend it for daily wear, especially if it's cool enough outside that sweat won't be a problem.
Milk Makeup, Flex Foundation Stick, $36, available at MilkMakeup.com.
NYLON uses affiliate links and may earn a commission if you purchase something through those links, but every product chosen is selected independently.