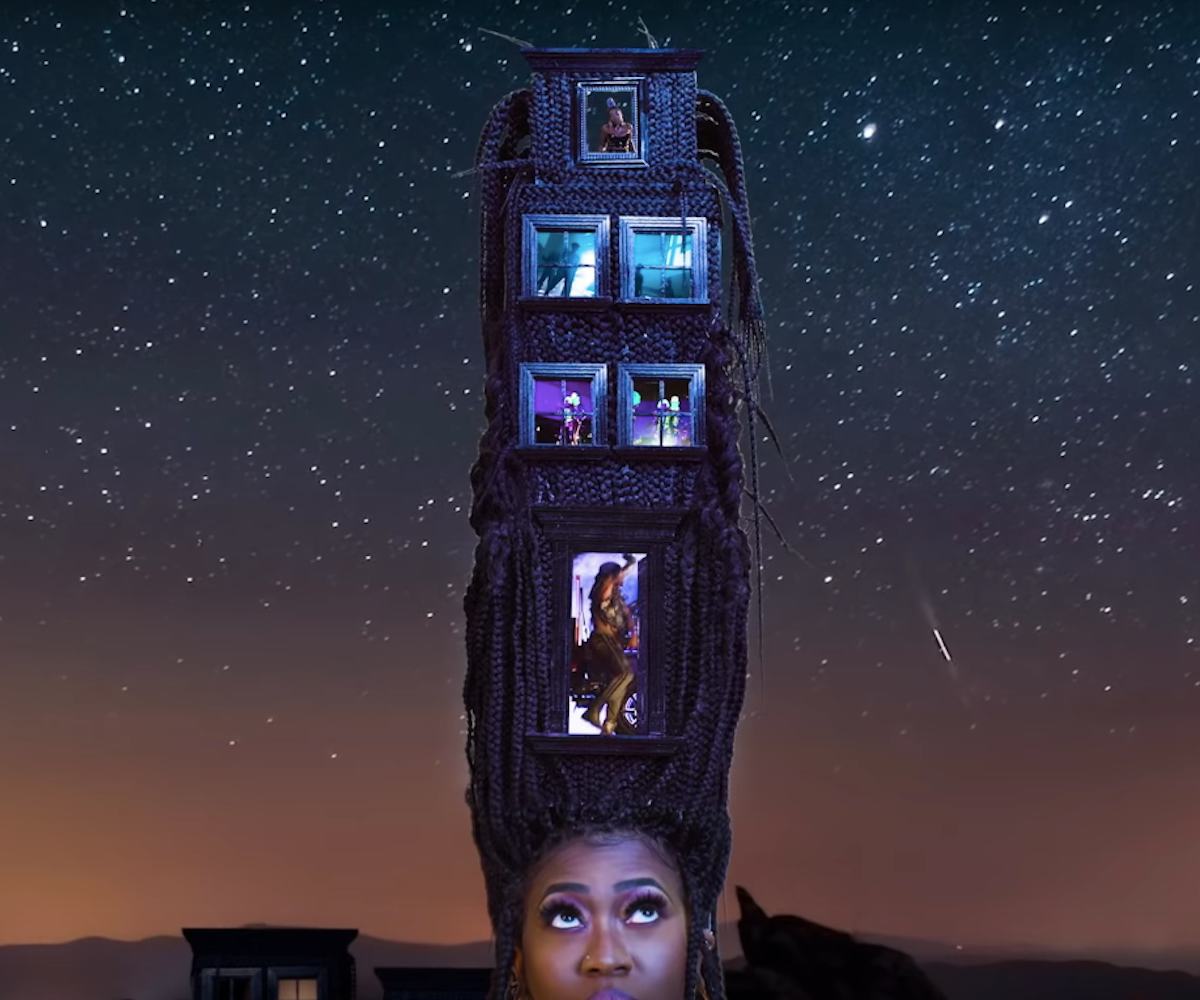 Screenshot via Youtube
Missy Elliott Wore A Braided Apartment Building On Her Head In "DripDemeanor"
See every incredible beauty look here
Missy Elliott just dropped the visuals for "DripDemeanor," and it is very Hype Williams circa 1997. There's dark lighting, leather and latex galore, and it feels like a modern approach to a throwback aesthetic. It's also very Missy, with distinct scenes and eye-catching beauty moments to accompany each one. Similarly to her video for instant bop "Throw it Back" and the Iconology album cover, Missy zeroed in on the hair, using braids as the base for conceptual, sculptural magic.
Prior to dropping the video, Missy foreshadowed the braid looks to come, sharing a photo of the song's cover on Instagram. In the photo, she's wearing chunky braided buns, twisted to showcase the rope-like texture, her head tilted to show off the mini-braid in her middle part. It was a sneak peek of what was to come, and she delivered!
A tweet from Elliott revealed that every look (even the apartment building) was actually on her head, sans photoshop. Consider us impressed, but also not surprised.
See every braided look from the video ahead.
The Regal Blue Ponytail
Leave it to Missy to turn a high ponytail into an absolute beauty moment. To create the incredible height, a thick braid is wrapped around the base of the ponytail, taking it to new heights. The royal blue color seals the deal and is perfectly coordinated with her slime green mani and vibrant purple lips.
The Hair Sculpture
Missy only offered us glimpses of this hair look throughout the video, but what we got was so good. She quite literally becomes the center of attention with her interlocked braided hair sculptures, chocolate-covered strawberries orbiting around her while she raps.
The House of Braids
Missy made an apartment building out of braids, and had Chicago dancers hip rolling, fraternity Omega Psi Phi stepping, and artist Sum1 singing the hook all at once. On her head. Need we say more?
Watch the full video, here.