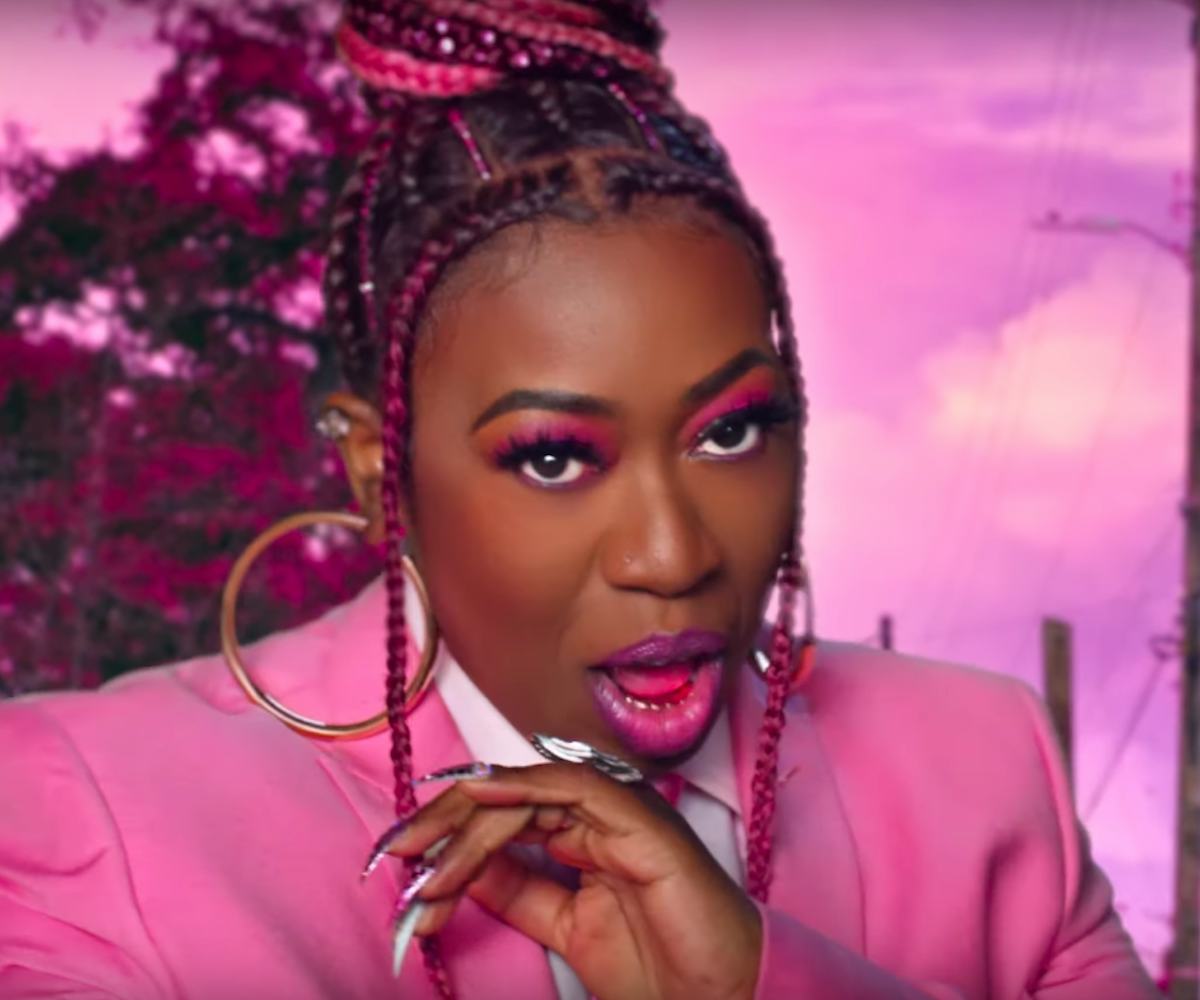 Screenshot via Youtube
All The Wig Snatching Beauty Looks From Missy Elliott's New Music Video​
Unsurprisingly, there's a lot of them
Missy Elliot dropped her "Throw it Back" video last night, and it's a reminder that she is, in fact, the queen of visuals. Aside from the song being an automatic bop, the music video is a bevy of inspiration for makeup enthusiasts and Twitter GIFs everywhere.
See the best beauty moments ahead.
Teyana Taylor makes Pop Art makeup cool.
The opening scene reveals Teyana Taylor simultaneously wearing bantu knots and a bun along with a patent leather Fascinator, complete with hot pink lips outlined in black, dotted with white to recreate the Pop Art aesthetic. It's a sign of what's to come in the video—pink becoming one of the standout shades.
Missy wears pink-studded grillz
Grillz have seen varying levels of popularity over the past few years, but, clearly, the trend is back. Missy "Misdemeanor" Elliot pairs the studded grill with pink-purple lips—and the combo is drool-worthy.
Monochrome makeup gets redefined
Missy takes monochrome to a new level in this video, matching the dancers' makeup to the background, and their outfits too.
She reminds us that she's literally everything
The hair! The eye makeup! The nails!
Wigs literally get snatched.
At one point in the video, wigs literally fly off of the dancers' heads, and it's like the moment was tailor-made for Black Twitter GIFs and memes.
She has braids so long you can Double Dutch with them
And they're multicolored too.
She convinced me that she invented the color yellow.
This is her third makeup change, and it's SO good.
Missy also proves she looks great in the color blue.
Icy blue and platinum blonde is the best combination, in our opinion.
She even rocks blue eyeshadow on the moon.
We need this shade name for all of our fall looks.
Watch the video, below.