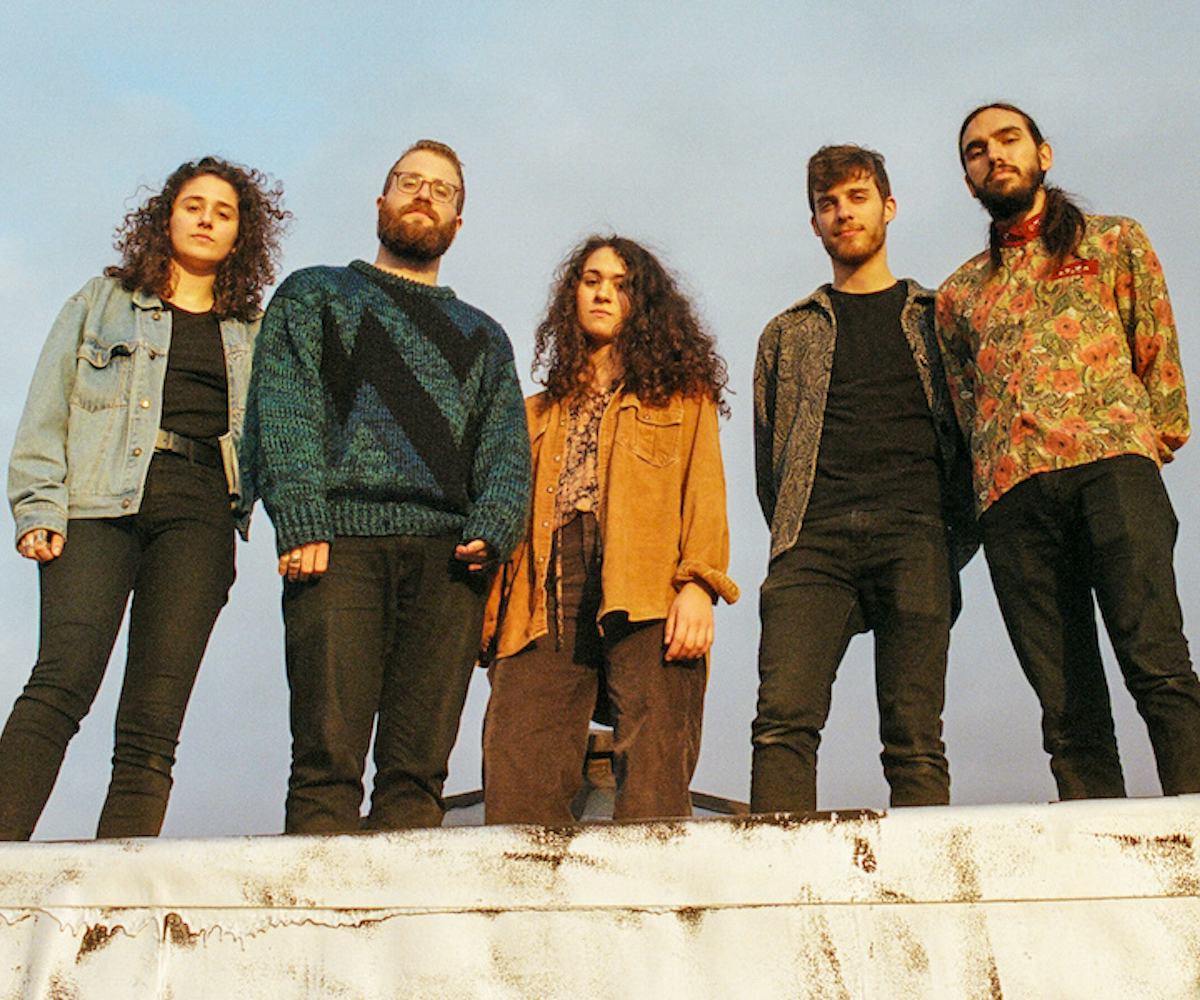 Photograph by Sara Laufer.
Modern Diet's New Song Will Make You "Dizzy"
It premieres exclusively via NYLON
It's easy to be haunted by past poor decisions, but sometimes what really lingers in our minds are the hypotheticals that may have only taken a few more dominoes falling to become reality. "'Dizzy' is a song about a time that I didn't cheat on my ex," Modern Diet singer and guitarist Jake Cheriff says frankly, describing the band's new single from their forthcoming Post Grad EP.
The song, like a dalliance with temptation, is woozy and at times nearly disorienting with its fuzzy guitar that turns into a cloud of opaque smoke on the bridge. With the occasional pounding drum fill or heady, angular guitar riff, "Dizzy" exists in the narrow Venn diagram overlap of alt-country and math rock.
Modern Diet consists of Cheriff, Leah Scarpati (drums), Dan Hemerlein (bass), Bernardo Ochoa (guitar, vocals), and Emily Sgouros (synth, vocals). The band released their Sit Down and Dance EP in March, but have updated their lineup in recent months to include Scarpati and Sgouros, who add crucial texture to "Dizzy" and bolster Modern Diet's live sets.
The song, which Cheriff estimates was written two or three years ago, has changed and developed alongside the band. Cheriff, who is also an engineer and producer, notes that the early take "didn't 'trudge' enough," choosing a perfect word to describe the slow-burn of the verses, which seem designed to mirror the feeling of intoxicated in-the-moment indecision. "Dizzy" has stuck around even as the band has grown both professionally and personally.
"It was a little weird to perform while we were still dating, singing about being tempted. Not that songs have to be true to life, but I've never been able to write any other way," Cheriff says. "I still really like the song. I might never listen to the recording again just because I've heard it so many times."
With shades of Foxwarren, Courtney Barnett and Kurt Vile's joint record, and The War on Drugs, "Dizzy" is a perfect languid summer single to soundtrack late-night ruminations over untaken paths both good and bad.
Want more stories like this? Sign up for our newsletter.
Listen to it, below.