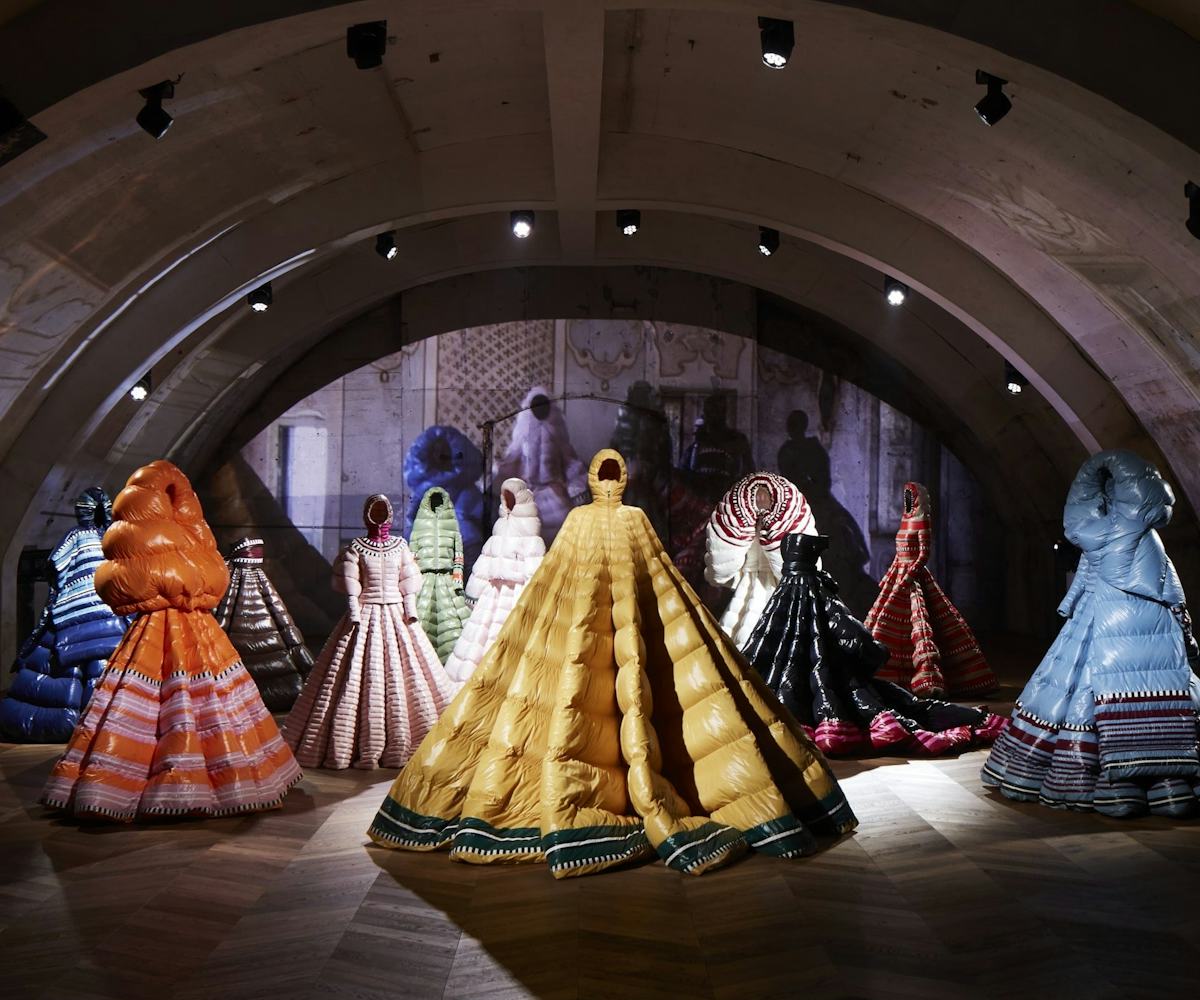 Photo courtesy of Moncler
Moncler's Marshmallow-Like Puffer Gowns Are My Winter Wardrobe Goals
These are all I want to be wearing for the rest of the winter
Moncler just debuted a line of plush, ball-ready puffer dresses, and, if I don't have one immediately, I think I might freeze; I refuse to wear a normal jacket when I know that there's such a chic way to stay warm.
Coming in multiple styles and colorways, the puffer gowns would work wonders on the red carpet and the streets of Manhattan alike. If no celebrity wears one of these to an awards show, I'll be shocked. (I can also see Rihanna rocking one, like, anywhere.) Personally, I'd like one in every color so that I can mix it up for the rest of the winter—yes, I would like to wear floor-length puffers exclusively for the rest of the winter. And with hats and scarves built into some of the designs, I'll be protected from any type of weather. There's even a sleeveless option, which means I might be able to work these into my spring wardrobe as well.
Right on the heels of NYFW, where puffer jackets dotted the streets for the entire week (seriously, there was no shortage of street style photos involving the puffer), the line debuted at the Milan Fashion Week Moncler Genius presentation. Moncler Genius is the brand's year-old endeavor to highlight multiple designers as a way to reach consumers with many aesthetics. The show featured a group of designers from across the globe—including names like Pierpaolo Piccioli and Liya Kebede and Simone Rocha—with each designer's work set to be released as a separate entity. The project aims to celebrate "the diversity of the contemporary customer" and promote "the energy that comes from a mix of different cultures." And, in the currentfashionclimate, this is a welcome endeavor.
The puffer gowns I'm lusting after were designed by Piccioli, who incorporated patterns evoking African textiles into the pieces. "I am after a balance of dreaminess, extravagance and soulfulness," he said in a press release. "I involved Liya Kebede, who is an active supporter of African artisans with her label lemlem, in the process, creating something true to her, to Moncler and to my own sensibility. Connecting diversities is my idea of inclusive creativity."
There's only so much description I can give of these before you just need to see the masterpieces for yourself. Below, see the full "Couture that Connects Cultures" collection from the Piccioli and Kebede for Moncler.