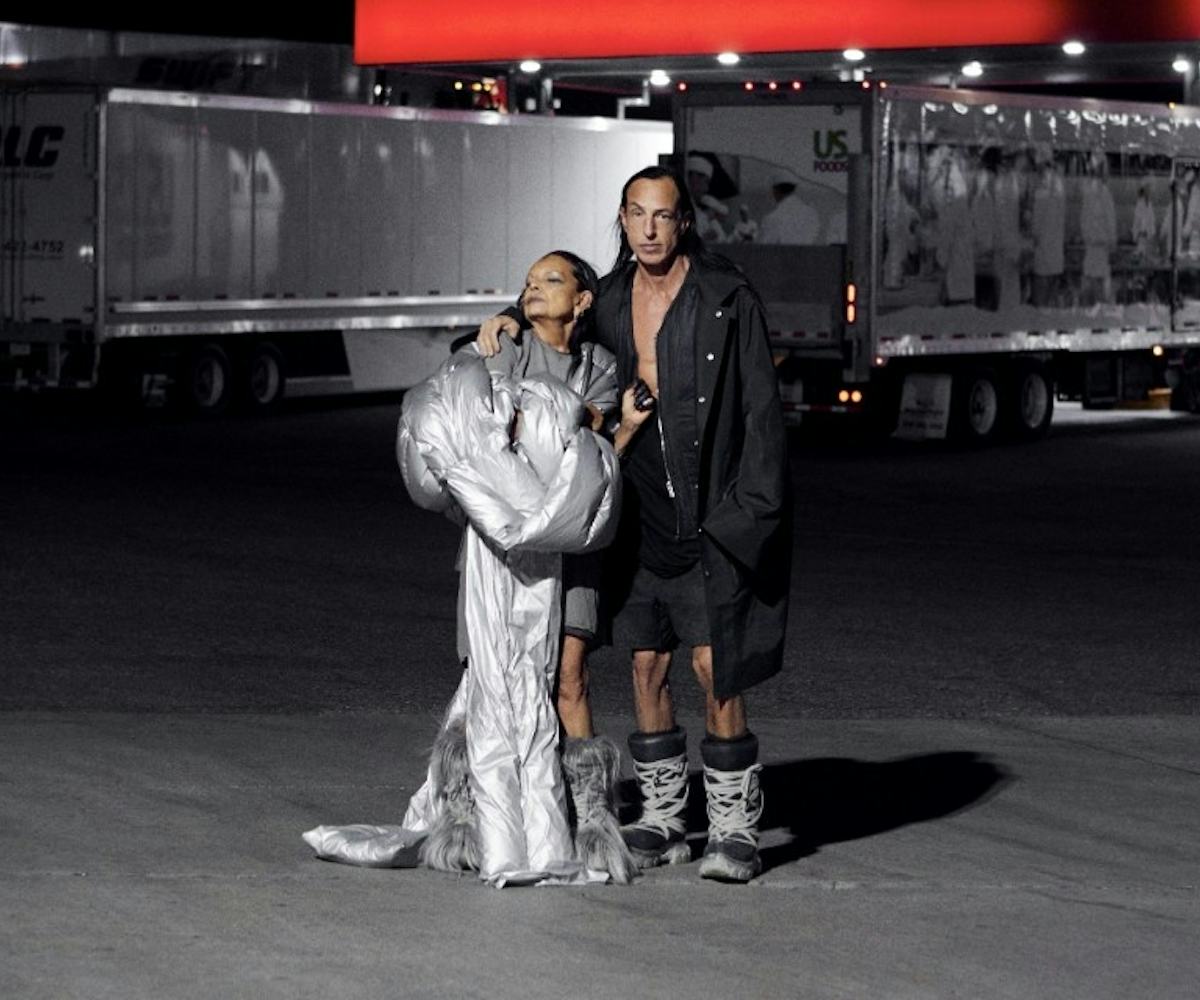 Photo Courtesy of Moncler
Rick Owens Stormed Area 51 For A Moncler Collaboration
On a custom tour bus that you can actually buy, too
Another collaboration is on the horizon for Moncler, this time with Rick Owens. This isn't your usual collab, though. Announced on Tuesday, Moncler designed pieces for Owens and his wife, Michèle Lamy, to wear as the couple cruised around on the West Coast in their own custom tour bus. When Moncler approached Owens about a partnership, he made sure to insist on doing things differently.
"Collaborations, under the worst of circumstances, are all about sensation and hype. There's no one more conscious [of that] than I am," he told Vogue. "I mean, I'm the first to roll my eyes about the collaboration thing, but the other side of me thinks that any excuse for people to intersect, especially in the fashion world — and especially somebody like me — to go out and kind of intersect with other fashion bubbles, is something I really approve of. I also thought it would be fun to take the whole collab dynamic and instead of making it all about being outward and all about display — I mean there's plenty of display here, obviously! — to turn it around and make it a story about intimacy, about authenticity, and about a relationship. It's an insular story about privacy, about personal intimate space."
Owens and Lamy traveled on the tour bus from Los Angeles to Garden Valley, Nevada, where they visited Michael Heizer's desert art piece, "City." The matte black bus was transformed to fit the Rick Owens aesthetic, with the designer claiming that it looks "exactly like my house."
In 2018, Moncler shifted gears, inviting designers like Valentino's Pierpaolo Piccioli, Craig Green, Richard Quinn, and Simone Rocha to create collections for a series of monthly drops as a part of their then-new Moncler Genius project, which has since boosted brand visibility and sales. For the upcoming year, collaborations with JW Anderson, Rimowa, and Mate.Bike have already been announced.
The Moncler x Rick Owens pieces will be on sale later this year, available through both designer brands' stores and websites. The tour bus, expected to be on display during Milan Fashion Week, will also be available to purchase, for a little extra. As for the price, Owens told Vogue: "Of course it's expensive. It's a fortune."
See more of Owens and Lamy for Moncler, below.