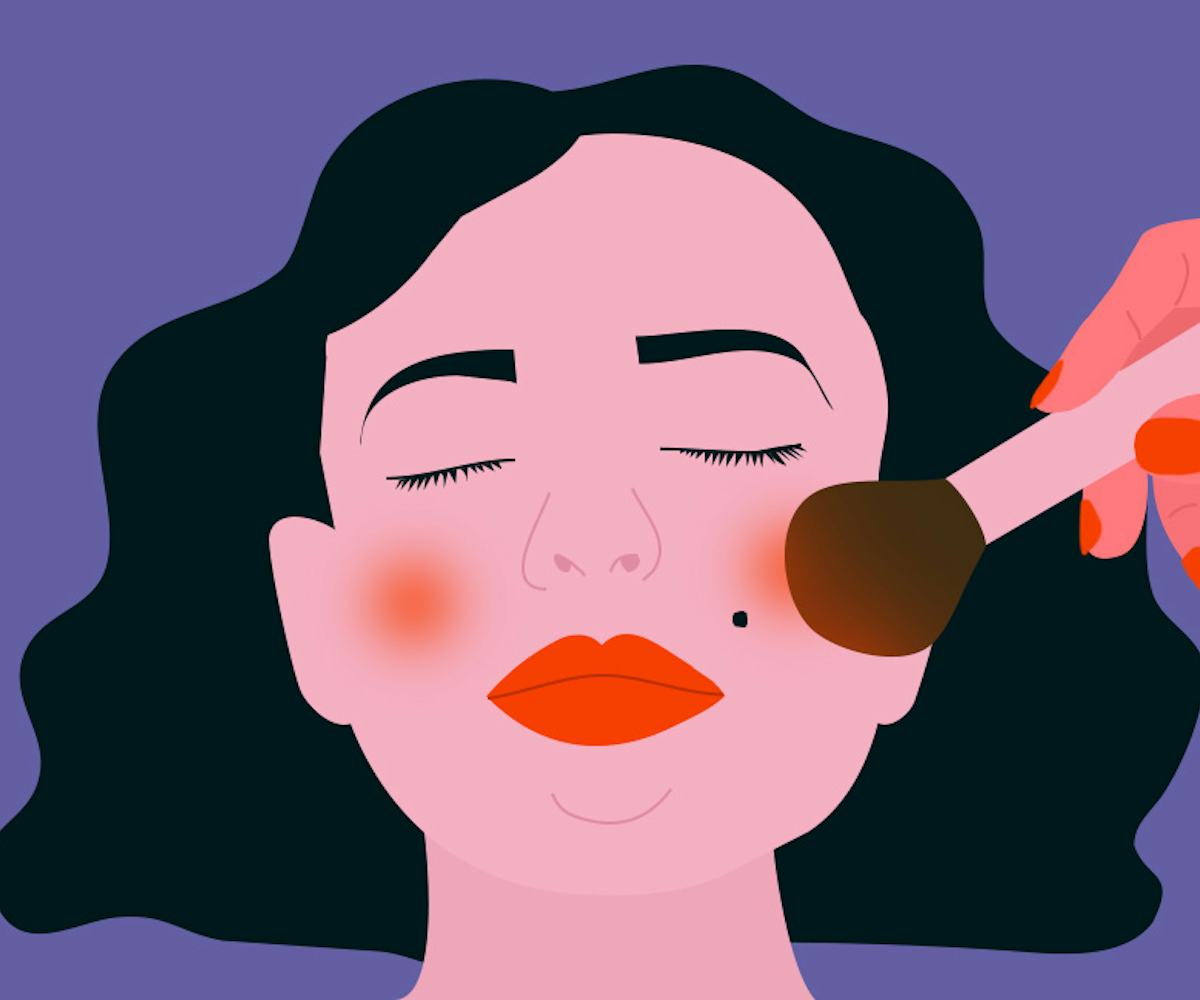 Illustration by Lindsay Hattrick
Mortuary Makeup Artists Give Us Their Best Beauty Tips
"You must truly understand the art of makeup to create the illusion of life within death"
Working in beauty, most of the makeup looks I see are spotted on the runway and editorials. But I've always been interested in—like, deeply fascinated by—another type of beauty look: mortuary makeup. You could call it the ultimate beauty look, and I've long been curious about what it's like to be the people who actually apply these looks. Because it does not seem like a job for the faint of heart, and you'd definitely need a steady hand. I just had so many questions, like: Are there different skills involved for making up the dead than for the living? Different products? Are there any hacks from a mortician's perspective that could change the way I do makeup for myself?
With all this in mind, I reached out to morticians and mortuary artists to investigate the world of makeup for the dead. And, if there's one thing I learned right off the bat, it's that there's really nothing creepy about it at all. Those who work in the field take great pride in what they do, not only because of what they're doing for those who have passed but also for what it does for the deceased's families; in fact, that's something everyone I spoke with wanted me to be aware of.
"I think a lot of people think it's an eerie job," says Fawn Monique, a makeup artist whose clients include both the living and the dead. "I find it's a job of honor. In my career, people hire me for their most important events to look their best. Why not have that same experience on your final event? It's an honor for me to paint someone in their closing time. I take it very spiritually as a moment of peace and ritual."
Not all mortuary beauticians have experience working as makeup artists, though. In fact, most don't, and are instead doing double duty along with their jobs as funeral directors or embalmers. But, Monique hopes that more traditional makeup artists take an interest in the field, and "cross over" to the other side, if you will. "One thing I've learned in the mortuary world is that a lot of morticians aren't makeup artists by trade," she says. "Makeup is an art, so I hope that more makeup artists find it to be their calling since it's such a special application for your guest. You must truly understand the art of makeup to create the illusion of life within death."
But whether or not you're a trained makeup artist or a mortician who's also responsible for making up your clients, it takes skill, patience, and attention to detail to make a person up one final time.
When it comes to mortuary makeup, more often than not, the look isn't very over-the-top. "From a makeup artist perspective, I believe that this is not the time for me to get creative," says Amber Carvaly, director of Undertaking L.A. "This is always asking what the client would have wanted, and since the client is usually dead, asking for photos to reference is huge." With that said, they sure do know a thing about keeping the skin soft and supple (because according to Justin Berardi, funeral director of Feeney Funeral Home, the dead have much dryer skin than the living do) and starting with a good base, as well as covering up discoloration and spots.
While I will say there is a lot to learn—like, as Carvaly explains, there are beauty brands specifically for the dead, and that some embalmers will add rose-colored dye to embalming fluid to create a warmer hue sans makeup—I did learn quite a few tips and tricks that are both applicable to the dead and the living. Read on, below.
Less is more
Yes, this might be one of the most common beauty tips out there, but as Elizabeth Fournier, funeral director at Cornerstone Funerals, describes, when you have the problem of applying too much makeup and then realize you have to remove it, it's not the easiest: "My mantra, and hopefully the mantra of all people with a brush in hand with intentions on touching up a loved one, is that less is more. It's so much easier to put it on than to take it off. Truly!"
With that said, the living may want to go for more than just a natural no-makeup makeup look. But, being that we've all most likely tried to create some intricate beauty look, only to make a mistake and have to remove it, we get Fournier's point. Start with less, and build on it.
If you do make a mistake, try moisturizer
Sometimes, no matter how carefully we try to create the perfect wing tip, we make mistakes. For Monique, whether working with the living or the dead, she turns to moisturizer to help clean up the skin. "Clean up shadow fallout and lipstick mistakes with a pointed cotton swab and a little moisturizer. It slides right off, and your skin is ready for the application."
The key to covering those pesky dark spots
We all have problem areas we'd like to cover up, but concealer can cake up and leave our skin even worse if not executed properly. Since the deceased can have quite a few dark spots of their own—including heavy bruising—those that work with making up the dead have excellent experience in concealing. For Monique, the key is prepping the skin beforehand, and then it's all about how you apply the concealer. "Prep the skin first with a liquid exfoliant to clear it of any dead skin and dirt, and afterward, add a little hydration," she says. "Then, apply your concealer in a stippling motion (tap, tap, tap) over the challenge area and then diffuse your edges to blend and tone."
Still having trouble? Turn to the color wheel
Let's face it, sometimes no amount of straight concealer will cover a blemish or bruise. In that case, Berardi looks to the color wheel. "The color wheel is a mortuary makeup artist's best friend," he says. "Whatever color I am trying to hide, I use the opposite on the color wheel to neutralize the discoloration. For example, with a yellow discoloration, I start with a purple or lavender concealer and, for a blue-green discoloration, I start with red or coral. Once I've gotten the desired coverage, I set it with a good translucent setting powder and lightly cosmetize over the area with a cream foundation."
How to achieve a truly natural lip stain
Are you a truly natural beauty buff? Same. As Fournier works so closely with those looking for green burials, she makes sure that she's making up loved ones in the most natural ways. "If the specific decedent needs a bit of color stain on the lips, I mix strawberry with some rejuvenating oil and apply carefully with a Q-tip. Magic!" she says. You can't get much greener than that, and we'll definitely be trying this with all of the berries in our fridge.
Try blush beyond the cheeks
When Berardi is working, he likes to ensure his clients have an allover rosy glow. And why wouldn't we, the living, want that too? For this, he suggests applying blush beyond the cheeks, in maybe some unconventional places—much like you probably take your highlighter beyond your cheekbones. "When applying blush to both men and women, besides the typical cheeks, chin, and nose, I also make sure to lightly dust the ears and knuckles of the hands to give an all-around rosy complexion," he says. While using blush on our knuckles might be a step too far for us, we're definitely down to try out ear blush soon.