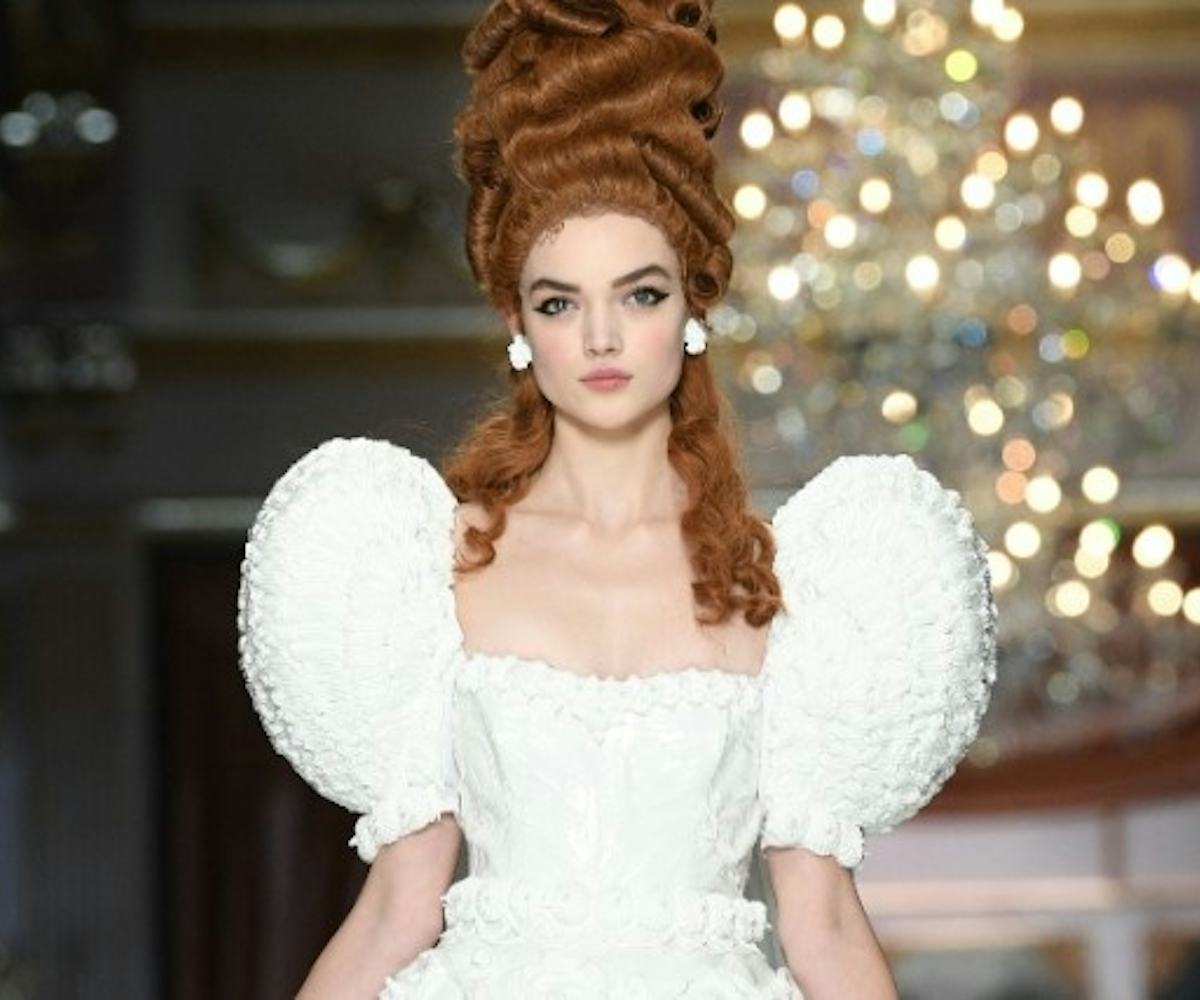 Photo by Daniele Venturelli/Daniele Venturelli/Getty Images
Moschino's Closing Fall 2020 Look Was A Wedding Cake Bridal Dress
Let them eat cake... dresses
On Thursday during Milan Fashion Week, Jeremy Scott brought Versaille to the runway for Moschino's Fall 2020 collection. The Marie Antoinette-inspired looks were, of course, given a modern Moschino twist, with leather jackets, denim skirts, and neon prints.
As a sartorial hint, Moschino's invitations for the show were pink, multi-tier cakes, a nod to Antoinette's famous quote, which she may or may not have actually said. Still, it makes for a great and practical invite for those trying to squeeze in meals between shows.
Cake continued to be a theme for the collection, with the closing (and traditionally bridal) look being an actual wedding cake-shaped gown that could have been plucked off the top of the elaborate invite, with a full train and lace-up platform heels. Other confectionary-inspired dresses were sent down the runway, too, including Bella Hadid in a glossy pink frosting-covered dress and Joan Smalls in a colorful, multi-tiered cake look. Gigi Hadid also wore a dress that seemed like it was covered in icing rosettes, while her top-handle bag resembled a bakery takeout box.
Back in 2016, Scott was a guest judge during season two of RuPaul's Drag Race All Stars, where contestant Detox performed in a neon pink-and-yellow costume as Marie Antoinette, which Scott readily admitted caused a burst of inspiration for him.
"I loved neon-toinette," he said on the show. "She could have been a whole collection."
Four years later, and now we know just what that collection looks like.
See more of Moschino's sweet looks for Fall 2020, below.