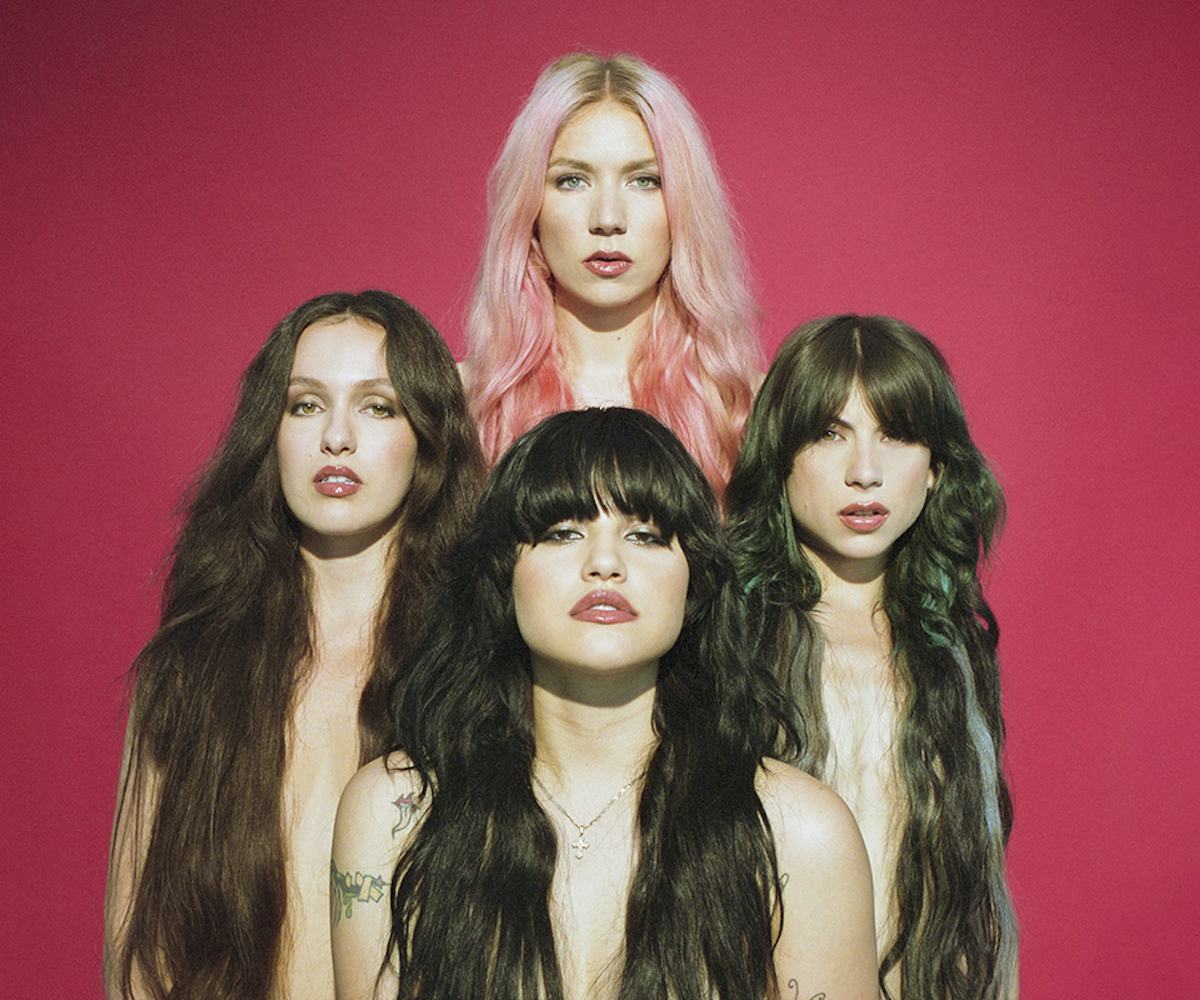 Photo Courtesy of Atlantic Records
Meet Nasty Cherry, The Charli XCX-Backed Girl Band With A Netflix Docuseries
We spoke with the members about the forming of the band and their new EP
If The Runaways and the Spice Girls had a love child, Nasty Cherry would be it. The brainchild of Charli XCX, who herself has been dubbed "the future of pop," the music project was initially teased by the Charli singer via a series of Instagram posts — the first one featuring band member Georgia Somary's bum. Overnight, with no music shared, Nasty Cherry racked up nearly 10,000 followers on Instagram. And yet, no one knew anything concrete about them.
Based in Los Angeles, the project was formed when Charli brought together women that she knew from southern California and London: singer Gabbriette Bechtel, guitarist Chloe Chaidez, bassist Somary, and drummer Debbie Knox-Hewson. While Nasty Cherry is the quartet's central project at the moment, Bechtel is a fashion darling and model, Somary is a set decorator for films, Knox-Hewson can be heard on Charli's Beats 1 radio show, and Chaidez can be seen performing in her second band KITTEN.
After taking three years to get together, in 2018, the band started rehearsing before moving into a Los Angeles home together for five months as a chemistry test. Now viewers will see how the band grew from there under the mentorship of Charli in Netflix docuseries, I'm With The Band, which was released last Friday.
"[Charli] was incredibly supportive at the beginning when we co-wrote with her, and she has such an amazing [crew] of creative people we've seen who she works with and people that she's reached out to," says Knox Hewson. "They've been interested in this because they're interested in what she's interested in. We're all really grateful for that, because we've had some really, really interesting collaborations so far."
In March, Nasty Cherry unveiled what would be their debut single, "Win," a sassy pop-punk track about love, which they co-wrote with Charli. The song was one of the first the band had written and penned in "less than an afternoon." "'Win' came super quickly. We didn't have any instruments, or anything technical, and we just had the guitar and had a core progression. [We] went to the Pussy Palace, which is our jam room, our studio, and banged out the verses," says Chaidez. Since the group didn't have much experience working together prior to the release of the track, they took on many of Charli's methods and applied them to as their own. "Now when we write, it's incredibly quick," Knox-Hewson chimes in.
Shortly after releasing "Win," the band played their inaugural gig at the Moroccan Lounge in Los Angeles. Despite being their first, the show was sold-out. "It was funny. It was four separate movies. I looked over, and Debbie was doing a jump solo, and Chloe was on some guy's shoulders, and Gabby was falling over roses on the floor. And every time I looked around, I was like, 'Fuck, I'm not in the same room,'" says Somary.
Nasty Cherry has since released three additional tracks, "What Do You Like In Me," "Live Forever," and "Music With Your Dad," with a full EP coming on Friday.
It's pretty impressive considering the group as a whole had varying levels of musical experience before coming together. But the band sees that as a strength, not a weakness. "I think you get this really powerful creative energy because there's not an overriding," says Somary. "None of us knew what our sound would be. None of us knew what to expect. I think there's a newness to it, because we're limited by lack of previous experience sometimes, we're limited by these amazing things that actually then push things into a really cool, creative path. And I feel like that's Nasty Cherry."
That speaks to the band's general ethos. "It's confidence," says Bechtel, of their message. "It's being exactly who you are, because, [going] from pretty much not knowing each other directly moving to making music when some of us haven't done that before, especially as a band with other people, we had to be completely open, and kind of throw every doubt and reason to the fire, let everyone hear and see every side of us, and share a bathroom." She laughs, "Within the first day, everyone was running around the house naked."
For Knox-Hewson, being in a band as empowering as Nasty Cherry was essentially her childhood dream. "I grew up seeing these powerful, supportive groups of women like Josie and the Pussycats and The Donnas. That's when I started drumming. I wanted to be the drummer in a band of best friends, basically," she says.
And it helps that the band has creative control over the project. "Us being so new to this band, to the unit, and having not much experience together as well, I feel like we aren't competing with anything, and we aren't really aware of big competition, or if anyone's saying bad stuff about us. I mean, I'm not thinking about who we sound like, or wanting to sound like someone specifically," says Chaidez. What's worked for them is going with the flow — and having a sense of humor — something Somary feels like "has been missing from a lot of girl bands for a very long time."
All four members are undoubtedly grateful they jumped in head-first to Nasty Cherry and had the support they did. "[Charli's] definitely given us so much of a platform and space, in terms of the things that we've been able to do because of her. It's just so unusual and cool," says Somary.