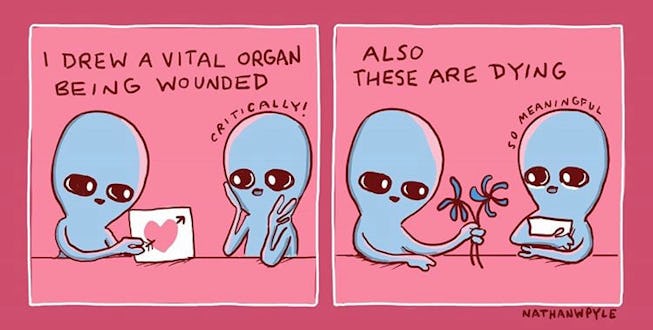 Photo via @NathanWPyleStrangePlanet Instagram
The Guy Who Makes Those Cute Alien Comics Has Really Bad Opinions On Abortion
We should be more careful with what we're sharing
Cartoonist Nathan Pyle, whose Strange Planet alien drawings you've definitely seen everywhere, was discovered to be anti-abortion today, which serves as a valuable reminder that you should know about the person whose content you're sharing.
Pyle shares his artwork on Instagram on an account called @NathanWPyleStrangePlanet, which boasts almost 2 million followers. But, he also has a personal Instagram account and Twitter, which reveals a lot more about where he stands on important issues, like a woman's right to choose. Twitter user @anarchopupgirl found a tweet that he posted back in 2017, in which he talked up the anti-abortion March for Life in a post about his former girlfriend. He shared a screenshot of a Facebook post that she had written, which thanked "the courageous mothers" who did not have abortions, and added, "When I think of the #MarchForLife, I first think of the life story of my girlfriend, Soojin. I am thankful she was given the gift of life."
When looking at Pyle's personal Instagram, though, it's clear that we shouldn't have been surprised that he has such conservative views. The first line in his bio is "I follow Jesus," which should clue you in about his religious leanings.
Though you may not have followed Pyle's account, you've no doubt seen his drawings re-posted by others on social media, and maybe even shared some yourself. Finding out about Pyle's problematic views serves as a needed warning to make sure the content that you're sharing was created by someone who views you as deserving of autonomy over your own body.