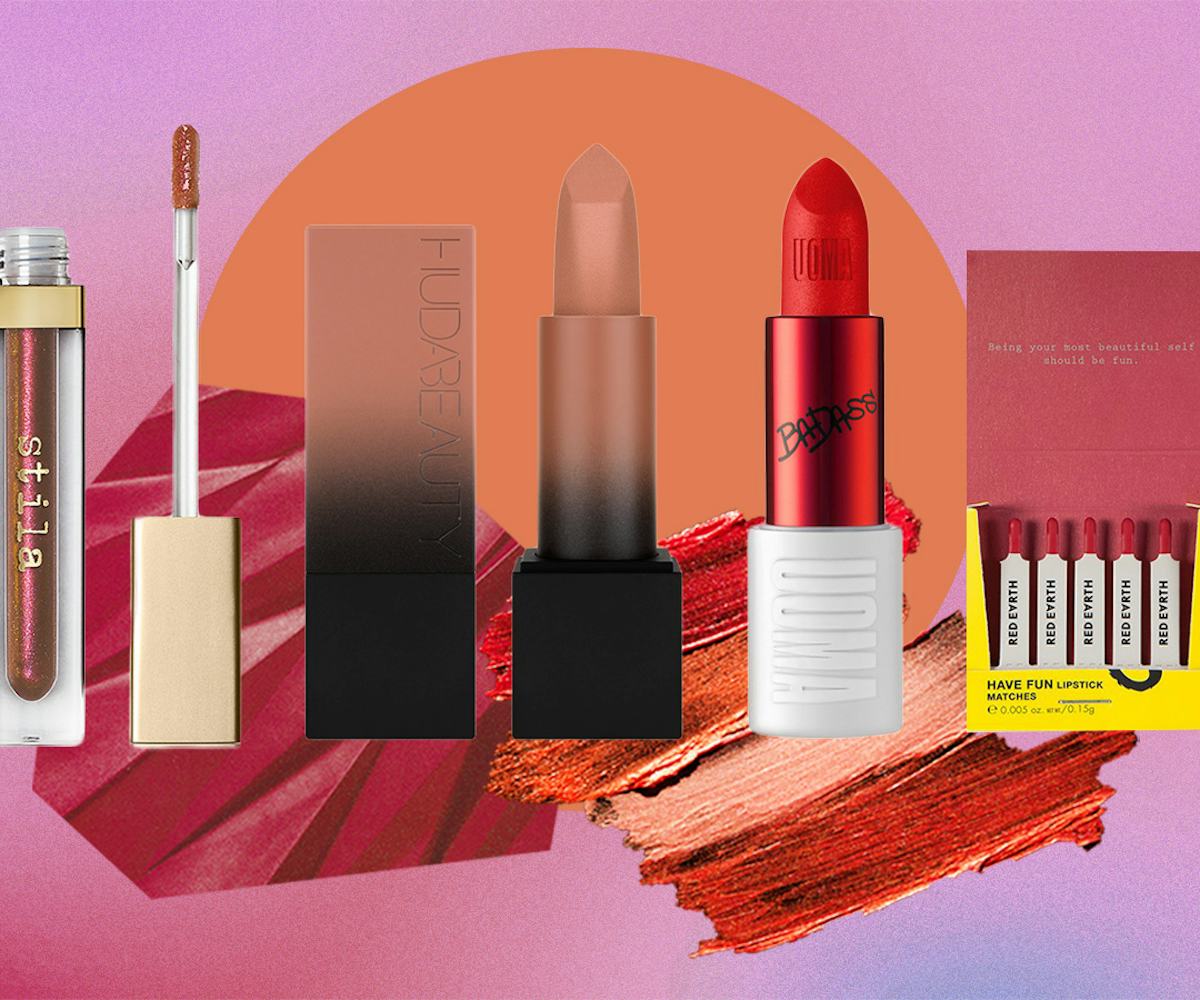 9 National Lipstick Day Sales That Are Actually Worth Shopping
Get in loser, we're going (online) shopping
In case you missed it, or didn't read the above—today is National Lipstick Day, a day to share your favorite lip product, stock up on a few shades, or something in between.
Is it the best day ever or a capitalist scheme designed to get lipstick lovers (and lip gloss lovers, we don't discriminate) everywhere to swipe their cards? Probably a little bit of both, but any excuse to buy a shade similar to one I already own is reason enough for me.
See the best deals of the day ahead.
BITE Beauty
If you've been holding out on getting on the Bite Beauty wave, consider today the perfect opportunity to see what the hype is about. The brand is offering up to 40 percent off of select shades—including Persimmon, a bright-orange that will likely cause people to stop you on the street for details.
BITE Beauty, Amuse Bouche Lipstick, $15.60 on sale from $26, available at BiteBeauty.com.
Huda Beauty
Huda is credited with being the modern founder of National Lipstick Day, so it's no surprise that Huda Beauty is doing it big to celebrate. From July 28 until August 4, you can buy a lip product at HudaBeauty.com and get one free—might we suggest the fan-favorite Power Bullet Matte Lipstick to start?
Huda Beauty, Power Bullet Matte Lipstick, $25, available at HudaBeauty.com.
Lime Crime
Lime Crime is practically giving away lipsticks this NLD, offering 50 percent off all lipsticks with the code "LIPSTICK". They're also literally giving away lipstick if you invite your friends to shop the site—for every friend you send their way, you're both entered to win 21 of their best-selling shades. And, if said friend buys anything using your referral link, you'll get 20 percent off your next purchase too.
Lime Crime, Wet Cherry Lip Gloss, from $13, available at LimeCrime.com.
NYX Professional Makeup
If you already had plans to shop NYX (or needed to re-up on some #ThisIsEverything lip oil), we recommend doing so today. You'll receive two free Lip Lingerie shades when you spend $35, and you can choose shades at check out. No code needed.
NYX Professional Makeup, Lip Lingerie Liquid Lipstick, $7, available at NyxCosmetics.com.
STILA Cosmetics
For $30, you can grab three Beauty Boss Glosses for the price of two. My picks? Elevator Pitch, a shimmery, sheer red, Win-Win, a dusky rose hue, and Bonus Baby, a deep, purple shade. There's no code required for this one, just add to cart and check out.
Stila Cosmetics, Beauty Boss Lip Gloss, $15, available at StilaCosmetics.com.
Urban Decay
Get a free Vice Lipstick when you shop Vice Lipstick Chemistry—a new offering that changes color to match your pH—or/and OG Vice Lipstick using code "LIPSTICKDAY".
Urban Decay, Vice Lip Chemistry Lasting Glassy Tint, $22, available at UrbanDecay.com.
Target
While you're adding an adorable mug you didn't know you needed to cart, consider snapping up a few lipsticks too. To celebrate NLD, Target is offering a 25 percent discount on all lipsticks using code "LIPSTICKDAY". That means Red Earth Have Fun Greta Lipstick Matches are up for grabs, single swipes of color that come in irresistibly Instagrammable packaging.
Red Earth, Have Fun Greta Lipstick Matches, $4, available at Target.com.
Ulta
You can shop the best of Ulta's National Lipstick Day sale in-store and online—the retailer is offering BOGO deals on lipsticks from Anastasia Beverly Hills, Too Faced, Becca, and more; free gifts with purchase; and deep discounts on brands like Urban Decay, Maybelline and NYX.
Online-only shoppers can also score Lime Crime, Dose of Colors, OFRA and Beauty Bakerie at a discounted price, so feel free to stock up and buy two or three.
Dose of Colors, Desi x Katy Lip Gloss, $8.50 on sale from $17, available at Ulta.com.
UOMA Beauty
Afropolitan beauty brand UOMA is celebrating the holiday by offering 30 percent off all lipsticks when you shop at Ulta. That means one of our favorites is up for grabs–the BADASS Icon Matte Lipstick, named for iconic women throughout history.
UOMA Beauty, Badass Icon Matte Lipstick, $16.80 on sale from $24, available at Ulta.com.
NYLON uses affiliate links and may earn a commission if you purchase something through those links, but every product chosen is selected independently.