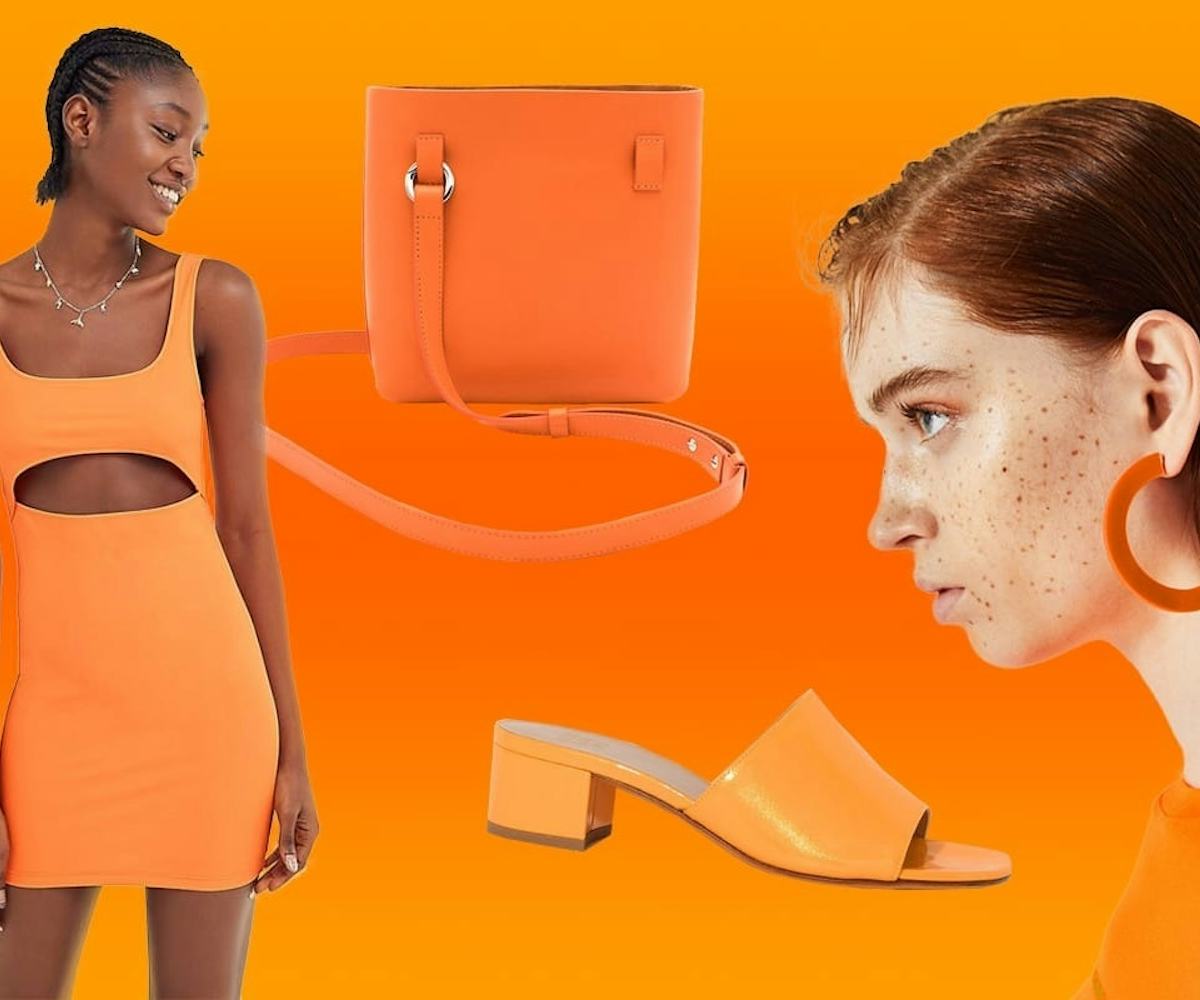 Channel Your Inner Traffic Cone With These Neon Orange Pieces
It's safe to say that all things neon are having a moment—and it's not just slime green we're talking about here. Another vibrant, in-your-face shade has made its way into the spotlight, and it's as bright as can be: traffic cone orange.
Reminiscent of the summer sun, this neon iteration of orange is a shade so bold you'll never worry about going unnoticed again. Spotted on the runways at Jeremy Scott, Stella McCartney, House of Holland, and Versace (just to name a few)—not to mention all over the streets of Fashion Month—we're fully convinced that channeling our favorite means of diverting traffic is the look of the season.
Below, we rounded up the best in off-the-runway neon orange gear so you, too, can be the center of attention all summer long.
Pretty Little Thing, Neon Orange Oversized Cropped Denim Trucker, $62, available at Pretty Little Thing.
Poppy Lissiman, Stevie Sunset Orange, $105, available at Poppy Lissiman.
Skagen, Aaren Kulor Neon Orange, $95, available at Skagen.
I.Am.Gia, Naomi Top, $90, available at Revolve.
Adidas x Fiorucci, Adilette Slides, $60, available at Adidas.
Janis Studios, Small Orange Darka Bag with Leash, $320, available at Janis Studios.
Hanifa, Kayla Dress in Flame, $49, available at Hanifa.
ASOS Design, Global Lace Up Rain Boots in Neon Orange, $32, available at ASOS.
Bauble Bar, Tessara Sunglasses Chain, $32, available at Bauble Bar.
Maryam Nassir Zadeh, Mango Sophie Slide, $363, available at Maryam Nassir Zadeh.
Bershka, Hoop Earrings (Set of 2), $9.90, available at Bershka.
Tna, The Perfect Hoodie, $70, available at Aritzia.
Tibi, Decollette Wrap Pullover, $525, available at Tibi.
Paloma Wool, Morgui, $87, available at Bona Drag.
Motel, Hulana Satin Cutout Bodycon Dress, $59, available at Urban Outfitters.
Luv AJ, Rainbow Triple Charm Necklace in Neon Orange, $85, available at Luv AJ.
ASOS Design, Lounge Neon Zip Sweat & Short Set, $45, available at ASOS.
NYLON uses affiliate links and may earn a commission if you purchase something through those links, but every product chosen is selected independently.