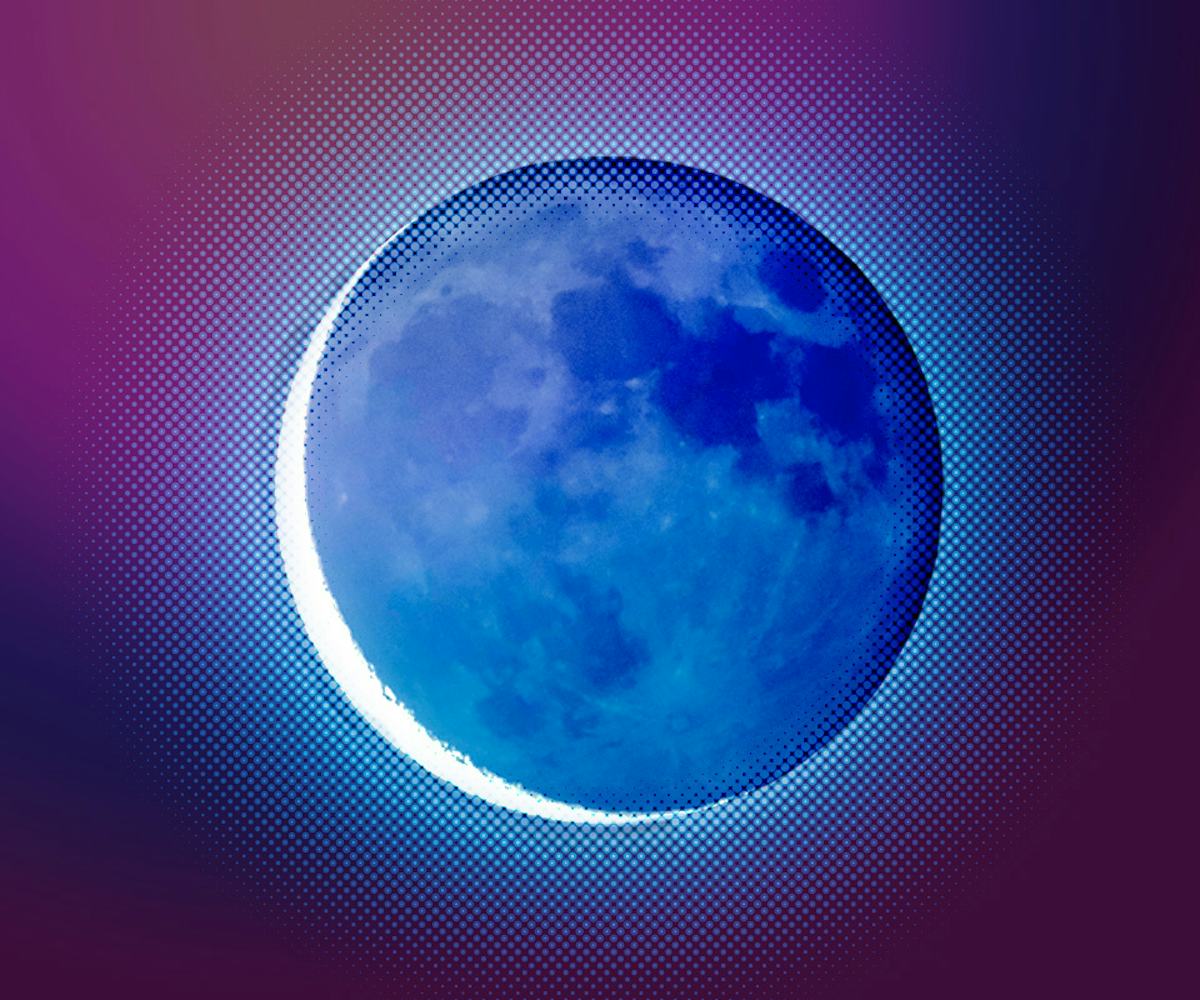 Collage using photo from Getty Images
This New Moon, Open Yourself Up To New Possibilities
A good time for romance or a striking out on your own
For a Sagittarius, everything old is new in the right light. What better light, then, than that from the new moon in Sagittarius, a sliver of ambition in the winter darkness? A scar, re-examined, is a recovered memory, an old drawing, repurposed into the perfect postcard. And, an ex-lover, re-claimed, is a difficult teacher. Natural philosophers, Sagittarians are good at examining the chaos of what they have been given and using what they know of their context to imagine that chaos' conclusion. Mutable fire signs that are half-human, half-animal, Sagittarians aim an arrow and run toward it. Fire that flies through the air, theirs is the sign of the creative mind. They trade in possibilities.
The new moon, we know, is always an auspicious time to consider one's many possibilities; this new moon in Sagittarius is even more so. Days after the conjunction of Venus and Jupiter in Sagittarius, we are given the go-ahead to begin the foundational work for the visions we have been receiving when Venus moves under the star of earthly accomplishment, Capricorn. Venus is the planet of love and values, she wants to know what you cherish and give it to you. Under Capricorn, Venus rolls up her sleeves and slips a hammer in her tool belt.
Meanwhile, Jupiter — the planet of expansion, blessings, and trying your luck — lingers in its home sign of Sagittarius. Luck favors the bold, so why not be bold for a few moments longer? This is a good time for a romantic overture or a striking out on your own. It's a good time to submit your project to that contest, say yes to a challenging opportunity, put in the bid, and make a strong claim. This advice comes with a gentle reminder for those whose impulse control is underdeveloped: As Jupiter settles into Capricorn, those bold moves will require reinforcement.
When Sagittarius is involved, abundance is both a worthy quest and an adversary. No matter what wild horses run in your blood, too much of a good thing can turn bad quick enough. It's important, when influenced by a fire sign, to know your limits, to know when you're turning up the heat and when you're getting burned.
While the Sagittarius new moon has her way with us, so too do concurrent interstellar aspects. Behold, a Water Kite: a grand trine between Neptune in Pisces, Mercury in Scorpio, and the North Node in Cancer, and a grand sextile between the Sun/Mercury, Saturn in Capricorn, and Neptune. With the top of the Kite activating Mercury direct in Scorpio and Saturn in Capricorn, your deepest desires seek prominence in your material world. A portal is opened and sealed by your word — to name and invoke what you envision for your future and, in naming it, have power over its becoming.
Sagittarians are freedom-loving, but who isn't? All things that roam dream of roaming. Singular and in packs. If what you want, dear reader is a kind of freedom (emotional, creative, financial!), it is possible, but nothing new can be built on an old structure. When I write old structure, I mean: old ways of being. I mean mechanisms that no longer work. I mean what is personal and what is systemic. I mean that old Sweet Honey in the Rock song; when the harmonies come together, they sing, "We who believe in freedom cannot rest." The tail of the Water Kite is the North Node in Cancer, reminding us that to move forward with compassion for our origins and love for our community is to move forward with integrity. We owe gratitude to our teachers. We are, it appears, not separate from our relations, though goddess knows we try.