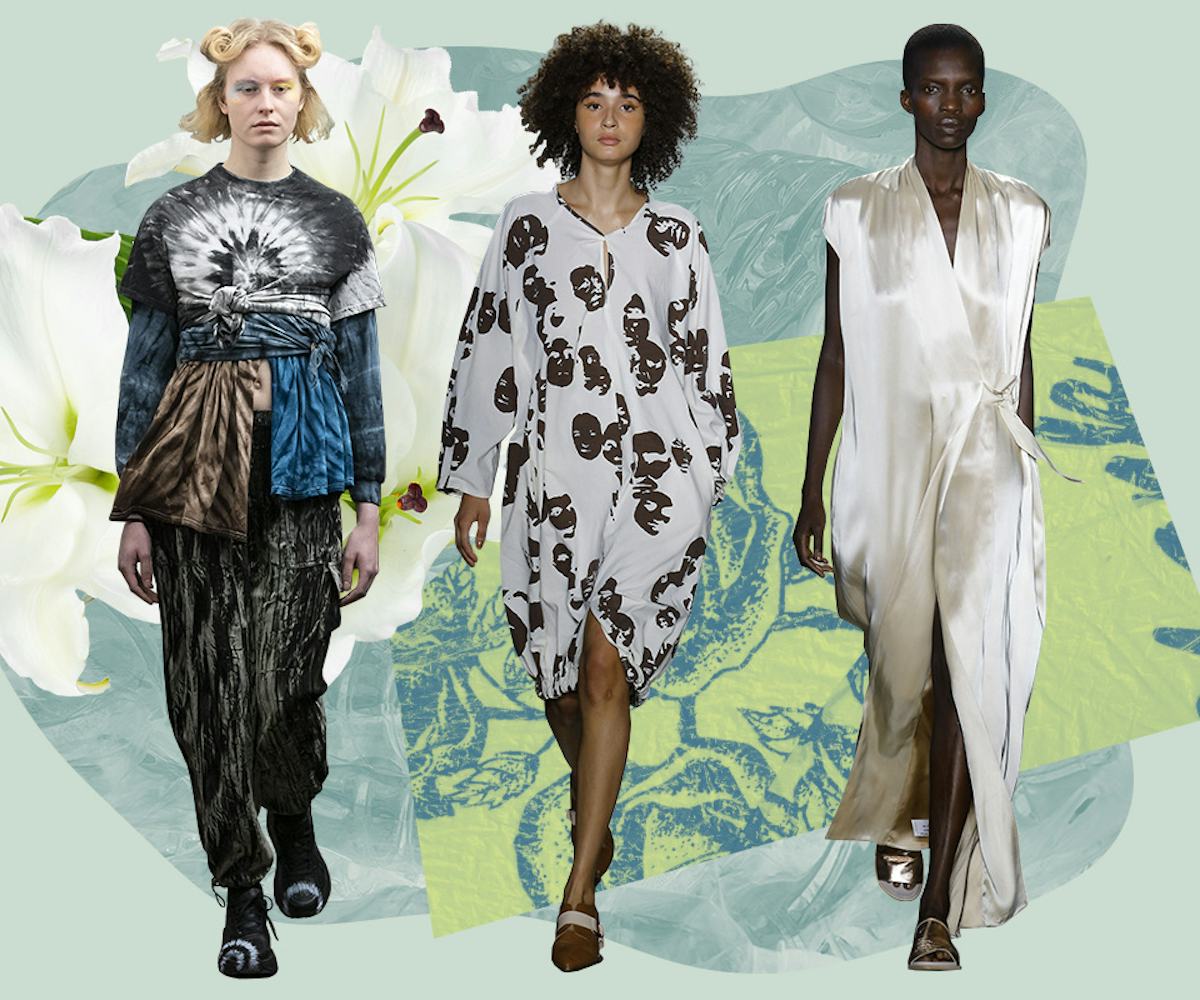 Photos via PIXELFORMULA/SIPA/Shutterstock
How Designers Are Trying To Make NYFW More Sustainable
We talked to three NYFW designers about the importance of being more mindful
It's not news that the fashion industry is one of the biggest contributors to climate change and the pollution and waste crises our planet is currently facing, but it's still important to talk about (which is why we do just that every week). On top of the actual byproducts of the industry—you know, the clothing and accessories, and the waste created from each step of the production and manufacturing process—there's another key factor that's just as big a culprit: the events and parties, and the extravagance and excess that comes with them. A prime example of this? Fashion Week!
In the age of social media, brands feel like they need to go big or go home during Fashion Week; the need for viral moments to be posted has been deemed crucial for survival. And so, brands pull out all the stops. But, is it really all worth it?
In a word, no. But let's get more granular. First, we'd be remiss not to mention that Fashion Month's most tangible consumer effect can be felt in the world of fast fashion, whose purveyors use runways and presentations and even street style as inspiration to create disposable, knockoff garments. This, in and of itself, is one way that the industry's buzziest time of year is horrible for anyone who is ecologically minded.
Beyond that, though, whether by wasting paper when printing and mailing physical invites (which, in my experience, can range from typical card stock to wearable ponchos to other very random objects), or by leaving plastic bottles of water at every seat lining the runways, or through trashing the props used during intricate runway sets, or, you know, going as far as resurrecting the Titanic or building an entire carnival, all for the sake of a 15-minute fashion show, Fashion Week has always been about excess. It's become painfully obvious, though, that this excess has gone too far.
Maria Cornejo, of the eponymous label Zero + Maria Cornejo, has been in the Fashion Week game for some time now. While the label has certainly built a reputation in the industry as being a more sustainable luxury option, Cornejo is sure to instill that into her fashion week presentations as well. Though she didn't show during NYFW last season, she's returning this week with a runway presentation that puts sustainability first, every step of the way.
As always, Cornejo's Spring 2020 collection is rooted in eco-friendly and responsible textiles, from organic cotton jacquard and knits to recycled polyester and responsibly-sourced and renewable viscose. For the presentation itself, the brand has decided to forgo paper invites and will be printing the run of show on recycled paper, and also is sure to partner with sponsors that also strive to be as responsible as possible. For example, the brand has brought on a new nail sponsor called 10 Free Chemistry, a clean and cruelty-free nail care brand, and all catering is asked to use compostable delivery packaging or recyclable materials.
Additionally, Cornejo has teamed up with Hyundai for a Fashion Week event (which you can read more about later this week), where she's designed a collection utilizing upcycled textiles and leathers from car interiors, showing that fashionable upcycled materials can come from just about anywhere. "It's our responsibility to ourselves and the planet to take responsibility, in any way we can, for our impact on the environment," she says. "Small shifts make big waves. It's all about cause and effect. We are always trying to get creative with much less."
As for NYFW's newer set, from buzzy contemporary ready-to-wear label Collina Strada to repurposed denim label CIE Denim, who is showing for the first time this season, bringing sustainability beyond their collections has always been a priority.
Collina Strada founder Hillary Taymour has also always designed with sustainability in mind, but last season, she made it a point to make a big statement at her Fall 2019 runway show. Not only did the overall presentation, which included a spoken poem by indigenous musician and environmental activist Xiuhtezcatl Martinez and a runway strewn with trash, urge the industry to clean up its act, but Taymour made it a point to call out her own missteps outside of her brand.
"Small shifts make big waves. It's all about cause and effect. We are always trying to get creative with much less."
For this season, Taymour is taking her Spring 2020 collection runway show to the next level. In addition to, as always, continuing to use 100 percent dead-stock fabrics, she's incorporating accessories made from repurposed and upcycled children's toys and plastic that would have otherwise gone to waste, and is also repurposing fabric from seasons past. Rather than present in a venue, which requires electricity and would create other waste, the brand will be showing outdoors by a Manhattan park. "Nature is the best stage!" she says. Any props used have been rented, so they aren't just carelessly throwing away any tables or chairs post-show (which, unfortunately, happens more often than you'd like to think).
For CIE Denim designer Kelcie Schofield, who debuted her first NYFW collection this past Wednesday, she sought out a show space that didn't need any additional set changes in order to make it work for the presentation itself (an already existing Chinatown arcade, which is arguably one of the coolest venue choices of NYFW to ever exist). This allowed her to showcase her her collection, made entirely from reworked vintage or sustainability manufactured denim, without adding anything to brand's carbon footprint.
Fashion and consumption have always gone hand-in-hand, but brands can still do their part to be less wasteful or promote an overall slower fashion cycle. Once they do, the shift will start to create a tangible difference. As Taymour explains:
Fashion creates a lot of waste and purges a lot of dwindling resources for fabrics, and we've known this for a while. It's only been recently that I've seen more large-scale efforts to upcycle and increase responsibility for our environment. Thrifting and making sure you dispose of your clothes intentionally is good for consumers, but for designers, there's a lot more responsibility involved. More and more designers and corporations in the fashion industry need to factor in environmental impact as a core consideration each season, or else we may take too much from the Earth that may be hard to ever get back.
And that overall environmental impact goes beyond a brand's production cycle, but also its role in Fashion Week, or any other off-calendar show or party, too. To the rest of the brands showing this week, take note!