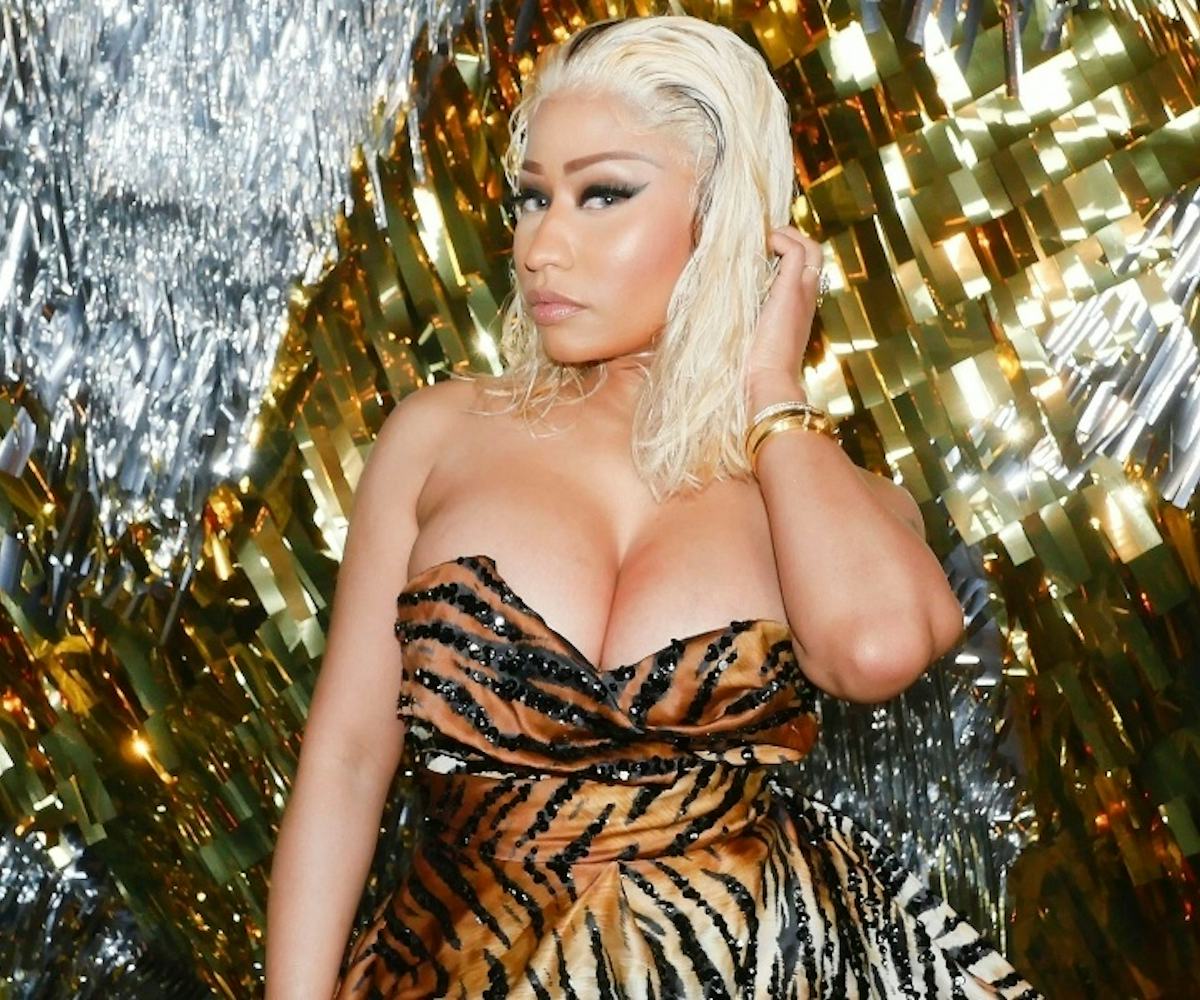 Photo by Swan Gallet/WWD/Shutterstock.
A Guide To All Of The Nicki Minaj Drama, This Week
It all stemmed from one episode of Queen Radio
Last Friday, Nicki Minaj joined Megan Thee Stallion on her "Hot Girl Summer" track after going live together on Instagram. Since then we've been blessed with amazing photos of the two women in lime green animal print outfits and really high heels. It was a great way to start the weekend, but that celebratory mood did not carry over into the week.
On Monday, Reginald Saunders—who is the head of A&R at Trina's Rockstarr Music Group—hopped on Instagram to get a few things off his chest after he saw the early visual fruits of Nicki and Megan's collaboration. Earlier this year, Trina released her album, The One, and it included a feature from Nicki Minaj on the lead single, "BAPS." They didn't shoot a video for it and, with the exception of airing the song on a June episode of Queen Radio, Nicki didn't promote the song much. In a now-deleted post, Saunders said, "This isn't the first time @nickiminaj has pulled this stunt and trust me it's cool. I can't get over how fake people can be for a Lil fame, likes and followers. When everyone tried to warn me I still gave her the benefit of the doubt."
Monday is also the day that Nicki released another episode of Queen Radio. It's worth mentioning that Nicki's Beats 1 show debuted to complement her fourth studio album of the same name, however, it has also become the platform for Nicki to air out her grievances and spill tea. That's exactly what she did on episode 14.
She said that scheduling and budgeting issues prevented her from shooting the "BAPS" video with Trina. "And it's not fair that people don't understand that. I would never have someone from my team disrespect somebody that has shown me nothing but love, and been nothing but real to me."
Nicki also addressed comments that Rick Ross made about her breakup with Meek Mill on his 2017 song "Apple of My Eye." He said, "I told Meek I wouldn't trust Nicki/Instead of beefin' with your dog, you just give 'em some distance." Nicki recalled a text that Rick sent to Meek, where he called her a "keeper" for bringing up Meek's legal problems to the Obamas during a White House visit. Then, as Nicki put it, "when it's time to sell some weak-ass fuckin' album, and try to disrespect Nicki Minaj?" After accusing Rick of trying the same stunt with 50 Cent, she concluded with, "Boy sit your fat ass down."
Then, Joe Budden was a guest on this episode, and things got heated between the two of them, quickly. Before "Hot Girl Summer" was even released, Budden was questioning the authenticity of the collaboration on his own self-named podcast. Megan and Nicki insist that the latter recorded her verse after their Instagram live session. Budden and his podcast co-hosts speculated that Nicki's part on "Hot Girl Summer" was already done by the time they went live. For Nicki, this meant he was calling her a liar, and she wouldn't stand for it. A heated argument between them ensued. In a wholly unproductive conversation, they yelled at each other, she accused him of not supporting women, she pulled up receipts, she cut off his mic, and he stormed off.
But on Wednesday, she appeared on his podcast, and apparently, there isn't any beef between the two of them? But during her time on his show, she made a comment that seemed to address Cardi B. While discussing the viral Top 50 Best rapper lists that have been circulating online, Nicki said the following: "This is what I want to say, I would feel so fucking crazy if I had numbers ones and Grammys and ain't on nobody top 50 list," adding that the Recording Academy has brainwashed everyone into thinking Grammys are about "talent." She went on, "[I came] in this game with an authentic come up, writing raps, and doing what the fuck was really actually necessary. No Instagram, no reality shows, no sucking DJ's dicks."
Obviously, Nicki had a lot to say this week. Naturally, this triggered responses from other people as well. Following the comments made on Joe Budden's podcast, Cardi tweeted out the current sales charting for her album Invasion of Privacy. She added the caption "One year and some change later and my album is still SELLING." She said that it's the only list she "give[s] a fuck about."
Last night, Trina went on Instagram live to state that her team shouldn't have spoken on her behalf and that she has no ill feelings toward Nicki. She kept it pretty vague but insists that "bad business" is the reason the album or single didn't perform well.
And today, Rick Ross also appeared on the Breakfast Club to say, "If somebody went to meet Obama with you, she is a keeper until you find out otherwise." For him, "otherwise" showed up when Nicki refused to pick sides in the beef between her boyfriend Meek and her label mate Drake during their heated debate.
There's still one day left in the week, here's to Nicki having a restful Friday.