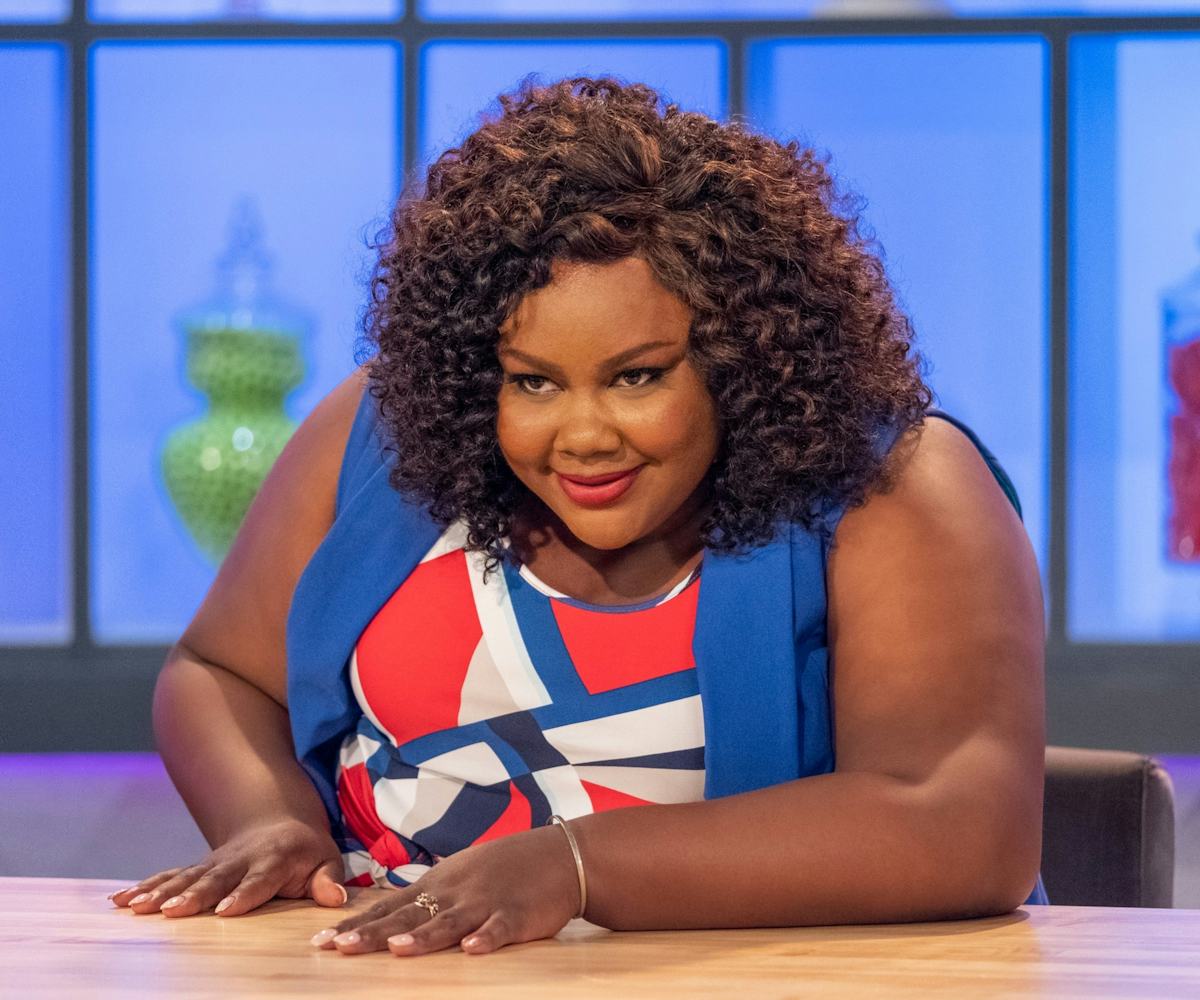 Photo courtesy of Netflix.
'Nailed It!' Host Nicole Byer Calls Out Netflix For "Whitewashing"
Following the release of an image promoting the show
Nailed It! host Nicole Byer called Netflix out for an image it used to promote the show.
Yesterday, as documented by E!, a Twitter user pointed out that a thumbnail for the show didn't include Byer at all, and instead showed cake judge Jacques Torres and Weston Bahr, who is the assistant director on the show. In between them sat a white female mannequin head with what looks like a fruit basket on top. The user said, in a now-deleted tweet that accompanied the image, "I remember reading somewhere that @netflix puts men on the thumbnails of shows and movies a lot, but yo - this is NUTS. @nicolebyer IS NAILED IT. I love wes and chef jacques but COME ON - this is so upsetting."
Apparently, Byer was upset about it, too. She unloaded several now-deleted tweets outlining what it meant to have her image erased from materials on the show that she leads: "If Netflix didn't sign my checks and give me a huge platform and opportunity to showcase my comedy. I would talk about how f--ked up and disrespectful this is to me a black woman. Also how black women are a lot of times erased from many different conversations."
She continued with a tweet about how images like this show her "value" as a host who works hard to "elevate the material" she receives. She then said, "I would talk about how this essentially white washing for more views. But they sign my checks and I'm honestly so happy and greatful [sic] to and for the show and no sarcasm I love my job and wish to keep it so I'll be quiet." In one final tweet, she clarified: "To be clear. I know there are thumbnails with and without my face... This one just seems for lack of a better word deliberate. Again I love my job."
Following this, Byer deleted her tweets and posted another where she revealed that she spoke to one of the executives on her show and the image was removed. She also said that they had a conversation about how thumbnails are selected and she's happy with it.