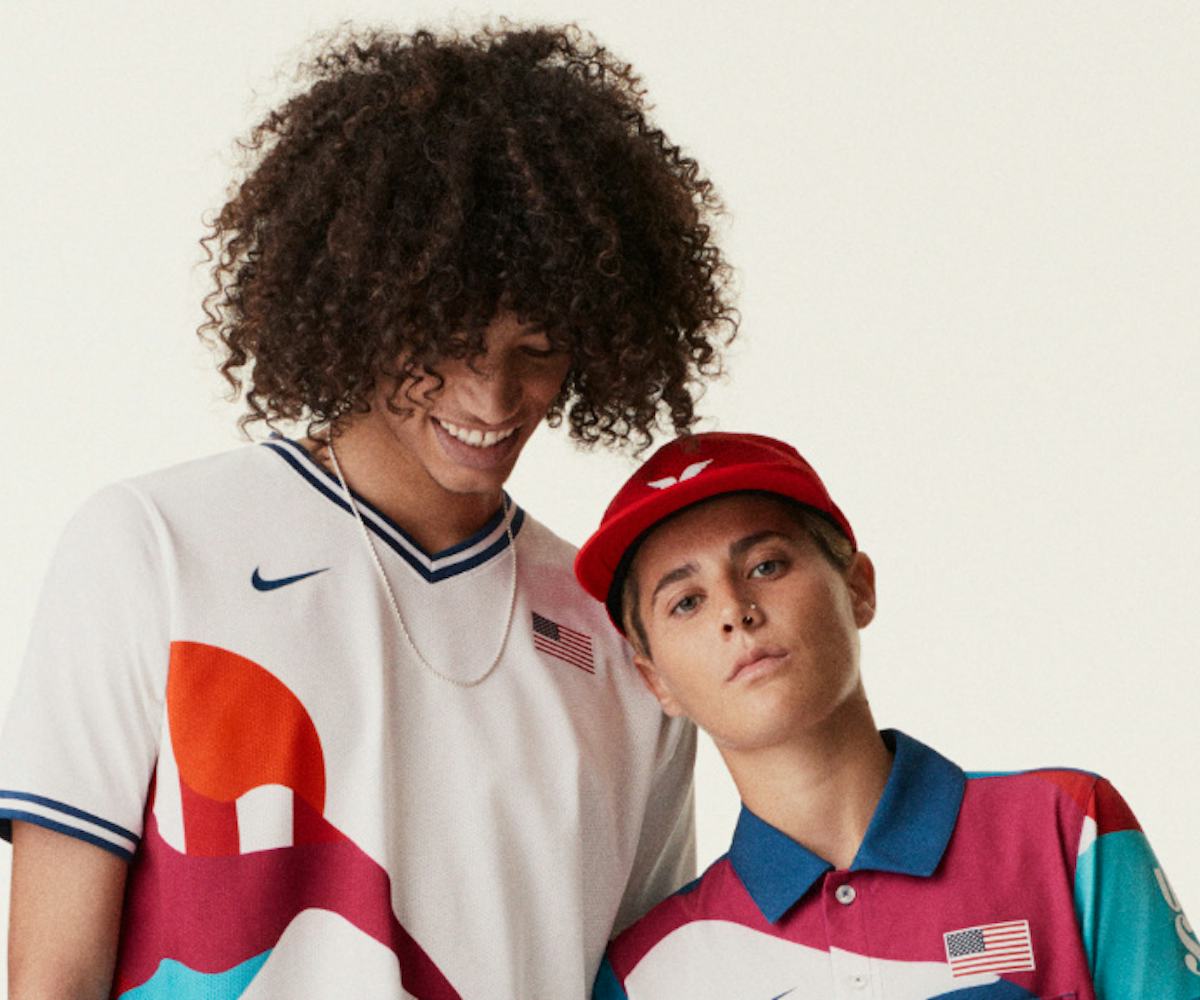 Photo Courtesy of Nike
Nike's Olympic Skateboarding Uniforms Include Cargo Pants
The newly added sport will make its debut this summer
On Wednesday, February 5, Nike unveiled its team uniforms for the 2020 Olympic Games, which will take place in Tokyo starting in July. For the first time ever, skateboarding is added to the Summer Games—and the sports brand will outfit the USA, France, and Brazil teams.
"It's pretty mind-blowing how far skating has come. I always imagined myself as an athlete like the people I watched at the Olympics," said professional skateboarder Sean Malto during a private preview event hosted by Nike in January. "I always wanted to be like Magic Johnson, Michael Jordan, because I always loved watching sports growing up as a kid. So I imagined myself there, but never skating there, not in a million years would I have thought skating would make it."
Nike designed the sport's Olympic uniforms in collaboration with Dutch artist (and skater) Parra. In an effort to create its most sustainable performance line yet, the apparel is made from 100 percent recycled polyester. The jerseys for each team are inspired by a famous or beloved sport within the respective country: USA's is modeled after the basketball jersey, while Brazil pays homage to soccer and France is a stylish take on the tennis uniform. Animal motifs are stitched onto each uniform, as well, like a bald eagle for the U.S. and a toucan for Brazil, along with their country codes. For France, a rooster and the French flag appear on its skate uniform.
But what makes these kits so interesting is that, after all, there's really no "traditional" uniform when it comes to skateboarding. Sure, the culture has its aesthetic, one that has been appropriated over and over again by the fashion industry, but this just might be the first time that performance and innovation were put behind the sport's real-world style, especially for a major event like the Olympics.
"Japan's gonna be hot, it may be the hottest Games ever, so working with materials that don't restrict us in any way can keep our mind focusing on the tricks and our task ahead, rather than being held back by our clothing," said Malto. "For Nike to incorporate that aspect into the outfits is so important to us, since it could be detrimental to placings and points."
To stay true to skate culture's roots, Nike's kits could very well be worn anywhere. Take, for example, the USA team's cargo pants (the pockets adorned with the brand's famous swoosh) and fitted trousers. Or France's all-red boiler suit, which pairs nicely with the uniforms' abstract-printed socks. As for footwear, the Nike SB styles boast a few advanced designs for a better skate experience. The brand took its classic Bruin style and added Nike's Flyknit technology, making the shoes lighter but also adding more support where needed.
"It is different for us to have a set uniform or a set look, because that never really existed before," said Malto. "For Nike to be able to work with a designer, who still is a skateboarder and respected designer in our industry, and create something that's authentic to us, I thought that was really cool. To be able to still get the look that we want and the performance that we want, it's all coming together to be really special."
See Nike's Olympic skateboarding uniforms, below.