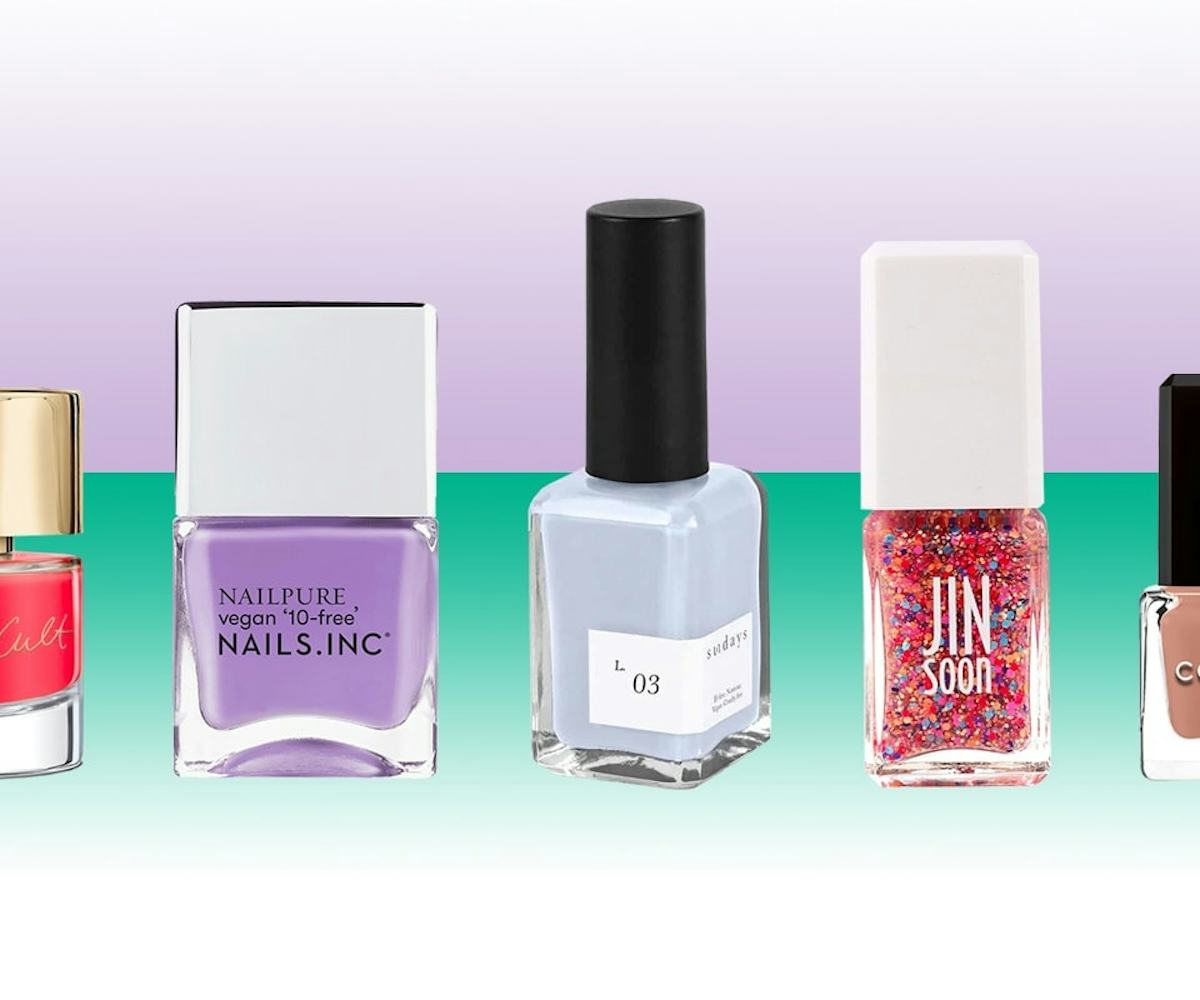 Your Nails Will Say Thank You After Using These Nontoxic Nail Polishes
And the color palettes are gorgeous
Have you ever read the packaging on standard nail polish? Formaldehyde, formaldehyde resin, DBP, toluene, camphor, ethyl tosylamide, xylene—all these ingredients are ones you wouldn't be going near in many other aspects of life. DPB is toxic for reproductive and developmental growth and banned in children's toys. Formaldehyde is a carcinogen, responsible for that smell that makes you dizzy and giving you a headache. Yeah, it is probably not the best thing you should be inhaling.
These 12 nail polish brands have found a different way of making polish, and they all pride themselves on long-lasting formulas that will keep up with our busy lives, but keep out the harsh chemicals we don't need. Scroll down, ahead of your next mani.
Nails Inc
Ultra glossy nails not your thing? Nails Inc. features a semi-matte finish that you can apply with wide brushes that'll give you a chip-free manicure with no hassle. Plus, when we say this polish dries fast, we mean it. Vegan and cruelty-, 6-, and paraben-free means you can't go wrong.
Nails Inc, Nail Polish, $15, available at Nails Inc.
sundays
You are truly doing no harm when using sundays' nail polish or going to one of its salons. With an impressive 10-free formula and lacking any ingredients derived from animals, sundays is as simple and pure as it gets. Plus, we love the brand's color options.
sundays, Nail Polish, $18, available at Dear Sundays.
Floss Gloss
Designed in Brooklyn and made in California, this vegan, female-owned brand has the trendiest colors. Bikini Coral is the shade you pick when you want to dip your nails in the neon trend, but you're not ready to go full slime green. Plus it's 7-free, so dangerous chemicals, who?
Floss Gloss, Nail Polish, $9, available at Amazon.
Tenovertern
Reshaping the nail industry with fair wages, benefits, and a non-toxic work environment, Tenoverten puts clean beauty first. Both a salon and a nail line, this female-owned brand cares about the experience when you're painting your nails. With an 8- and cruelty-free and vegan formula, Tenovertern is a brand to trust.
Tenoverten, Nail Polish, $18, available at Amazon.
Butter London
Clean and cruelty-free company Butter London has an 8-free formula in all of its nail polishes. Thanks to the diamond powder and Shock Resistant Polymer Technology, you can also enjoy up to 10 days of chip-free nails.
Butter London, Nail Polish, $18, available at Amazon.
Nail Berry
As a 12-free nail polish, Nail Berry prides itself on its breathable, oxygenated formula, created so air and water vapor can pass through the polish barrier, leading to healthy, gorgeous, safe nails.
Nail Berry, Nail Polish, $19, available at Nail Berry.
Context
Rich in color and not chemicals, Context Nail lacquer is 5-free. Take It Off is the perfect neutral color for the spring, making us want to do anything but Take It Off.
Context, Nail Lacquer, $15, available at Context.
Smith and Cult
Smith and Cults Nail Polish is vegan and 8-free with fun colors like Psycho Candy and Exit The Void that go on smooth and finish ultra-glossy. The luxe packaging also speaks for itself.
Smith and Cult, Nail Polish, $18, available at Amazon.
JINsoon
We love a brand that is constantly working to make itself better. JINsoon changed its formula to match a healthier lifestyle and some polishes are now 10-free (it's working on changing all of its polishes to 10-free status). Our favorite is a speckled shade called FAB. With flecks of gold, pink, and blue, this nail polish finishes in a beautiful matte.
JINsoon, Nail Polish, $18, available at Amazon.
Base Coat
Base Coat's neutrals and neons prove they have a shade for everyone. The pale yellow shade Gemini (pictured above) is the perfect sunshine hue on my fingertips. With an 8-free formula, there's no reason to feel bad about wearing this organic polish.
Base Coat, Nail Polish, $20, available Base Coat Nail Salon.
Olive and June
Now that Olive and June just became 7-free, we couldn't wait to put it on our list. We love the fact that its new product, Poppy, helps us paint our nails and makes at home-manicures much more accessible. The light pastel colors on its site are perfect for all the more minimalists out there. But if you need some more color and dazzle, check out its new stickers.
Olive and June, Nail Polish, $8, available at Olive and June.
Deborah Lippman
Infused with biotin and green tea, Deborah Lippman nail polishes make sure to nourish your nails while they maintain their shiny color. Five-free, these polishes are quick-drying and chip-resistant.
Deborah Lippman, Nail Polish, $20, available at Deborah Lippman.
NYLON uses affiliate links and may earn a commission if you purchase something through those links, but every product chosen is selected independently.